Yes, the Jaguars' secondary – and indeed the entire defense – knows forcing takeaways is a top priority. That's true not just this week against Arizona Cardinals quarterback Kyler Murray, but against any opponent. And yes, Jenkins knows the Jaguars don't have a takeaway through two games.
But Jenkins believes it will happen – and that when it does, the first won't be the last.
"We're just trying to get that first one, then I feel like the rest will follow," Jenkins said Wednesday as the Jaguars (0-2) prepared to play the Cardinals (2-0) at TIAA Bank Field in Jacksonville Sunday at 1 p.m.
The Jaguars, despite registering four sacks through four games and improving against the run from last season, have yet to force an interception or a fumble in two games.
They also did not force a takeaway in three preseason games.
"We've had some opportunities in the first two games," Jenkins said. "I know I had two myself. In my head, if I want to be the player I want to be, I have to bring at least one of those in. Once we get one, they will just start flowing in.
"You have to make the most out of opportunities when they do present themselves. I feel like we're making good plays on the ball, but to be the game-changers we want to be, we need to bring the ball back to the sidelines. We just need to. … It goes back to trust and doing your job." Safety Rayshawn Jenkins
The Cardinals have one of the NFL's most-high-powered offenses – a unit that includes not only Murray, but a slew of dynamic receivers including DeAndre Hopkins, Christian Kirk, Rondale Moore and A.J. Green. The Cardinals rank second in the NFL in total yards and points and are third in the league in passing. "They have a bunch of weapons, a bunch of guys who can win their one on ones and a bunch of guys who can make plays in space," Jenkins said. "A big key for us this game is tackling in space and not letting a six-, seven- or eight-yard gain turn into a 60-yard gain. It's going to be a great challenge. You have to account for him (Murray) and then you have to account for his receiving crew across the board, which is filled with talent and speed. He (Murray) is a guy capable any Sunday of being on."
Jaguars quarterback Trevor Lawrence on taking more checkdowns rather than throwing deep downfield into coverage: "For me, it's just taking more completions. [Passing-game coordinator Brian] Schottenheimer always talks about the power of completions. If you get a guy the ball, have a couple of completions in a row, they're going to make plays. Even if you only throw it three yards, he might get 20. Let those guys make plays … I can definitely do a better job of that."
Lawrence: "Coach Meyer has done a great job. Obviously, there's a sense of urgency here to get better fast and to go win games. We're all ready for that. But he's done a great job of keeping the team together. This is a long season. I've been impressed with the way he has led and managed the team. It has been cool to have a front-row seat for that. That permeates through all the leaders on the team. There are a lot of good things to come. We're excited.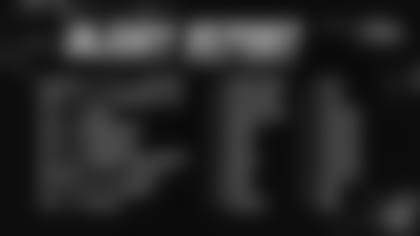 Center Brandon Linder (back) missed practice Wednesday, with nose tackle Jay Tufele missing because of an illness. Five Jaguars players – right guard A.J. Cann (hamstring), cornerback CJ Henderson (groin), cornerback Tre Herndon (knee), defensive end Roy Robertson-Harris (ankle) and defensive end/outside linebacker Jordan Smith (knee) – practice limited. Meyer said before practice Henderson could play Sunday, with Cann expected to play. Defensive end/outside linebacker Lerentee McCray and wide receiver Laviska Shenault Jr. (shoulder) practiced full Wednesday.