JACKSONVILLE – Shad Khan sees potential in Jacksonville.
That has been the case for 10 years owning the Jaguars, and that will continue to be the case moving forward. It's why Khan has believed in the city and invested in it.
And it's why he said he will continue to do so.
"What gives me that feeling and what I like about Jacksonville is there's a vacuum here," Khan said. "There's a football team, and as an owner I can move the needle. How many times do you get a chance to move the needle in a good way in a great American city?"
"Very rarely. That really is the power here."
Khan, who purchased the Jaguars in December 2011 and took over ownership the following month, met with members of the Jacksonville media Monday evening as the 10-year anniversary of his ownership approached. He discussed multiple topics during the 50-minute conversation – including his vision for downtown Jacksonville.
He also discussed his greatest point of pride since owning the Jaguars, citing the passing of a refined Human Rights Ordinance in Jacksonville in 2017.
"That's No. 1," Khan said. "If we had even won the Super Bowl, I told the players that, that would still be the No. 2 thing for me. Why? Because what the team and what the players did put us in a position to get enough votes to get HRO passed. We tried before that and failed."
"The players who were in the room, they're rich. Maybe they're not going to get impacted. The people we don't know – people of color, whether it's brown, black, whatever, the gender preference, and a number of other things, religious and so on – they don't have protection, by law. So, to have moved the needle that season gave us the credibility with the City Council to get it done."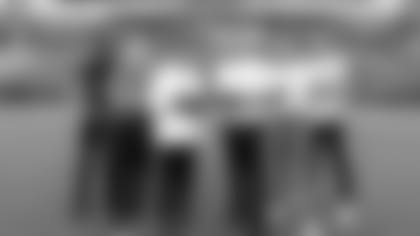 Khan, who spoke Monday along with Jaguars President Mark Lamping, also discussed Khan's vision for downtown Jacksonville – a vision taking shape with a proposed project to develop the area around TIAA Bank Field and the Jacksonville Shipyards.
The plan includes a Four Seasons Hotel and Residences, office complex and marina facilities.
"The city needs something aspirational," Khan said. "You're defined by the best experience in town and the worst experience in town. We need to elevate the best experience in town and to have a great venue, a great marina is, I think, paramount. To have a place you can have a celebration, a place where you get people living in town. Those residences are going to be more exclusive than the NFL. We already have a bunch of people who want them. Our preference is we want the movers and shakers to buy those who can make a difference in Jacksonville. It is like planting a seed that's going to make a difference."
Lamping and Khan also addressed progress toward renovating TIAA Bank Field, which Lamping called "the single-biggest issue regarding the franchise and its stability."
"I think we're on a great path with the city," Lamping said. "I think our interests are aligned with the city. We're not there yet. But I've never felt more confident that we have a path to get there. That was the assignment from the very beginning, was do everything we possibly can to stabilize the team for generations to come."
"Yes, if you're winning, that really helps things and again it is the most important thing. But without paying attention to the other things like the stadium, we could have woken up one day like the fans in St. Louis and San Diego and Oakland – and said, 'Even though those teams are winning, and they go to the Super Bowl, now we're gonna lose the team over a stadium issue.' So, Shad was really pushing very hard to make sure we stayed ahead of that.
"We're making progress. We still got a ways to go, but we have a path."
Added Khan, "We need a stadium that not only keeps Florida-Georgia, but we've got to think about really to get more use in Jacksonville. The college playoff is going to be expanding, we got to have a stadium that qualifies for that. There's no reason we can't have Jacksonville get into the mix of it. So, all of those events, how do we make it more? And it's not the stadium usage, but it's also getting more people to this town."