JACKSONVILLE – This has been an important time for Devin Lloyd.
The coming months matter, too – and the consensus around the Jaguars is the second-year inside linebacker is as ready as possible for what's next. Lloyd's 2023 offseason was about preparing mentally and physically. As he sees it, he reached that goal.
"I just really got everything that I wanted to accomplish done," Lloyd said this week as the veteran portion of the '23 offseason concluded with a three-day minicamp at TIAA Bank Field.
Lloyd, the No. 27 overall selection in the 2022 NFL Draft, said his offseason focus was mastering the playbook and building confidence after a rookie season in which he stood out at times and experienced rookie struggles at other.
While multiple Jaguars veterans were excused from this week's mandatory minicamp, Lloyd and fellow second-year linebacker Chad Muma were among veterans participating.
"Both those guys are young players," Caldwell said. "This is their [second] year, so you really want them to get as many hours on the field as you can so they can see the things over and over again. Now when they see it, they're able to anticipate it and understand what they're supposed to do.
"Both those guys are accepting that and they're showing their leadership when other guys in that room aren't here. So it's good."
Said Pederson, "They played lot of football last year, but they're still young players and can still develop, still get better. They don't have all the answers yet, so it's just a matter of still getting some work in. These three days were really good for them to focus in, to just understand their assignments one more time."
Pederson said while the Jaguars still plan to use Lloyd as an off-the-ball linebacker, "the more he understands the defense, the more we can use him in different spots."
"We've done it this spring and he's done a nice job mentally," Pederson said. "That's why he is here. He has continued to learn and continue to grow."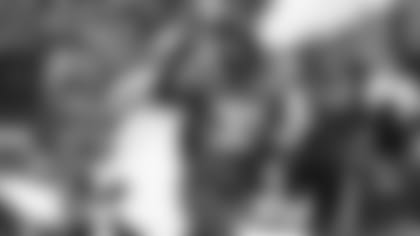 Lloyd, after missing much of training camp and preseason with a hamstring injury, was named the NFL's Defensive Rookie of the Month for September. He led all rookies in the month with 24 tackles and was the league's only rookie at the time with two interceptions and at least 15 tackles.
He then struggled at times with recognition and reaction in the ensuing games, with Muma starting Weeks 11 and 12 before Lloyd started the final five regular season games and both postseason games. Lloyd finished the season second on the Jaguars with 115 tackles and tied for the team lead with three interceptions. He also defensed eight passes.
"It was just a long year," Lloyd said. "You come from 14 games in college, but those numbers are spread out and you go to the NFL, which is back-to-back-to-back-to against the best of the best competition. It's a lot on your body. It's a lot on your mind. And we get paid to manage all of that."
And while Lloyd he struggled at times in that area as a rookie, he expects to grow from the experience as his second season approaches.
"Speaking personally from my perspective, my body just wasn't really up for the task," he said. "I thought it was, but it wasn't. It started off as the body, then it shifted to the mind – just, really, letting the negative things that people say about me get to me a whole lot. But that's 'Welcome to the NFL.' I will be so much more prepared, understanding now what to expect and truthfully, just remaining in the right spirits.
"There were a lot of positives. I'm always putting my best foot forward in everything I do, so I definitely think I grew a lot as a player and I grew a lot as man. Whenever I put my whole heart into it like I did last year, it's going to be nothing but growth.
"I think it's on me to just keep my eyes focused on all the good."