LONDON once again played a starring role at the 2017 NFL Draft as a UK fan announced the latest additions to the Jacksonville Jaguars in front of a world-wide audience of millions.
Charlotte Johnson, from Hull, won the "You Make the Pick" sweepstakes presented by Visit Florida for the chance to announce the Jaguars' fifth & seventh round picks live on the NFL Network. 
Charlotte represented the UK at Tower Bridge as she began Blair Brown's professional career when she announced his selection by the Jaguars live on the NFL Network. Brown, a linebacker from the Ohio, was the Jaguars' fifth selection of this year's draft.
Charlotte followed this up by announcing Jalen Myrick, a cornerback from Minnesota who ran a 4.28 second 40 at the NFL Combine - the second fastest of all players invited.
And finally she announced the Jaguars' final pick of 2017 – Marquez Williams, a fullback from Miami who no doubt will be ploughing some lanes for Leonard Fournette with his boulder-like 280-pound frame.
Joining Charlotte in the announcement was Jaguars legend Kyle Brady. Kyle, whose father was born in Essex, played seven seasons with the Jaguars and is considered one of their greatest tight-ends.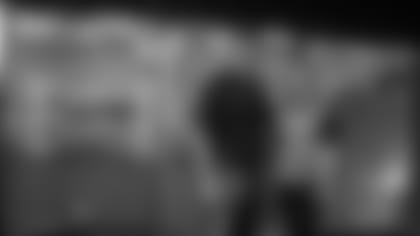 "I have a special relationship with the UK considering that is where my father came from and I still have family out here and I am sure Blair, Jalen and Marquez will always hold a special place in their hearts for the city as well," said Brady. "Being selected in the NFL Draft is one of the most exhilarating moments of any player's career so it is amazing that Charlotte and the city of London get to share in that event."
With the Jaguars' ongoing commitment to play one home game each year in London, the team continued to honour its UK fan base after making NFL history last year by having draft picks announced outside the US.
The NFL broadcasted its annual Draft in a showcase ceremony in Philadelphia this year and saw the Jaguars select LSU running back Fournette in the first round, followed by a steal of a pick with Alabama offensive tackle Cam Robinson in the second round and Illinois defensive end Dawuane Smoot in round three. 
In round four the Jaguars selected Oklahoma State wide receiver Dede Westbrook who was announced live at the home of THE PLAYERS Championship at TPC Sawgrass in Ponte Vedra Beach, Florida, home to the world-famous Island Green on 17 by Jaguars legendary QB Mark Brunell.
And with another exciting draft complete by the Jaguars, the real hard work now begins for our new rookies with OTAs coming up as they aim for a place in the squad and the chance to travel to London to face the Baltimore Ravens in Week 3 at Wembley Stadium.