JACKSONVILLE – The sun returned, and the pads came on at last.
This was Tuesday morning, the first day of padded work at Jaguars 2023 Training Camp. That meant a bit more contact – and a bit more focus on offensive and defensive linemen – around the Miller Electric Center.
It was also a day to focus on defense, and when defensive coordinator Mike Caldwell met with the media before a two-hour, five-minute practice on Day 6 of '23 camp he focused on what he considers an important area in the coming weeks and months: Tackling.
"We emphasized it last year and we're going to continue to do it this year," Caldwell said.
Caldwell, entering his second season as the Jaguars' defensive coordinator, called tackling the "worst" area of a defense that finished 12th in the NFL in points allowed and tied for fourth in the league in turnovers created.
"In the NFL, you hardly ever get a chance to tackle your teammates [in practice]," Caldwell said. "You have to go through the dynamics of making a tackle. You have to run to the ball on your feet, lower your target and put yourself in a position to make the tackle, not just run by a guy. That will translate when it's time to really make a tackle."
Caldwell smiled when asked Tuesday how many tackles the Jaguars missed last season.
He also was asked the ideal maximum number of missed tackles in a game.
"Really, it's zero," he said. "We have 11 guys out on the field. They have one ball, it's our job to get the ball, so it should be zero. You go out there, you fly around. It's all about trusting, being accountable. If I'm a guy out on the edge and it's my job to turn the ball back into a guy that's running the alley, I'm just as responsible for that tackle as he is. I do my job, everybody does their job and get the guy on the ground."
Caldwell said the most important way to coach tackling in a league where practicing it is rare is constant focus on the area – adding that tackling isn't as much technique as numbers.
"We always talk to the guys about it's not just one guy making the tackle, it's all 11 getting to the ball," he said. "We just have to do a better job of rallying to the ball and getting guys on the ground. There's really no perfect tackle. The perfect tackle is getting a guy on the ground. We teach our ways and they have a good grasp of how to do it, but at the end of the day, the more guys getting to the ball, the better tackling team you'll be.
"You harp on it. As a player, that should be a chip on your shoulder. Whether it's practicing pads or practicing in shells, that's one of the focuses we have to get better on. We have to get better at tackling."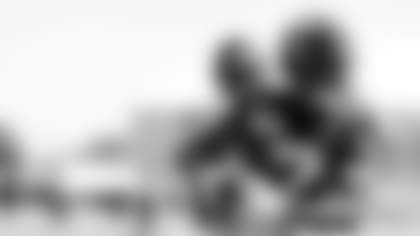 Here's a look at Tuesday's practice:
Wide receiver Zay Jones continued a strong camp Tuesday, catching four touchdown passes in red-zone 7-on-7 and 11-on-11 work. Perhaps his best play of the day came in early 7-on-7, with quarterback Trevor Lawrence avoiding pressure and throwing a high touch pass to Jones. The pass cleared a defender, with Jones making a one-handed reception for his first touchdown of the day.
The contact remained relatively light in the first day in pads, with linemen participating in one-on-one pass rush drills in final period of practice while skill players worked in 7-on-7. Fourth-year linebacker K'Lavon Chaisson had a strong rush early in this period on left tackle Cam Robinson…
Left tackle Walker Little had multiple strong repetitions in one-on-one pass rush working against outside linebackers Travon Walker and Josh Allen. Allen had a sack in 11-on-11, and Walker was strong on multiple run plays…
Offensive lineman Darryl Williams and defensive tackle Adam Gotsis had a brief skirmish after a repetition in one-on-one pass rush…
Tight end Gerrit Prince continued a strong early camp with two touchdown receptions…
Safety Antonio Johnson and linebacker Caleb Johnson both had interceptions Tuesday off backup quarterback C.J. Beathard, with cornerback Erick Haslett II intercepting Lawrence…
Running back Tank Bigsby had two strong touchdown runs in early 11-on-11…
Wide receiver Christian Kirk had a 40-yard touchdown reception from Beathard in 7-on-7…
Left guard Ben Bartch (knee) and defensive lineman Dawuane Smoot (Achilles) remain on the Physically Unable to Perform list to start camp. Wide receiver Calvin Ridley spent time in the cool zone late in practice, returning in full pads but not participating. Rookie right tackle Anton Harrison missed team drills with a shoulder issue, telling reporters afterward he was fine.