JACKSONVILLE – The day was light, and largely about looking ahead.
The looking ahead Thursday on Day 13 of Jaguars 2023 Training Camp was largely about the 2023 preseason opener – with offensive coordinator Press Taylor saying Saturday's game against the Dallas Cowboys definitely has meaning.
If the importance is about simple things, those simple things are still important.
Taylor, speaking before an hour, 40-minute practice at the Miller Electric Center in shells and shorts, covered multiple topics – including wide receiver Calvin Ridley, who is expected to play with the starters and quarterback Trevor Lawrence Saturday. Head Coach Doug Pederson said this week the starters likely will play a series or two.
The game will mark Ridley's Jaguars debut, with the Jaguars having acquired him in a trade with the Atlanta Falcons last November.
"It's about trying to tailor what we do to what fits him well within the scheme that matches Trevor," Taylor said of Ridley, who caught 90 passes for 1,394 yards and nine touchdowns in 2021, his final full NFL season. "Our knowledge of his skillset has grown from the time we got him. We really honed in on who does what really well, what does Trevor see really well and how do we build this together."
Ridley's suddenness and speed has impressed Taylor, who on Thursday discussed "just seeing it in person and feeling the power that he comes off the ball with and how much it scares people."
Taylor said he at times during practice stands in the defensive backfield, with receivers running toward him. On Thursday, he discussed how that perspective must feel for a defensive player covering Ridley.
"I can get where that would be a terrifying feeling if you're a defensive back and you have to cover the deep third [of the field],'' Taylor said. "Getting to see and feel that from him, the ideas are kind of flowing through your mind at that point of what you could do with this."
Taylor on Thursday said with the game plan being comparatively simple, execution will be paramount Saturday – particularly for the first unit of an offense many believe has the potential to be one of the NFL's best.
"The expectation for them is to have clear communication in the huddle, substitutions in and out, being really crisp at the line of scrimmage," Taylor said. "Everybody understands the excitement. It's not some exotic game plan with a lot going on. It's core stuff that these guys know really well.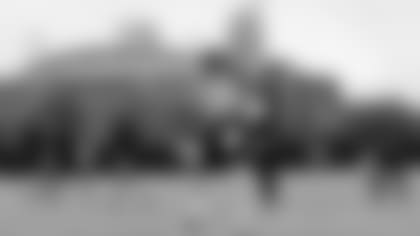 "We anticipate them being clean with their operation and execution. and that's really what you want to see. You want to have a good feel for just their confidence, and get them kind of back into being in a huddle. Something's on the line more so than practice.
"That's what you're looking for from the ones early on."
With starters likely playing a quarter or less, early-drafted rookies such as right tackle Anton Harrison, tight end Brenton Strange and running back Tank Bigsby figure to have extended early- and mid-game looks. The same is true of ascending players such as tight end Gerrit Prince and a slew of young players everywhere around the roster.
"You just want to see that their anxiety doesn't rise just because there's a scoreboard now and we're playing against a new opponent," Taylor said.
Thursday was the Jaguars' second light practice in as any days – and a second consecutive practice light on big plays. Perhaps Thursday's highlight came from rookie wide receiver Oliver Martin. A collegiate free agent from Nebraska, Martin made a one-handed, over-the-shoulder reception on an arching pass from rookie quarterback Nathan Rourke – drawing cheers from the MEC crowd.
Cornerback Tyson Campbell registered an interception off a long pass from backup quarterback C.J. Beathard…
Veteran wide receiver Seth Williams had a nice reception on a long pass from Beathard…
Ridley had a 20-yard reception on an intermediate pass from Lawrence…
Campbell practiced without a protective orange jersey Thursday and remains in the concussion protocol. Also in the concussion protocol:
Rookie outside linebacker Yasir Adbullah and
Tight end Sammis Reyes
Guard Tyler Shatley remains working on the side after having an atrial fibrillation last week.
Left guard Ben Bartch (knee) and defensive lineman Dawuane Smoot (Achilles) remain on the Physically Unable to Perform list to start camp.