JACKSONVILLE – The early signs are good.
But when discussing the first week of 2023 Training Camp at the Miller Electric Center, Jaguars Head Coach Doug Pederson emphasized "early" over "good."
"I like where the guys are," he said on Day 7 of '23 camp.
Pederson, speaking before Wednesday morning's two-hour, 15-minute practice – '23 camp's longest to date – discussed multiple topics. Among them: That the Jaguars were cautious with wide receiver Calvin Ridley on Tuesday with a toe injury, with the team later clarifying that it was a cleat-related issue resolved on Wednesday by switching cleats.
Ridley participated 100 percent in practice Wednesday.
Before that practice, Pederson was asked how he saw the team's progress through six practices. Wednesday was '23 camp's second padded practice.
"On paper, you think, 'OK, you can probably be a decent football team – to compete, to be there at the end,'" Pederson said. "A lot of things factor into that. You just don't go out on a limb and say, 'We're going to be this.' I like how they're working in practice. They practice fast.
"There's potential there, but it's hard for me to say, 'We're going to be this,' because we take it one day at a time."
Pederson also praised safety Antonio Johnson, a fifth-round selection in the 2023 NFL Draft who had registered two interceptions in three practices entering Wednesday.
"He's improving," Pederson said of Johnson, who had a nice play against the run Wednesday. "He's learning the defense. He's been in the right spots and a lot of times interceptions are just being in the right spots at the right times. He's done that.
"The defense the last couple of days has had some hands on footballs and created some takeaways, which we talk a lot about it. It's good to see that our young guys were stepping up."
With training camp entering its second week, Pederson said camp's "dog days" will come in the next week with the team's first preseason game scheduled against the Dallas Cowboys on Saturday, August 12, in Dallas.
Pederson said that time will be an opportunity to better evaluate the offensive line, defensive line and pass rush.
"You want to establish identity," he said. "You want to have some sort of physicality about you, the pass rush, to establish that persona of who can we be. Where I get excited is when we're in team drill and they're working their games, their combinations, their stunts, their pressures. That's where I get to see the pass rush.
"It's still early. Today's Day Two in pads. We have to see these preseason games and these practices. It's still a bit early, but they're progressing in another way."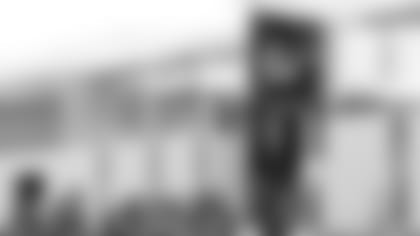 Here's a look at Wednesday's practice:
Wednesday's practice was inconsistent at times in the passing game and emphasized the run. As such, there wasn't a slew of big plays. The day's standout plays came from tight end Evan Engram, who caught two red-zone touchdowns from quarterback Trevor Lawrence in a late-practice 11-on-11 drill.
Rookie tight end Brenton Strange caught a red-zone touchdown from backup quarterback C.J. Beathard in the same late-practice red-zone period that featured Engram's two touchdowns. He also had a diving reception early in practice…
Veteran outside linebacker K'Lavon Chaisson and rookie outside linebacker Yasir Abdullah both had multiple strong repetitions in a one-on-one pass-rush drill late in practice…
Rookie running back Tank Bigsby continued a strong early camp with a solid run around the right side for a 10-yard gain in a late-practice 11-on-11 drill…
Second-year outside linebacker Travon Walker had multiple strong repetitions in one-on-one pass rush and also had a would-be sack in an early 11-on-11 period…
Veteran guard Brandon Scherff had multiple strong repetitions in one-on-one pass rush…
Defensive linemen Foley Fatukasi and DaVon Hamilton got strong push at times during one-on-one pass rush…
Wide receiver Tim Jones caught a long touchdown pass from rookie Nathan Rourke despite tight coverage from cornerback Gregory Junior in an early one-on-one drill…
Left guard Ben Bartch (knee) and defensive lineman Dawuane Smoot (Achilles) remain on the Physically Unable to Perform list to start camp. Rookie right tackle Anton Harrison (shoulder) worked in individual sessions before missing team work Wednesday, as did safety Andre Cisco (hamstring).