INDIANAPOLIS, Ind. – Trent Baalke talked philosophy this week.
And when the Jaguars' general manager spoke during the 2022 NFL Scouting Combine about roster building, he was in lockstep with Head Coach Doug Pederson regarding one major issue: Signing drafted players to second contracts.
The Jaguars haven't done this nearly enough in recent seasons, Baalke said, calling it "the one thing lacking in terms of the roster and where we're at."
He said that absolutely must change.
"When you look at our roster, there are very few players who are second contract Jaguars," Baalke, entering his second year as the Jaguars' general manager, said Tuesday during the '22 combine. "That's something that has to change. If we want to change the culture of Jacksonville and the direction of the organization, it's going to start there.
"It's going to start by drafting well, developing well and getting guys into their second contracts."
Pederson, hired on February 4 as the seventh head coach in franchise history, agreed.
"It's so important," Pederson said. "If you look at other teams, that's what they do. They draft guys, then extend them to stay on their team. That's what we have to get to in Jacksonville and grow our own in Duval and keep our guys here."
The Jaguars currently have players such as linebacker Myles Jack (Round 2, 2016) and center Brandon Linder (Round 3, 2014) signed to long-term, high-dollar second contracts. They have no former first-round selections on a second contract.
"It's very important for everyone to understand that that has to be the focus," Baalke said. "If we're not drafting well and developing well and getting guys into their second contract with the Jaguars, it's going to be tough to turn this thing around."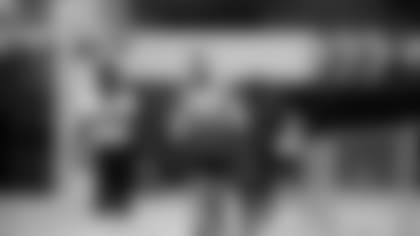 Baalke on Tuesday also discussed the upcoming free-agency period, saying that the team planned to be "very aggressive during the period." He also added that the aggressive approach must be executed "within reason."
"We've seen it played out multiple times when you go into free agency and you have a need and you way overpay to fill that need, and then a year later you're disappointed and you move on from the player," he said. "We have to be smart and we have to identify the right players, hopefully, recruit the right players in free agency or draft the right player in the draft that fill those needs. You can't pay $11 million for a $3 million player. Over time that doesn't work.
"We have to draft, develop and re-sign our own players under our second contracts so we don't have to go outside in free agency to fill major needs."
Baalke on the Jaguars moving forward from a difficult 2021 season: "There's a lot of resolve in an NFL locker room. These guys are pros. Coaches are pros. Personnel staff are pros. You understand that's part of the business. Sometimes things aren't going to work out and you have to move forward. Again, it's how fast can you shift your focus from the past to the present, to the future. I've never been one to live in the past. I live in the future. If you're worried about the past, you're worried about the wrong things. You can't control it and you can't change it. The focus has to be on what's ahead of us. And I think the fan base wants to move forward. I know internally we all want to be moving forward. That's no disrespect to anybody who was there in the past, but it's time to move forward and that's what we're choosing to do."
Pederson on the Jaguars' roster entering the offseason: "There's talent on the roster, No. 1. We know that every year we get to this part of the offseason and there are going to be changes. There are going to be guys who are going to leave and guys we are going to add through free agency. Do we need help? Yes, we need to keep acquiring talent and we need to fill in some gaps. We need to make sure [quarterback] Trevor [Lawrence] has weapons and skill positions around him and on the offensive line. This is why we go through free agency and the draft, to continue to add talent and value to the roster."