JACKSONVILLE – Young players worked and a few veterans did, too.
That was the goal this week as the Jaguars closed the veteran portion of the 2023 offseason, a period Head Coach Doug Pederson said ended positively.
"It's been good," Pederson said. "I know everybody's excited, being the last day to get to the summer. We had great participation."
Pederson, entering his second season as the Jaguars' head coach, allowed many veterans to not attend this week's three-day session at TIAA Bank Field – the offseason's only mandatory period for players. Participation in the voluntary period leading to this week was high, with veteran tight end Evan Engram and outside linebacker Josh Allen the lone players not participating.
Engram, who received the team's franchise tag in March, has until July 15 to sign a long-term contract and can play the 2023 season on a one-year deal if that doesn't happen. He also did not participate this week, with Allen participating all three days after working out on his own the rest of the offseason.
"He's in the right frame of mind," Pederson said of Allen. "He looks good. You can tell he has been working, obviously, and that's the encouraging part. Honestly, I'm encouraged by how enthusiastic he was to be here the last three days."
Allen is entering the final season of the five-year rookie contract he signed after being the No. 7 overall selection by the Jaguars in the 2019 NFL Draft.
"He understands his situation and where he is as a player," Pederson said. "It's good for him to be in here for us as coaches to put our eyes on and see him and talk to him. He's in a good place right now."
Wednesday marked the team's last day practicing on the TIAA Bank Field playing surface before moving into the newly constructed Miller Electric Center, a facility adjacent to TIAA Bank Field where 2023 Training Camp is expected to be held in late July with select practices open to the public.
"It gets them thinking about when they do come back, where they're going to be meeting," Pederson said. "I think that's for everybody. That's exciting, to know that's what we have to look forward to."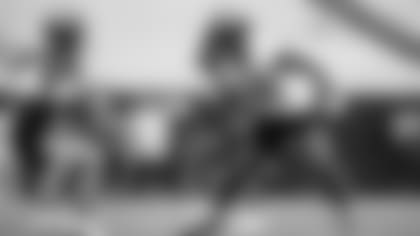 Practices the last three days, like all offseason NFL work, were non-padded with limited contact. All 13 rookie draft selections participated, as well as veterans such as second-year linebackers Devin Lloyd and Chad Muma, fifth-year running back D'Ernest Johnson, fourth-year cornerback Chris Claybrooks, fourth-year linebacker Shaq Quarterman, first-year tight end Gerrit Prince, fourth-year cornerback Tevaughn Campbell, third-year safety Daniel Thomas, first-year offensive lineman Coy Cronk, second-year offensive lineman Cole Van Lanen, second-year running back Snoop Conner, third-year outside linebacker Jordan Smith, second-year defensive linemen De'Shaan Dixon and Jeremiah Ledbetter, fourth-year defensive lineman Michael Dogbe, second-year cornerbacks Montaric Brown and Gregory Junior, second-year wide receiver Kendric Pryor and first-year wide receiver Kevin Austin Jr.
"This was good for them," Pederson said. "They got a lot more reps and there's more tape to evaluate as we prepare for training camp. The guys have done a good job. It's a really good group."
Veterans such as offensive linemen Cam Robinson and Josh Wells and wide receiver Calvin Ridley attended primarily to continue rehabilitating injuries. Pederson said the Jaguars sustained no significant injuries during the offseason program.
"We're in a good spot other than the ones that have been hurt the entire time, coming off last season," Pederson said. "Those guys are progressing well. We'll still have some guys coming in to get some treatment over the course of the next few weeks. The goal is to make sure that they're possibly cleared they can take part in training camp."
Pederson said Wednesday he left all players with a similar message as the offseason program ended.
"It's important to get some rest, be around family and enjoy the summer," he said. "It's also important for them to maintain their physicality, the strength-and-conditioning part of the sport. I challenge them all really to continue to run. It's going to be warm when we come back and things are going to progress rapidly, then pick up with the length and practices. You can't just be idle for five weeks.
"They put so much good time in. They're in really good shape right now. It's just a matter of maintaining that and coming into camp healthy and ready to go."