JACKSONVILLE – There is talent on the front seven. A lot of it.
That's a positive for teams seeking defensive disruption in the 2023 NFL Draft. There are potentially productive players at linebacker and defensive line throughout Round 1 and beyond -- primarily on the edge.
It may not be elite, but it has potential.
"There are plenty of guys at edge, but it's one of those things where no one stands out," NFL Media and Jaguars Media analyst Bucky Brooks told jaguars.com recently. "There is good, but there's not great. There's not Dwight Freeney, Myles Garrett, Julius Peppers … none of those guys."
As is often the case, edge rusher is a pre-draft focus among analysts. NFL Media analyst Daniel Jeremiah said it's a good group – and that it will be major storyline during Round 1 Thursday night.
"There's a zillion of them, and talking to GMs (general managers) and coaches around the league, there's a lot of different opinions," Jeremiah said. "The order of these edge rushers come off the board is going to be pretty fun to follow."
Will Anderson of Alabama and Tyree Wilson of Texas A&M are generally considered the '23 draft's two best edge players, with Anderson a possibility to be the first non-quarterback selected. Some analysts believe Wilson could push to be selected ahead of Anderson.
"They're good players," Brooks said. "Anderson is the more productive player. The production is there and he's a proven commodity even though he may not have the blue-chip trait when it comes to explosiveness off the ball or first-step quickness."
The class isn't considered as strong elsewhere on the front seven, with Matt Miller of ESPN calling it a "much deeper defensive end class than it is defensive tackle," and ESPN's Jordan Reid calling linebacker and defensive line "Two of the weaker positions" in the draft.
Jalen Carter, a defensive tackle from the University of Georgia, is widely regarded as a top 10 selection despite off-field issues. He is the lone tackle or inside linebacker generally projected to be selected in the first half of Round 1.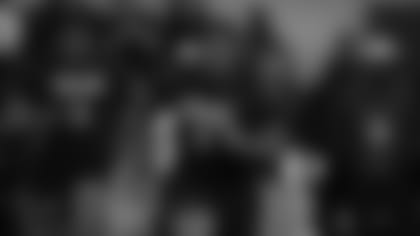 The Jaguars' front seven was solid in 2022, helping the defense improve against the run and still needing improvement as a pass-rushing unit – particularly in big situations. This figures to remain an area to watch into the 2023 regular season, with three players selected early in the '22 draft – linebackers Travon Walker (Round 1), Devin Lloyd (Round 1) and Chad Muma (Round 3) – needing to make a second-year jump in '23. Inside linebacker Foye Oluokun, after signing as an unrestricted free agent in the 2022 offseason, led the NFL in tackles in 2022 after doing so with the Atlanta Falcons in 2021. Defensive lineman Roy Robertson-Harris turned in a solid late-season stretch and was consistently disruptive during that time – and nose tackle DaVon Hamilton appeared to have the best of his three NFL seasons in 2022. Where this group specifically must improve is sacks off the edge. Outside linebacker Josh Allen, the No. 7 overall selection in the 2019 NFL Draft, has been very good against the run and consistently pressures passers, and registered a team-high seven sacks last season. Walker, the No. 1 overall selection in the 2022 NFL Draft, registered 3.5 sacks as a rookie. With the offseason loss of outside linebacker Arden Key (4.5 sacks) as an unrestricted free agent, the Jaguars could look to the draft for an edge rusher to complement Allen and Walker.
- John Oehser, Jaguars Senior Writer
BROOKS' 2023 TOP FIVE DEFENSIVE LINEMEN
Jalen Carter, junior, Georgia
Calijah Kancey, junior, Pittsburgh
Bryan Bresee, sophomore, Clemson
Mazi Smith, junior, Michigan
Adetomiwa Adebawore, senior, Northwestern
CHANCE JAGUARS TAKE A DEFENSIVE LINEMAN IN ROUND 1
Roy Robertson-Harris
Foley Fatukasi
DaVon Hamilton
Adam Gotsis
Michael Dogbe
Henry Mondeaux
Jeremiah Ledbetter
Nick Thurman
POSSIBLE FIRST-ROUND DEFENSIVE LINEMEN
BROOKS' 2023 TOP FIVE EDGE DEFENDERS
Will Anderson, junior, Alabama
Tyree Wilson, senior, Texas Tech
Myles Murphy, junior, Clemson
Lukas Van Ness, sophomore, Iowa
Keion White, senior, Georgia Tech
CHANCE JAGUARS TAKE AN EDGE DEFENDER IN ROUND 1
EDGE DEFENDERS ON THE JAGUARS ROSTER
Josh Allen
Travon Walker
K'Lavon Chaisson
Jordan Smith
De'Shaan Dixon
POSSIBLE FIRST-ROUND EDGE DEFENDERS
Anderson
Wilson
Murphy
Van Ness
Will McDonald, IV, Iowa State
White
BROOKS' 2023 TOP FIVE LINEBACKERS
Drew Sanders, junior, Arkansas
Nolan Smith, senior, Georgia
Trenton Simpson, junior, Clemson
Jack Campbell, senior, Iowa
Henry To'oTo'o, senior, Alabama
CHANCE JAGUARS TAKE A LINEBACKER IN ROUND 1
LBs ON THE JAGUARS ROSTER
Foye Oluokun
Devin Lloyd
Chad Muma
Shaq Quarterman
Caleb Johnson
POSSIBLE FIRST-ROUND LINEBACKERS