JACKSONVILLE – This draft is a bit unusual when it comes to offensive line.
It's not that the 2023 NFL Draft is bad at the position. It is, in fact, good in a few spots and deep in many others. It's just that it's perhaps not great compared to some recent classes.
"Solid," NFL Media and Jaguars Media analyst Bucky Brooks called it.
The 2023 NFL Draft perhaps doesn't have an elite left tackle at the top of Round 1, and Brooks said it's unlikely an offensive lineman will be selected in the Top 5 – with many analysts projecting the first offensive lineman being projected low or outside the Top 10.
The last time an offensive tackle wasn't selected in the Top 10 was 2019, with three being selected in the Top 10 in 2021.
"I wouldn't say there's a top five talent in the group," Brooks said. "It's not a great offensive line class. Just a good class."
Some analysts project Northwestern offensive tackle Peter Skoronski as the first offensive lineman likely to be selected, with others projecting Ohio State offensive tackle Paris Johnson there. Georgia offensive tackle Broderick Johnson also is commonly projected as a Top 15 selection.
"All the tackles are pretty close," ESPN NFL draft analyst Mel Kiper Jr. said.
It's considered a versatile class, with many of the top players having the ability to play both tackle and guard.
"The top four guys are also versatile in their own way," Kiper said.
Skoronski is considered a player who can play outside and inside, though some analysts wonder if arm length might affect his ability to play tackle. Darnell Wright of Tennessee also can play guard, right tackle and left tackle – mostly starting at right tackle in college. Many analysts consider Jones the most athletic offensive lineman available, while Johnson is considered to have the ability to play both tackle positions and guard.
"He's still a developing player, which you like," Kiper said of Johnson. "He hasn't played his best football yet."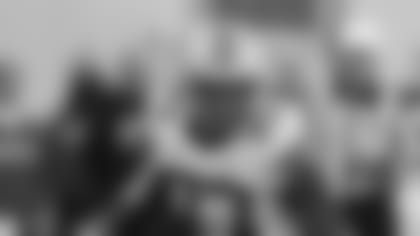 Brooks, too, said Florida interior lineman O'Cyrus Torrence and Wright belong in a group of potential first-round offensive linemen who could be selected quickly just outside the Top 10.
"Those guys can go, I would say, anywhere from eighth to 20 – and no one would be surprised if you see them kind of come off the board in that fashion," Brooks said. "So you might see as soon as one goes, they might come off pretty quick in that that teens range."
While Torrence is considered the draft's best interior linemen, it's considered a solid draft at guard and center with players such as John Michael Schmitz of Minnesota and Steve Avila of Texas Christian considered Day Two possibilities.
"It's a pretty good group of interior offensive linemen," NFL Media draft analyst Daniel Jeremiah said.
While offensive line is a storyline for the Jaguars entering the 2023 NFL Draft, it doesn't appear to be a pressing need. The Jaguars return four usual offensive line starters from 2022, with right tackle Jawaan Taylor signing as an unrestricted free agent with the Kansas City Chiefs immediately upon the beginning of the 2023 NFL League Year. But while Taylor had the best of his four NFL seasons in 2022, and while he may have been the team's best offensive lineman, the Jaguars are in good position to replace him with Walker Little – a second-round selection in the 2021 NFL Draft – having played well three regular-season and two postseason starts last season. Still, offensive line appears to be a very good possibility for the Jaguars in Round 1. Little's play in place of injured left tackle Cam Robinson late last season showed the value of a quality swing tackle – and of drafting the position early every few drafts for depth and future starters. Drafting offensive line early to deepen and develop an area that emerged as a team strength last season seems very possible.
- John Oehser, Jaguars Senior Writer
CHANCE JAGUARS TAKE AN OFFENSIVE LINEMAN IN ROUND 1
LT Cam Robinson
LG Ben Bartch
C Luke Fortner
RG Brandon Scherff
RT Walker Little
OT Josh Wells
C/G Tyler Shatley
OL Chandler Brewer
OL Blake Hance
OL Jimmy Murray
OL Cole Van Lanen
OL Darryl Williams
BROOKS' 2023 TOP FIVE OFFENSIVE TACKLES
Peter Skoronski, junior, Northwestern
Paris Johnson, junior, Ohio State
Broderick Jones, sophomore, Georgia
Darnell Wright, senior, Tennessee
Anton Harrison, junior, Oklahoma
BROOKS' 2023 TOP FIVE INTERIOR OFFENSIVE LINEMEN
O'Cyrus Torrence, senior, Florida
Steve Avila, senior, Texas Christian
John Michael Schmitz, senior, Minnesota
Luke Wypler, sophomore, Ohio State
Joe Tippmann, junior, Wisconsin
POSSIBLE FIRST-ROUND OFFENSIVE LINEMEN
Jones
Skoronski
Johnson
Wright
Torrence