JACKSONVILLE – The toe is fine – and the confidence is, too.
Calvin Ridley left no doubt about either issue Thursday – and the Jaguars' wide receiver continued to also make clear that his mind is on one thing these days.
"I'm here to help the team win," he said.
Ridley, who remains one of the top storylines of Jaguars 2023 Training Camp, spoke to the media after a comparatively light Day 8 camp '23 practice at the Miller Electric Center Thursday. Among the topics:
A toe issue that caused him to leave practice Tuesday.
"I was training this whole offseason in these types of cleats right here, but I like the lows," said Ridley, who joined the Jaguars in a November 2022 trade with the Atlanta Falcons and who last played a game in October 2021. "When I came back from training, I came here and put on my lows and they just got long spikes in them.
"It really wasn't my toe. It was just the bottom of my foot being sore because I kept stepping on the side of that shoe. I changed cleats, and I'm better. I'm good, it was nothing."
Ridley, who caught 90 passes for 1,374 yards and nine touchdowns in his last full season in 2020, reiterated on Thursday what he said earlier in camp – that he expects no "rust" despite not playing in nearly two years.
"Everybody wants me to be rusty, right?" he said. "Why? Why do you want me to be rusty? I can play football. No, I'm never going to think I'm going to be rusty. If I drop a pass, that doesn't mean I'm rusty. I just dropped it."
Ridley dropped four passes in practice Wednesday, saying Thursday: "I was so wet yesterday [from the sweat on his uniform] and couldn't keep it on my body."
"A player like me, I'm never going to think it's rust," he said. "I look at that and I did so much good [Wednesday]. I did so much good. There was some bad. You know there's going to be some good and bad. I look at it as a win.
"I got to get through this. I know how hard training camp is and this is probably one of the hardest training camps I've ever been in. I know I got to continue to work, to get better, and be dominant come Game One."
Ridley last week early in camp said ,"I am him," referring to knowing he had returned to his pre-layoff form. He was asked on Thursday about the statement.
"I'm a good receiver," he said. "I'm one of the better receivers in the league. That's what I've been saying since I was a rookie. I noticed that right when I got into the league, trying to be humble, but everyone has doubted me. I'm trying to fight back, respectfully at the same time.
"I'm not into the media, I'm not into getting all into it, I'm just trying to show I got respect for myself, and I work hard. I'm not going to say I'm going to come back rusty or anything.
"I'm trying to play well for the Jacksonville Jaguars."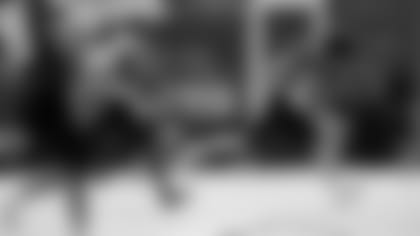 Ridley on Jaguars QB Trevor Lawrence: "Trevor is a great player, man. I'm so excited to be on this team with him. I think we could do so much. I'm trying to honestly keep it low because you guys are giving all the weight I feel. I'm trying to keep it lowkey so I can go out there and do what I do and not worry about me so much."
Jaguars tight end Josh Pederson, son of Head Coach Doug Pederson, spoke to the media for the first time during '23 camp Thursday. Pederson, who spent time in training camp with the San Francisco 49ers and New Orleans Saints in 2021 and with the Kansas City Chiefs in 2022, caught 24 passes for 325 yards for the USFL's Houston Gamblers in 2023. He signed with the Jaguars on July 10. "It's been great," Josh Pederson said of playing for Doug Pederson. "It's something I've always dreamt of as a kid. This is a really good opportunity for me to learn from such a great coach in this league. It has been really fun." He added, "It kind of took a little bit talking off the cliff as far as, 'OK, you're going to go play for your dad and this and that,' but at the end of the day, I'm just here to play football and earn my position on this team and try to help out as best I can."
Special teams coordinator Heath Farwell met with the media Thursday, mentioning multiple young players who have stood out on special teams early in '23 camp – particularly rookie safety Antonio Johnson. "He's a guy that's been spectacular," Farwell said. Others mentioned by Farwell: safety Latavious Brini, cornerback Erick Hallett II and cornerback Christian Braswell.