---
---
Senior writer John Oehser's "oral history" of 25 memorable games in Jaguars history continues with this look at a 29-7 victory over the Houston Texans in 2017 – a game in which the Jaguars set the tone for a season with a franchise record for sacks
---
---
Date: September 10, 2017.
Site: NRG Stadium; Houston, Texas.
Records entering game: Jaguars 0-0, Texans 0-0.
What happened: The Jaguars set the tone for their best season in nearly two decades with one of the most-dominant defensive performances in franchise history – a 29-7 victory over the defending AFC South Champion Houston Texans. Defensive end Calais Campbell registered a career-high and franchise-record four sacks, and the Jaguars' defense sacked Texans quarterbacks 10 times to set a franchise record for the most sacks in a single game. The Jaguars' offense registered just one touchdown and running back Leonard Fournette's 1-yard touchdown run capped a 53-yard drive that was set up when defensive tackle Abry Jones recovered a fumble by Texans quarterback Tom Savage forced by Jaguars defensive end Yannick Ngakoue. Ngakoue sacked Savage again to end the Texans' ensuing possession, and defensive end Dante Fowler Jr. returned Savage's fumble on that play 53 yards for a 19-0 halftime lead. Texans rookie quarterback Deshaun Watson replaced Savage to start the second half and capped his opening drive with a four-yard touchdown pass to wide receiver DeAndre Hopkins. The Jaguars' offense turned in their best drive of the game on the ensuing series, with quarterback Blake Bortles' one-yard touchdown pass to fullback Tommy Bohanon all-but clinching the Jaguars' first Week 1 victory in six seasons.
Jaguars leading passer: Blake Bortles (11-21, 125 yards, one touchdown, no interceptions).
Jaguars leading rusher: Leonard Fournette (26 carries, 100 yards, one touchdown).
Jaguars leading receivers: Allen Hurns (three receptions, 42 yards).
Texans leading passers: Watson (12-23, 102 yards, one touchdown, one interception), Savage (7-13, 62, zero touchdowns, zero interceptions).
Texans leading rusher: Lamar Miller (17 carries, 65 yards, one touchdown).
Texans leading receivers: Hopkins (seven receptions, 55 yards, one touchdown), C.J. Fiedorowicz (four receptions, 46 yards).
The Jaguars opened 2017 with high hopes, having added a trio of defensive free agents – Campbell, cornerback A.J. Bouye and safety Barry Church – to a defense that had ranked sixth in the NFL the season before. Campbell talked throughout that offseason of the team having the talent to contend for the postseason. Still, the Jaguars had had six consecutive losing seasons. This victory in very real sense set the tone for the AFC South Championship run that was to follow.
Campbell: "It was very important. If we don't come out of the gate and play the way we're capable of playing, we might have been inconsistent with a lot of highs and lows the whole time. We did have some low moments in that season, but we needed that game. Everybody was hyping up and saying Houston had one of the best defenses in the league. We wanted to show the world how good we could be. It's one thing to say that and have leaders saying and trying to get that mentality going, but it's another thing to actually do it."
Bouye: "We had new additions – me, Calais, Barry, draft picks – that were being talked about, but it was always, 'Same old Jaguars' and things like that. That first game was just a statement that needed to be made and showed what we were capable of.' Going to Houston and going to 1-0 in the division … that was a big statement that we made.''
Head Coach Doug Marrone: "We went through the preseason, we had a lot going on, then all of a sudden we get out there on the field and the first third down we throw a ball to [wide receiver] Allen Robinson and he gets hurt (a season-ending anterior cruciate ligament). We had a lot of things planned for A-Rob in that game. Next thing you know, other guys are picking up the slack on offense, defense is playing well, guys are flying around and you're sitting there saying, 'Hey, you know what? This can be a special year.' That's how I felt about that game."
The day also was important in another way. The Jaguars in the 2017 offseason had a difficult training camp by modern NFL standards. Not all players loved the approach during camp. The victory in the opener was proof that the approach had worked.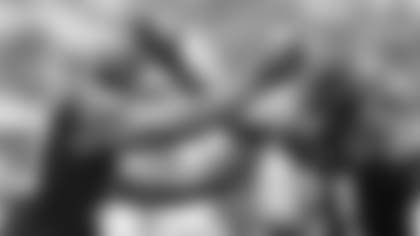 ---
---
Bouye: "Coach Marrone definitely showed us the work we put in, how it translates to Sundays. It just motivated us to go back to practice the next week and keep us going. In that first game, we saw that we had something special."
Linebacker Paul Posluszny: "It was enormous. We went on the road and we came out of the most grueling camp that any of us ever had been a part of. To beat the Texans in the fashion we did – on the road, division opponent, all of those factors combined – it kind of validated everything we had done. We had earned this because of what the offseason was like, what training camp was like. It told us this was the kind of success we should expect and look to earn. It gave you a positive, winning feeling. You were 1-0 and while it seems silly to see say it, you were 1-0 and you beat a team that had been to the playoffs the year before … you feel invincible. Even though it's one game in, when you start off like that it definitely sets a tone for the remainder of the year."
Posluszny set a tone for the '17 season, too.
Defensive tackle Abry Jones: "People were real that year about sacrificing themselves for the team. That started in OTAs (organized team activities) when we saw Poz wasn't starting no more and he was taking special teams reps. He went about it the Poz way. There was no complaining. He did his job every time. That was a big tone-setter for the team."
Campbell, a two-time Pro Bowl selection with the Arizona Cardinals, had signed in the 2017 offseason and had emerged quickly as a defensive leader in the 2017 offseason. Still, entering the 2017 season opener, he had yet to play a game with his new team.
Campbell: "I remember just personally wanting to make a really good impression. You're an older guy and they're paying you all of this money. A lot of people are going to check out what you can do, your value. I wanted to show not only the fan base and coaching staff what I can do, but I also wanted to prove it to myself and my teammates that we could be good right away. I didn't practice much in training camp because I had sprained my foot. I didn't have a lot of reps, so I wanted to make a statement."
Campbell didn't make a statement on the Texans' first play. Not even close.
---
---
Campbell: "It wasn't a pancake, because it was to the side, but I got my feet tangled up because I was too excited. I got knocked over. I think [linebacker] Telvin [Smith] made the tackle for a one-yard gain, so it was a great play for the defense, but me personally I got shook up. I said, 'Oh, that's not happening.'''
The statement came seconds later.
Campbell: "The next play was a pass play. I bulled through the right tackle and ended up getting a sack. It erupted. It was literally the first pass play of the season, but it was because I got beat the play before. I don't like getting beat so I had to redeem myself."
Jones: "We knew he was a baller. But there's a thing to just do it in your face and do it against a division team that we as a defensive line haven't always gone sack-crazy against. To see him single-handedly rush inside, outside and stop the runs he did … it was like, 'He's everything we thought he was.'"
For Jones, the game had symbolic meaning. A loss at Houston in December of 2016 had marked the final game of former Head Coach Gus Bradley's tenure. The '17 opener being at the same site seemed a chance to establish a new tone.
Jones: "That was the last game the year before for Gus. Then this was Doug's first game. It was like we ended here last year and it's where we're starting the next year. A new year … let's start off big, especially with it being a divisional opponent. I was telling guys, 'As long as I've been here, I've never won at Houston, so this is a big game for all of us. It's really going to set the tone of the year.'
Marrone had another pre-game worry. The Texans seemed likely to be at an emotional peak with the team and city dealing with the aftereffects of Hurricane Harvey.
Marrone: One of the things I was concerned about was the Hurricane that had hit Houston during training camp. It was a shame for all of the people, the players, the families – just the whole area, what they had to go through. I had been in a little bit of a similar situation post-Katrina in New Orleans and I kept thinking, 'We better be ready to go, because they're going to rally around this, which is expected. We're going to see the best of this football team. We've got to be prepared and we have to match that intensity and we've got to be ready to go.'"
The Jaguars were ready. Campbell keyed a dominant defensive effort in the first half. By halftime, he had 3.5 sacks and the Jaguars were surprising many observers by taking control of the game.
Campbell: "I remember Yann (defensive end Yannick Ngakoue) looking at me near halftime saying, 'How many sacks you got already?' Man, I've got to get going."
Ngakoue then sacked Savage. Fowler scooped and scored for a 53-yard touchdown.
Campbell: "Very next play: Sack/fumble for a touchdown. There was a demeanor on the field of, 'OK, this is what we're all kind of talking about.' This is what we saw, that we had a chance."
Jones: "We went in and just figured we need to be a tough-fought battle and we just need to figure out how to pull it out. Once we went out in the first drive and punched them in the mouth, we saw that with the talent we brought in and the attitude that we had all throughout camp that this was really going to take us a long way. People were swarming to the ball, putting out big hits. I think we had 10 sacks. There were turnovers all over the place."
The Jaguars led the NFL with seven defensive touchdowns in 2017.
Bouye: "That was just the way we were playing. We had a lot of playmakers. We emphasized turnovers. When you put in the work, good things happen. That's what it was. We put in the work and it went in our favor."
Watson replaced Savage at halftime and drove the Texans immediately for a touchdown, but the Jaguars' defense stiffened after that.
Campbell: "We had a feeling they might do a quarterback change. They had a Top-10 pick who was very talented on the bench and this other guy wasn't getting it done. We figured they would give the other guy a chance. They went down and scored that touchdown. After that it was, 'We're not going to let this rookie beat us. We know who we are. We already saw it in the first half. We just have to keep playing ball, taking turns having fun and making play after play.'"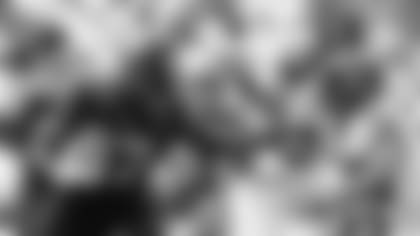 ---
---
Jones: "We were beating them down the whole first half, then they switched quarterbacks in the second half, and it was like, 'Oh, here we go.' They came out the second half and switched to Watson. We've got to rush but we've also got to worry about the run. We settled back in and said, 'We can handle him running around in the pocket because we've got the defensive backs who are going to cover everybody, and we've got linebackers all over.' In the third quarter, it hit most of us who had been here. Calais, he was on the sideline saying, 'This is how it's supposed to be.' He was doing his little leader thing, but for those of us who have been here we're like, 'Oh, we really started like this.' It was like, OK, we know we can do this. We can start right.' The offense was doing whatever they wanted, the offense was getting them the ball and the run game was on point. We really kept drives alive. There was no chance for them to come back. We were getting three and outs and the offense was taking five, six minutes a drive. It was a complete team effort."
The Jaguars went on to win the AFC South title in 2017 – their first division title in 18 years. This game was key to that.
Marrone: "It was extremely important. We went out and we felt that we had acquired a couple of pieces we needed for the team – Calais, A.J. We added some young offensive players in the draft; Fournette was young."
Posluszny: "You felt it right away, especially after beating Houston. I remember Coach Marrone always would talk about complete devotion to the week you're in, and not worrying about anything else. You could see a quiet confidence building in us and us realizing, 'Hey, as long we continue to do this and prepare the way we have we can have success.' We kind of got into a groove. All through training camp and the spring I saw our defense – the speed we had and these three good corners (Ramsey, Bouye and Aaron Colvin) … We were stacked. We had all of these talented guys. I didn't know a lot of them well, but I knew they had potential. I saw what kind of talent we had. I started thinking, 'If we get our confidence going, we could be special.'''
Campbell: "The goal is to win the division. Every coach says it going into the season: 'You win your division and you guarantee yourself a chance for the playoffs.' We were playing a division game, on the road, in a hostile environment – they had the Hurricane and other stuff, so you knew there was going to be a lot of energy. You go there and beat a team that a lot of people picked to win the division. It gave us a feeling of, 'We really can win the division.' Our team was so young. Belief was crucial. I think that gave us momentum going forward."