---
---
Senior writer John Oehser's "oral history" of 25 memorable games in Jaguars history continues with this look at a 30-9 victory over the Pittsburgh Steelers in 2017 – a game in which the Jaguars intercepted Steelers QB Ben Roethlisberger five times
---
---
Site: Heinz Field; Pittsburgh, Pa.
Records entering game: Jaguars 2-2, Steelers 3-1.
What happened: The Jaguars, after two convincing victories and two disappointing losses in the season's first month, firmly established themselves as postseason contenders with a 30-9 road victory over the defending AFC North Champion Pittsburgh Steelers. The Jaguars' defense was not only dominant in Pittsburgh, it was opportunistic and intercepted Steelers quarterback Ben Roethlisberger five times. That was the most interceptions in Roethlisberger's career, and the takeaways set the tone for a defining performance for a Jaguars defense that ranked second in sacks, second in takeaways and second in total yards in the NFL for the 2017 season. The Jaguars broke open a tight game in the third quarter after running back Leonard Fournette's two-yard dive over the line gave them a 7-6 halftime lead. Steelers kicker Chris Boswell's third field goal of the game midway through the third quarter gave the Steelers a 9-7 lead. But linebacker Telvin Smith returned an interception 28 yards for a touchdown to give the Jaguars a 14-9 lead and safety Barry Church's 51-yard interception return on the ensuing Pittsburgh series pushed the lead to 21-9 with 3:59 remaining in the third quarter. A 12-play, 67-yard, all-run drive ended in a 47-yard field goal by Jason Myers and pushed the lead to 24-9 before Fournette's 90-yad run just after the two-minute warning provided the final margin. Jacksonville outrushed the Steelers 231-71 for the game and forced five turnovers while committing just one giveaway.
Jaguars leading passer: Blake Bortles (8-14, 95 yards, zero touchdowns, one interception).
Jaguars leading rusher: Fournette (28 carries, 181 yards, two touchdowns).
Jaguars leading receivers: Marqise Lee (two receptions, 49 yards, zero touchdowns).
Steelers leading passer: Roethlisberger (33-55, 312 yards, zero touchdowns, five interceptions).
Steelers leading rusher: Le'Veon Bell (12 carries, 47 yards, zero touchdowns).
Steelers leading receivers: Antonio Brown (10 receptions, 157 yards, zero touchdowns).
The Jaguars' win-one-lose-one-win-one-lose-one start to 2017 had many observers wondering if they were for real. Head Coach Doug Marrone said the reality was the Jaguars were still a team trying to find itself entering this Week 5 game at Pittsburgh.
Marrone: "We're still trying to figure out how we're playing. We had a big opening victory on the road, then we came back and didn't play as well. We were kind of going back and forth. It was, 'What are we going to be? What type of team?'''
Defensive end Calais Campbell, for his part, was confident in the week leading to the game.
Campbell: "The Pittsburgh game was when it really clicked. It was a combination of belief and confidence. There was hope and a feeling that we could. We established in the opener a feeling of, 'We can,' but we had ups and downs. We're a young team with some new coaches to a degree. After the first game, I remember looking in guys' eyes and they were sort of believing, then we had our ups and downs. But I remember practice that week [before the Steelers game] thinking, 'We're about to beat these guys. We can beat them bad.'''
Cornerback A.J. Bouye: "We were starting to roll, and you're going against a premier team – a great fan base, a great home crowd. A lot of people doubted us, because it was the Steelers. We wanted to show what our defense was capable of. That was the message all week: 'They're still doubting us. Let's go out there and show them.' That's what we did – on defense and offense."
Proving doubters wrong was a theme that held throughout the season.
---
---
Bouye: "We played with that chip on our shoulder."
Marrone throughout the season talked of the team's unusual confidence, noting that it played with that confidence perhaps before it was earned.
Bouye: "We knew the work that we put in, and we knew the plays we were making – and we knew the chemistry we had. We all had belief in each other because we saw the work we did in practice. It was something special that year."
Marrone, typical of a head coach, wasn't as over-the-top confident. He also had respect for the tradition-rich Steelers.
Marrone: "My thought process was, 'OK, I've been here before where you've got to go to Pittsburgh and beat the Steelers.' It's a very difficult place to play. My focus with the team was, 'Our challenge is going to be we've got to go up there and we've got to out-physical this team.' That's the one thing about the Steelers is if you can't match the physicality – and they've been a physical team for a long period of time – you get yourself in trouble. They had a lot of explosive players on offense and they have a lot of really good players on defense."
The Steelers took a lead on their first drive, but the Jaguars held Pittsburgh to a 29-yard field goal. After Fournette dove over the top for a two-yard touchdown early in the second quarter, the Steelers retook the lead with 34- and 20-yard field goals by Chris Reed. Holding the Steelers to short field goals as opposed to touchdowns would loom large later in the game.
Jones: "At the beginning of the game, [the Steelers] were saying, 'Now, you've got to play a real team. Now, you've got to play us – stuff like that.' The first drive, the came out and we kept them to a field goal, but they drove all the way down the field. We're like, 'OK, we knew it was going to be tough, but we held them to a field goal.' We settled into the game, then we played the ball we were playing all year creating turnovers and really controlling the game."
Campbell: "Our biggest thing was trying to be stingy, not giving up touchdowns. Teams are going to make plays, but the biggest thing was keeping them out of the end zone. I remember holding them to three points. That was huge."
The Steelers led 9-7 in the second half and took possession at their 23 after forcing a Jaguars three-and-out. The Steelers had driven 45 and 73 yards for field goals on their previous two possessions and a score of any kind on this drive would give the Steelers a two-score lead. Instead, Roethlisberger threw to his left on second-and-11 from the Steelers 22. Smith intercepted and returned it for a 28-yard game-turning touchdown.
---
---
Campbell: "I was telling guys, 'This is a dangerous team. Stay focused.' We knew our offense wasn't going to score a whole bunch of points too often. Our mindset was, 'Give them short fields.' Turnovers are short fields. Then you have guys like Telvin who are so athletic: He's a 4.3 guy, and he takes it to the house for a touchdown. That's impressive. Now, our defense becomes an actual scoring threat."
The threat continued on the next drive when cornerback Jalen Ramsey deflected a pass that Church caught and turned into a 51-yard touchdown and a 21-9 Jaguars lead. It was the Jaguars' second defensive touchdown in less than three minutes. Those were two of the Jaguars' league-leading and franchise-record seven regular-season defensive touchdowns in 2017.
Marrone: "The defense themselves really created that. As coaches you talk about, 'Hey, we want to get turnovers.' They were like, 'Hell, we're going to get turnovers. We need to make them touchdowns.' I think that was the mentality. We had some opportunities. We were able to take advantage of it and that was a lot of good assistant coaches on defense and [defensive coordinator] Todd Wash doing a good job – and the players."
The Jaguars' five interceptions were the most in a single game in franchise history. They finished the 2017 season with a franchise-record 21, a total that marked the second-most interceptions by any team in the NFL that season.
Marrone: "When I would go watch the secondary and watch them do drills, then go and watch receivers, you think to yourself, 'Shoot, our defensive backs have just as good of hands as our receivers.' Normally, the joke is they play defensive back because they didn't have good enough hands to play receiver. Well, that's not the case with the guys that were back there. They worked on it quite a bit."
With a 21-9 lead, the Jaguars turned to draining the clock. They did so with numbing effectiveness with a 13-play, 67-yard drive that took the Jaguars from their 4 to the Steelers 29. It ended with a 47-yard field goal by kicker Jason Myers. Fournette rushed for 43 yards on the drive, which included a run that went viral after he challenged Steelers safety Mike Mitchell to tackle him during the play.
Jones: "Watching the offensive line walk over them, watching Fournette running down the field challenging anybody that wanted to step up and talk to him, was really a confidence booster. The confidence grew as the game was going. As the game was going, we saw how far we could go as long as we didn't beat ourselves. When the game was all over, it was a confidence booster – a major one – for us. But it was really like, 'We did what we were supposed to do. This is what was supposed to happen. This is what we can be.' It told everybody, 'That's the formula. If you want to win games and you want to win big games and beat great teams, that's how you have to play.'''
Myers' field goal had given the Jaguars a 24-9 lead. Two interceptions by safety Tashaun Gipson off Roethlisberger essentially secured the victory. A 90-yard run by Fournette on the play after the two-minute warning did secure one of the team's biggest victories in recent memory.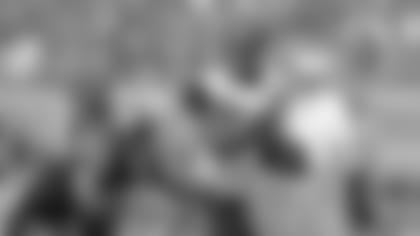 ---
---
Marrone: "When you go in in the middle of the season, play on the road and get that win where a lot of people are counting you out … it was, I thought, a big step in the right direction. Having not been with a lot of these players, and a lot of them having not experienced it, to go into one of probably the most-hostile environments and win – knowing the Steelers would be ready – was exciting to see. Our guys didn't miss a beat."
Turnovers weren't the only reason the Jaguars won that day. They held Bell to 47 yards and 12 carries, and outrushed Pittsburgh by 160 yards.
Marrone: "The defense played well. They were able to keep a really good quarterback and a good running back off balance. It was a great day and it was a big win."
Jones: "Huge. All week coach was saying, 'This is going to be a physical game.' That's mentally challenging us because we're all grown men. We're saying, 'I don't care how physical their history of football is, it's us. You're not going to out-physical us.' I know for the offensive and defensive line that's what we were focused on, that we wanted to own the game from a physical standpoint."
The Jaguars had flashed twice early in the 2017 season, registering one-sided victories over Houston and Baltimore. But they also had lost to Tennessee and the New York Jets in disappointing fashion. This Week 5 victory over the Steelers therefore had the effect of galvanizing belief among players in a major way.
Campbell: "This is a team (the Steelers) that a lot of people were picking to win the Super Bowl. They had a great quarterback who had a history of winning Super Bowls, running backs, receivers, offensive line … the whole package. The defense was good. The confidence was there before and I felt we had a good chance of winning, but after that game? I felt like the confident just took another level. There was a real belief after that game that we were a playoff team."
Bouye: "We did it against a Hall-of-Fame receiver, a Hall-of-Fame quarterback, a great team that's always going to the playoffs and winning their division. That let us know where we were as a team and it gave us momentum moving forward."
Posluszny: "It made the statement that the team we had and the year we were having absolutely was legit. You saw how dominant defensively we could play, and the types of players we had. It was Ben Roethlisberger and the Pittsburgh Steelers. It was a great team. It's a great franchise. To beat them like that, that really cemented things for us."