---
---
Senior writer John Oehser's "oral history" of 25 memorable games in Jaguars history continues with this look at a 10-3 victory over the Buffalo Bills in an AFC Wild Card Playoff following the 2017 season – the Jaguars' first postseason victory in a decade
---
---
Site: EverBank Field; Jacksonville.
Records entering game: Jaguars 10-6, Bills 9-7.
What happened: The Jaguars, who won their first AFC South title and their first division title since 1999 in 2017, registered their first postseason victory in nearly two decades with a dominant defensive performance in 10-3 victory over the Buffalo Bills an AFC Wild Card playoff game. The game was defensive-oriented from the start, with the Bills taking a 3-0 lead on Stephen Hauschka's 31-yard field goal with 1:49 remaining in the half. After two quick possessions, the Jaguars moved into field-goal range to tie the game at 3-3 with Josh Lambo's 44-yard field goal with :02 remaining in the half. The game's key drive – and the Jaguars' best drive of the game – consumed nearly nine minutes in the third quarter with the Jaguars moving 86 yards on 15 plays and taking a 10-3 lead when quarterback Blake Bortles passed for a one-yard touchdown to tight end Ben Koyack on fourth-and-goal. The Jaguars rushed 13 times on the series, with Bortles rushing three times for 31 yards and running back Leonard Fournette running eight times for 35 yards. The Jaguars' defense, which held Buffalo to 263 total yards, shut out the Bills on four possessions after that and cornerback Jalen Ramsey's tipped-ball, diving interception off a pass from Bills backup quarterback Nathan Peterman secured the victory with :26 remaining.
Jaguars leading passer: Bortles (12-23, 87 yards, one touchdown, no interceptions).
Jaguars leading rusher: Bortles (10 carries, 88 yards, zero touchdowns), Fournette (21 carries, 57 yards zero touchdowns).
Jaguars leading receivers: Dede Westbrook (five receptions, 48 yards, zero touchdowns).
Bills leading passer: Tyrod Taylor (17-37, 134 yards, zero touchdowns).
Bills leading rusher: LeSean McCoy (19 carries, 75 yards, zero touchdowns).
Bills leading receivers: McCoy (six receptions, 44 yards, zero touchdowns).
This was the Jaguars' first home playoff game in 18 years. The city was ready.
Defensive end Calais Campbell: "You could tell the fans were hungry for success. They wanted it bad. Not just in the stadium, but the whole week around town … you could see how excited people were."
Head Coach Doug Marrone: "My thought process was, 'Hey, you've worked yourself into this situation and you've worked yourself into a home game.' The thing I was conscious of was I didn't want the team to feel any pressure of the first home game and 'We hadn't won a home game in so long …' or 'We hadn't been to the playoffs in so long …' My focus that week was really trying to get the team to relax and really just go out there and play and not get into all of the things that happen on the outside of, 'The family's coming,' 'We're going to dinner,' 'I need tickets' and 'I need that.' I thought our guys did a good job of really just kind of accepting the challenge. I didn't feel we were tight at all. We played a team that was one of the top defenses in the league and I thought we did what we had to do to win the game."
Defensive tackle Abry Jones: "The whole week was pretty much like a dream. I'm sitting at home thinking, 'Dang, I gotta go to practice tomorrow' … mind-blowing. Usually, I'm planning where I'm going on vacation … calling my mom, telling her when I'm going to come home. It wasn't only the change, the focus, how we got here, how we were hungry for more, but you could see a change in the city. Everyone had their flags on their cars, everyone had their Jaguars shirts and hats wherever you went. The whole city is, like, 'Hey, let's go. We're all in this together.' Especially the ones who had been here 25 years. They were like, 'This is how we remember Jaguars football being.' That was a stronger feeling than playing in the game. When we got to the game, we knew we could beat them. We just knew we had to come out and play our type of football. We came out on defense and made our plays. It was all a dream to me, just being here so long and seeing everybody come and go. I was just happy."
---
---
Cornerback A.J. Bouye: "It was special. To have the fans – the real fans – come out and really support us. The energy was amazing. I remember running out of the tunnel, how loud it got -- looking around, you just felt like it was a championship game. It was the loudest I'd ever heard, especially in there. We have to get back to earning that, but that's the type of environment we want week-in and week-out."
It also was the first postseason game for many Jaguars players, including middle linebacker Paul Posluszny – then an 11-year veteran who spent his first five seasons with the Bills and who was then in what would be his final NFL season.
Posluszny: "It was an experience I'll remember forever. The passion and the excitement in that stadium – to have a home playoff game in Jacksonville when we hadn't had one in so long. The electricity in the stadium and atmosphere of the game was something I had never experienced on the professional level. To be a part of that was unbelievable. That will be one of my favorite NFL memories, for sure."
Campbell: "Poz had never been to the playoffs; that was a big motivator and we're playing against his old team. That gave us a little bit of a chip – guys wanted to win for Poz because they knew it could be his last season."
The youth of the Jaguars made the game's early minutes important.
Campbell: "We were still a young team, and a lot of guys' first time being in the playoffs. You know emotions are going to be high. The biggest thing was to withstand the beginning."
A pivotal series came near the end of the first half. The Bills drove to the Jaguars 1 and faced first-and-goal from there. An interference penalty on wide receiver Kelvin Benjamin for pushing off on Ramsey moved the Bills back 10 yards and led to the Bills settling for a field goal.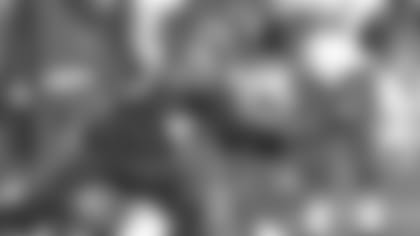 ---
---
Campbell: "Their defense was playing incredible. We were trading play after play. We weren't going to let them score. My mentality going into a game is, 'I want to shut these guys out.' A lot of times you say that and don't really believe it, but with our talented defense I really believed that if we let somebody score, we were making mistakes. If we did everything the right way, very few teams should score on us. I remember thinking to myself, 'If we just lock in and play good defense, eventually it's going to click.'"
Lambo tied the game 3-3 with :02 remaining in the half, setting up a hold-your-breath, grind-it-out second half. While Bortles struggled to complete passes in a swirling wind, he was effective with his legs and the Jaguars pushed toward the Buffalo goal line. A 15-play drive covered 86 yards and used nearly nine minutes, with Bortles' runs keying the drive. On fourth-and-goal from the 1, Bortles found Koyack in the back of the end zone for a one-touchdown lead. Marrone's decision to go for a touchdown galvanized an already dominant defense.
Campbell: "We went for it on fourth and Blake threw a touchdown to Ben Koyack. I just felt that proud feeling. We went for it on fourth a lot that year and I loved that about Doug because he knows how good our defense is and he's aggressive in those situations because worst case you get the ball back on the 50 -- and you might get points. You might get two if you don't get it. The goal is to get seven. We got seven the majority of the time. We kept getting points when we went for it on fourth that year, so we were confident and that was a huge play."
Marrone: "When you make those decisions, a lot of it has to do with your team and not just your offense. I felt good about that. We had a good play that we had worked on. Koyack made the play in the back of the end zone and that was the difference in the game. At the end, our defense has been playing outstanding all year."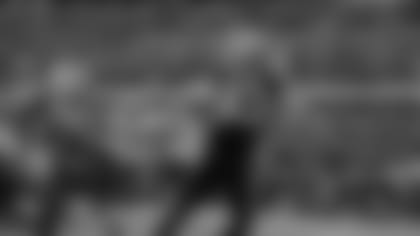 ---
---
Bouye: "You definitely don't want to let the coach down. Just to know that he has confidence in us – that makes us go out and play freer and looser. Whenever he went for it on fourth down, he came to us and found us to let us know, 'I trust you guys.' Just to hear that from him, it made us come out and make plays and stop us to get the ball back."
The Jaguars led by just seven points. Campbell had no doubt the lead was large enough.
Campbell: "The game's over. The game's over. We got the lead. Now we're not going to let it go. Now, the defense can just take turns making plays like we always do."
Bouye: "We were dominating all game. We just needed to get in the end zone. We could tell we had their offense broken."
A defense that ranked second in the NFL in yards allowed, second in sacks and second in takeaways and stifled the Bills in the fourth quarter. The Bills moved past the three times. They reached the 38 on the last trip, but Ramsey's spectacular interception ended the Bills' final drive.
Campbell: "I think that play just signified our defense and how we were capable of doing. In my mind, we were going to win that game whether he caught that ball or not. No offense to them, but especially after [starting quarterback] Tyrod Taylor went out of the game [late in the fourth quarter] and they went to the backup quarterback, there was no doubt in my mind we were going to win. But the way he (Ramsey) did it signified our swagger and our playmaking abilities. The way he (Ramsey) broke it up, popped it into the air and then went to catch it … it was perfect to what we represented the whole year. It was huge for our fan base because it gave them something to celebrate and it was a celebration that lasted until the next game. It was a whole week of celebrating because we knew this was something special. This team had a chance."
Posluszny: "It was very fitting. It wasn't pretty. It wasn't a high-flying football game, but it was pure football. It was, 'Who's the toughest? Who can execute the best and who's going to flinch first?' That was the way we were able to win."