---
---
Senior writer John Oehser's "oral history" of 25 memorable games in Jaguars history continues with this look at a 31-29 victory over the Pittsburgh Steelers in an AFC Wild Card Playoff following the 2007 season – a game in which quarterback David Garrard turned in one of the most clutch plays in franchise history
---
---
Site: Heinz Field; Pittsburgh, Pa.
Records entering game: Jaguars 11-5, Steelers 10-6.
What happened: The Jaguars dominated the first half, then let an 18-point second-half lead slip away before rallying for a dramatic 31-29 victory over the Pittsburgh Steelers in an AFC Wild Card game. The victory was the second for the Jaguars at Heinz Field in less than two months, making them the first team ever to win in Pittsburgh twice in the same season. The victory also marked the Jaguars' first postseason victory in nearly eight seasons, with their last playoff win having come 62-7 over the Miami Dolphins in an AFC Divisional Playoff following the 1999 season. The Jaguars won despite being outgained 340-239 and despite the Steelers having the edge in first downs, 24 to 14. The Jaguars, who forced four turnovers, took a 21-7 halftime lead with cornerback Rashean Mathis returning a second-quarter interception 63 yards for a touchdown and running back Maurice Jones-Drew catching a 43-yard second-quarter touchdown pass from quarterback David Garrard. Jones-Drew's 10-yard run with 4:39 remaining in the third quarter gave the Jaguars a 28-10 lead, but the Steelers rallied with touchdown passes of 37 yards from quarterback Ben Roethlisberger to wide receiver Santonio Holmes and 14 yards from Roethlisberger to tight end Heath Miller. A one-yard rush by running back Najeh Davenport gave the Steelers a 29-28 lead with 6:21 remaining, and after a Steelers punt the Jaguars took possession at their 49 with 2:38 left. Garrard turned in one of the most memorable plays in franchise history on the ensuing series, running 32 yards on fourth-and-2 from the Steelers 43. Kicker Josh Scobee's 25-yard field goal gave the Jaguars a 31-29 lead, and defensive end Bobby McCray sacked Roethlisberger on the ensuing series with :29 remaining. Safety Derek Landri recovered to secure the victory.
Jaguars leading passer: Garrard (9-21, 140 yards, one touchdown, two interceptions).
Jaguars leading rushers: Fred Taylor (16 carries, 48 yards, one touchdown), Jones-Drew (eight carries, 29 yards, one touchdown), Garrard (five carries, 32 yards).
Jaguars leading receivers: Ernest Wilford (two receptions, 39 yards), Jones-Drew (one reception, 43 yards).
Steelers leading passer: Roethlisberger (29-42, 337 yards, two touchdowns, three interceptions).
Steelers leading rusher: Davenport (16 carries, 25 yards, two touchdowns).
Steelers leading receiver: Ward (10 receptions, 135 yards), Heath Miller (eight receptions, 85 yards, one touchdown).
The Jaguars entered the game as underdogs. And while they had won in Pittsburgh in a big game in December, winning in Pittsburgh twice in one season – and in the span of two months – was a daunting task.
Scobee: "Winning is tough. Winning is very tough on the road. Winning is extremely difficult on the road in the playoffs. That game was amazing."
Jones-Drew: "The atmosphere was crazy. It was one of those old-school mudder-type games."
Garrard: "We knew we had some things against us. We knew they were a team that was constantly in the playoffs and we had only been there sparingly since I'd been there. We knew there were challenges, but all week I thought, 'We've been playing great all year. There's no reason to change anything now. It's still just football. The stage is bigger and it's the same team we just played.' They didn't change much defensively and that really helped us offensively. We knew where we could take advantage of them. They threw a couple of wrinkles in there, but they didn't change much. It was just, 'Can you outexecute Big Ben and his crew?'"
Taylor: "It was definitely one of the most physical games I played in my career. But they did not back down. Big Ben and David were both magical. I expected us to go up there and win, but I knew the challenge it was going to be."
For Garrard, the game was big personally. Twelve of his 30 career starts to that point had come in the 2007 season, but he wasn't completely established as the Jaguars' franchise quarterback.
Garrard: "It was huge. I knew I had a pretty decent year, but I knew to make claim as the quarterback of the future with the team – and hopefully one day sign a big deal – it would take us going up and me playing well in Pittsburgh."
The game was big for the Jaguars' standout running backs, too. For one – Jones-Drew – it was the first playoff appearance in what was then his second NFL season.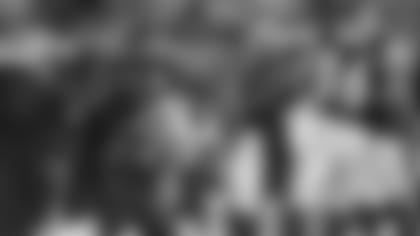 ---
---
Jones-Drew: "I slept horribly. I was nervous. It was my first playoff game. I didn't completely understand the magnitude of the playoffs, but whenever the lights were on you have to play your best. Some guys wake up and feel great in the morning. I just didn't feel good. I got to the stadium and took a shower. I never took a shower before the game, but I wanted to wash whatever was on me off and get back into my routine."
For Taylor, the nerves were different. He was in his 10th NFL season, and knew his playoff opportunities moving forward could be limited.
Taylor: "For me, it was a game of hope. I was hoping to reach the ultimate goal, the reason we play this game. I thought it was going to be a magical season, a Jerome Bettis-type season. I didn't know how much longer I was going to play. I had thought I was going to shut it down after 10 years. No other game in my career made me get up and walk around because I had intense butterflies. Those butterflies were so strong, I don't know how many games I had played to that point, but I was more nervous for that game than in any other game in my entire career – even my rookie year. I knew what it meant and here we are three weeks later, playing a team we had beat on their home field, a team we had just beat. I mean … What are the odds of this happening after such a dogfight the first time?"
The pregame anxiety caused Taylor to change his game-day routine.
Taylor: "I was trying to sleep throughout the day after the morning meeting. I couldn't sleep, so I put on my hoodie. I put on a skullcap, a hoodie over that … as much civilian clothes as I could. I just walked around downtown Pittsburgh for an hour – just to take my mind off the game some and try to ease those butterflies. I went back and caught an hour-and-a-half nap. When the game came, all of that was gone. It was time to play."
The Jaguars dominated early, leading by 14 points at halftime and by 18 points in the second half.
Jones-Drew: "Once we got going in that game, they couldn't stop us. We had some great designs. That was [offensive coordinator] Dirk's [Koetter] first year. We were playing real efficient. We had a great running game and we had some great guys up front blocking. We were just bigger and stronger than they were at that point."
Taylor: "We were up for the challenge and we had the exact game plan. We said, 'Why change much? We'll had a wrinkle here or there, but this is our game plan. We're not running away. They still haven't stopped it. Let's go kick their ass again in the same fashion.'"
Meester: "I remember us getting off to a great start. It was an emotional game that went back and forth. You've got that great feeling of a big lead going into the fourth quarter, then it's slowly getting closer and closer and you're, 'Oh my gosh, what's going on here?' And you're in Pittsburgh and the crowd is going nuts and getting back into it."
Jones-Drew not only set up a one-yard touchdown run by Taylor with a 96-yard first-quarter kickoff return, he also gave the Jaguars a 21-7 second-quarter lead with a 43-yard reception from Garrard. Also critical to the Jaguars: Mathis' 63-yard interception return for a touchdown.
Mathis: "I knew I was prepared. I was going against [wide receiver Santonio] Holmes and I was pretty much matching him all over the field. It was a big task because Big Ben was clicking on all cylinders. I wanted to make sure I was up for the task to help my team as much as I could. I was able to do that with some big plays. [The interception] was kind of a skinny post. Holmes was a very smooth guy in his routes, and I knew that going into it. I was playing off; I liked to play off when I wanted to ball-hawk. I didn't like to press when I wanted to keep eyes on the ball. I was playing off and he gave me a little shake and I didn't go for it. He knew I didn't go for it, so it put him in a bind to try to get to his spot faster. He ended up slipping a little and I broke right when he slipped, so it was like Ben was throwing the ball to me. I had a bunch of guys leading me into the end zone."
Garrard: "The first half was really good for us. I didn't have to do a whole lot. Mojo and Fred and all of those guys were playing amazing, so I just wanted to make sure I wasn't losing the game. We get into the second half and now I am losing the game. I'm the reason why we have interceptions. We're falling behind and still going back and forth. We got to that last drive and I remember telling myself, 'It doesn't matter what it takes on this drive; we have to get the ball into the end zone and that will change what everybody has thought the whole other part of the game.'''
The Jaguars' 28-10 lead entering the fourth quarter disappeared quickly. Really quickly.
Meester: "We had a good-sized lead in the fourth quarter, then all of a sudden it dwindles down to we are behind, so it's everything's like, 'Holy Cow, we've got to get going.' It's the fourth quarter and Styx's "Renegade" is playing, but we got just as much out of "Renegade" as they probably did. I loved hearing it. The music was up there, and the crowd was going nuts. The first time I ever saw it, it was awesome. So, I actually looked forward to it, believe it or not. I thought it was cool."
The Jaguars took possession at their 49 with 2:38 remaining trailing 27-26. At the two-minute warning, they faced third-and-2 at the Steelers 43.
Garrard: "It was third-and-2 before it was fourth-and-2. We called timeout. I went to the sideline. I went to Dirk Koetter and [Head] Coach [Jack] Del Rio and said, 'I can get this if you guys call a quarterback draw or something.' They're like, 'We've got fourth down, so we want to pass the ball on third down.' I was like, 'Aw, geez … I don't want to put the ball in the air too much if I don't have to … it's only two yards.' They called a pretty easy pass play to the sidelines with [tight end] Marcedes [Lewis]. I believe it was [Steelers safety] Troy Polamalu, but somebody just blanketed him (Lewis). I just threw the ball out of reach where if he (Lewis) wasn't catching it nobody was catching it."
Meester: "It comes down to fourth down, one play, a draw with David. So, everything's riding on one play right there. If we don't get it, we're done."
Garrard had no doubt what he wanted to do. He dropped and immediately ran. A hole opened over left tackle quickly. Garrard ran and made first-down yardage equally quickly.
Garrard: "It was a little bit of pride in me. I wanted to be the reason why we got back into it or why we kept that drive going. I know Maurice or anyone else could have done it, but I wanted the opportunity to redeem myself for earlier plays that didn't go our way. They called the quarterback draw. I could see it as we were lining up. I knew we had it, but that was also the side [Steelers linebacker James Harrison] was on. I was like, 'If [left tackle] Khalif [Barnes] can just keep is hands on him, I can work my way around him or run him over for two yards.' I ran through a hole I could not believe was there. I thought, 'Wow, no one's here. Just me and the safety? OK, well protect the ball and go down gently.' He didn't lay a hand on me. I thought, 'Oh, man, I might score right here.' He turned around and caught me 10 yards later, but I realized at that point we were clearly within Scobee's range."
Meester: "Obviously as an offensive lineman, you're blocking. You see David streaking down the field running … there's no greater feeling than that right there. We know we have the game at that point. It's such an unbelievable feeling."
One reason Garrard broke free: A block by Barnes on Steelers linebacker James Harrison. It was a devastating block that perhaps could have been called a hold.
Meester: "When we watched it after the game, we had to give Khalif Barnes a hard time on the potential holding. (Laughing) We gave him a hard time about the potential hold that didn't get called. Yeah, we gave him a hard time about that one."
Garrard's run gave the Jaguars first down at the Steelers 11. Three runs by Jones-Drew moved the Jaguars to the 2, and a delay penalty on the Jaguars set up a 25-yard field goal by Scobee with :29 remaining.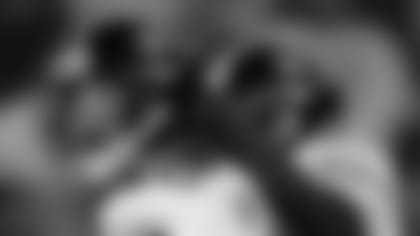 ---
---
Scobee: "It was a short field goal. But I had already missed one from 46 earlier in the game. It's not like my confidence was 100 percent that game – for more reasons than one. The field was not exactly a football field. It was dirt they had painted. It was chewed up. It's tough to make sure your footing is perfect for that type of situation. I remember we got down around the two-or-three-yard line and ran the clock all the way out and took a five-yard penalty. They didn't even ask me about it. They just did it. So, I'm going, 'It just went from 20 to 25 yards…' Even though that's short, you just could never count your chickens too early, especially in a playoff game like that. We were down at the time; we weren't tied. I either make it and we win, or we lose and the season is over. That's a big difference between being tied and being able to go into overtime. When the kick went through, the crowd went from being the loudest thing I've ever head to the quietest thing I've ever heard. The only people you could hear screaming was our sidelines and the [Jaguars] fans in the stands."
Meester: "It was my one playoff win. I don't think you could ask for it any better. It comes down to one play to decide it in that type of atmosphere. To go to Pittsburgh late in the season like we did there and win there twice … I don't think you could ask for anything better. Out of all the games you'd play like that, that's the team you want."
Mathis: "I get asked about it often – just for the importance of that game, and for the franchise. It wasn't an easy road. We had to go up to Pittsburgh a couple of weeks before that, then go back for the playoffs. It wasn't an easy task. A lot of people didn't think we could do it – go up there and win two games in a row. It was special."
Jones-Drew: "We felt like we had all the pieces that year to make a run. After that, things started to go in a different direction. For me, it was one of the most fun years I ever had. We had a game in Tampa where we ran 16 times in a row. We threw the ball seven times that game. We had to fight adversity all different types of ways. We would get nicked up. We got matched up with New England [in the AFC Divisional Playoff the following week, a 31-20 Patriots victory], but I thought we had them where we wanted them, too. We just didn't execute on one drive, then [quarterback] Tom Brady took the game and put it out of reach. It was just one of those years where everything went right until the very end. It was a just a couple of plays there that got us. The players we had on those teams, I'd put that team against anyone. We had everything you needed. That was one of the most talented teams I've been on."