---
---
Senior writer John Oehser's "oral history" of 25 memorable games in Jaguars history continues with this look at a 31-28 victory over the Indianapolis Colts in 2010 – a game in which Jaguars kicker Josh Scobee turned in one of the most memorable clutch kicks of his career
---
---
Site: EverBank Field; Jacksonville.
Records entering game: Jaguars 1-2, Colts 2-1.
What happened: The Jaguars continued a tradition of dramatic, memorable victories over their AFC South rival Indianapolis Colts – and Jaguars kicker Josh Scobee continued a personal tradition of heroic moments in the series in a 31-28 victory at EverBank Field. Against a team that played in the Super Bowl the previous season, the Jaguars overcame an early 7-0 deficit and never trailed again in a game Scobee won in the waning seconds in the most dramatic, memorable fashion possible. The Jaguars took a 14-7 lead early in the second quarter with quarterback David Garrard scoring on a 25-yard touchdown run and running back Maurice Jones-Drew rushing for a one-yard touchdown 13:40 before halftime. The Colts tied it with a seven-yard touchdown pass from quarterback Peyton Manning to tight end Dallas Clark, but Garrard's 15-yard touchdown pass to tight end Marcedes Lewis early in the second half gave Jacksonville a 21-14 lead. Colts running back Joseph Addai's two-yard run tied it 21-21 before Jones-Drew's eight-yard reception on a pass from Garrard again gave Jacksonville a one-touchdown lead, but Manning passed one yard to wide receiver Austin Collie which made it 28-28 with :48 remaining. Garrard moved the Jaguars past midfield with a 22-yard pass to wide receiver Tiquan Underwood, but the drive stalled with the Jaguars at the Colts 41 with :05 remaining. Scobee, who twice before had beaten Indianapolis with long late-game field goals, turned in his best kick in this vein and his 59-yard field goal that beat the defending AFC Champions that day remains a franchise record.
Jaguars leading passer: Garrard (17-22, 163 yards, two touchdowns, one interception).
Jaguars leading rushers: Jones-Drew (26 carries, 105 yards, one touchdown), Garrard (five carries, 44 yards, one touchdown).
Jaguars leading receivers: Mike Thomas (five receptions, 68 yards), Underwood (three receptions, 41 yards).
Colts leading passer: Manning (33-46, 352 yards, two touchdowns, one interception).
Colts leading rusher: Addai (16 carries, 63 yards, two touchdowns).
Colts leading receiver: Reggie Wayne (15 receptions, 196 yards), Clark (seven receptions, 68 yards, one touchdown).
The Jaguars and Colts played many memorable games during Jack Del Rio's tenure as the Jaguars' head coach. The back-and-forth nature of this game – and Scobee's field goal – made this one stand out.
Garrard: "That game was unbelievable."
The game came early in a 2010 season that was nearly very memorable. The Jaguars surprised many observers by contending for the postseason and had a very real chance to win the AFC South before losing their final three games.
Jones-Drew: "That Colts game was a game that got us rolling. We were young, but we had a ton of talent. It was a tipping point of how of this season was going to go. If we could beat the Colts at home and we could split with the Colts, we'd be fine. We finished 8-8 and didn't make the playoffs, but if we could have snuck out another victory and made the playoffs people would have been nervous. We were rolling. We did good things down the stretch. We beat Oakland. We went up to New York, had them beat and lost in overtime. We played good football. It was just one of those things where it didn't work out for us."
Colts-Jaguars was a fierce rivalry from 2003-2010, and the Jaguars regularly challenged and/or beat the Manning-led Colts. This game represented the Jaguars' last victory over a Manning-led Colts team.
Center Brad Meester: "We matched up well with them. Offensively, we knew we could run the ball pretty well against them and we were able to do that. We played so many times and knew each other so well, so it created such close matchups. It came down to the end and it always seemed to come down to a field goal. We knew what kind of a game it was going to be, and we matched up well."
Cornerback Rashean Mathis: "Anytime we beat the Colts it was a big win for us. They were at the top of our division forever. We knew they were going to bring it. They weren't going to make many mistakes. To beat them, you had to be on top of your game. That's what made me better as an individual and us better as a team. We had to go up against those guys twice a year and we knew if we didn't come correct it wasn't going to be a good game for us."
Mathis said past success against the Colts helped the Jaguars in this and other games. The Jaguars knew how the Colts and Manning played, and they knew how to play against them.
---
---
Mathis: "We knew they were going to make plays. It's like playing [New England Patriots quarterback Tom] Brady: he's going to make his plays. It just can't be off one of your mistakes. Make him earn it. They've got to earn it. Don't beat yourself. That was our motto going into those type of games: Don't beat ourselves. They're going to make their plays. We just have to make ours and we'll be right there when it comes down to it."
The 2010 season represented the end of an era in another way, too. The Jaguars contended often under Del Rio, and entered December 2010 contending for the postseason. This would be the last contending season under Del Rio, who was fired the following December.
Mathis: "The good defensively outweighed the bad. We had some extraordinary years. We had some great years. That's what you play the game for. Those are the memories."
Before the final drive, Garrard asked Scobee how close he needed get the offense to have a chance. Garrard typically asked Scobee this in this situation.
Garrard: "Me and Scobee always talked before we went into the last drive. It was, 'OK, this is where I need the ball. If you get it here, I've got a great shot.' In that game, he told me, 'Anywhere 33-, 35-yard line I'm money.' We're driving and I'm thinking, 'Get it past that point; get it past that point.'''
Garrard's 22-yard pass to Underwood took the Jaguars 37 yards to the Colts 41. Garrard threw to Underwood again on the ensuing play, but Colts cornerback Kelvin Hayden broke up the pass and nearly intercepted it. Having fallen a few yards short of what Scobee had told him he needed for the field goal, Garrard avoided the kicker on his way to the sideline.
Garrard (laughing): "We got it to the 41, so I just go the other way."
As Scobee prepared for the 59-yarder, confidence among his teammates was high.
Meester: "I always believed Scobee was going to make it. Of course. (Laughing) He would be mad if I said anything else. I honestly believed he could make it. He was always one that came through in clutch situations. We always knew he could pull through in a tough situation like that. We had all the confidence in the world he would."
Jones-Drew: "When Scobee lined up for it, there was never a doubt in my mind he was going to make it."
Mathis: "I knew Josh and I knew the work he put in. Not that other kickers didn't put in the work, but he had a skill set. He was a big golfer, too, and he knew what the ball did in the air. I trusted his foot probably more than anybody. You have to know your shots and he knew his. The confidence he had going up to kick the ball each and every time … it was an impressive confidence. It wasn't an arrogance. It was, 'I put in the work and I know I can make this kick.' Hands down, I knew."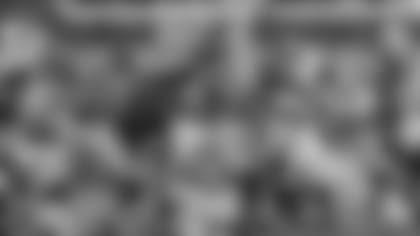 ---
---
Scobee had beaten the Colts with last-minute field goals before – a 53-yarder in Indianapolis in 2004 and a 51-yarder in Indianapolis in 2008.
Scobee: "That wasn't my first time to do it. I had some experience and some confidence going into it. The crazy part about it was I only had extra points leading up to it [in that particular game], so it's not like I had a 45-yarder or something like that to get me warmed up; I had four extra points to get me warmed up for that. It was a perfect day to kick. There was a slight breeze and whatever slight breeze there was was helping and a little off my right. I knew if I just made a good swing and hit it clean, I was going to have plenty of leg to get it in."
The Colts called timeout just before the ball was snapped to "ice" Scobee.
Scobee: "When that happens, you hope the kicker, holder and snapper have discussed these things beforehand to talk about, 'OK, if you know they have called timeout do you still want to get a warmup kick or do you not?' I usually didn't want a warmup kick for the simple fact that you won't get that same broken-in ball back to you. If you kick it, they're going to throw you one from the sideline that hasn't been kicked yet or broken in at all. I decided at the last-second I was going to get my warmup kick in. Adam Podlesh, who was the holder, decided I wasn't; he put his hand in front of the ball. I kicked 50 percent straight into his hand. The first thing I do is ask if he's OK and I'm flipping out because I think I might have hurt his hand and we're going to have to get a new holder. He's talking really fast and is like, 'I'm good, I'm good, I'm good.'''
On the kick that counted, Scobee didn't strike the ball perfectly.
Scobee: "I kind of undercut it, which means you're going to get a little more spin and it's going to go a little higher and shorter. Normally, in that situation I'd have plenty of leg, but I think I only made it by two or three yards."
Still, the kick was good – a franchise record that still stands.
Meester: "I actually never saw it go through. I always played the right end position on field goal. I loved the position, but it was a position where you had to try to take two guys and nine times out of 10 you're probably getting run over in some capacity. I had gotten knocked down and I never saw it go through. But you know it goes through just because of the crowd reaction."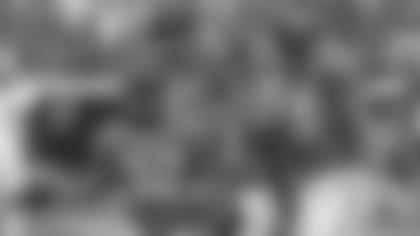 That crowd reaction was the same as the reaction on the field. Bedlam.
Meester: "The place goes nuts. You've got people running all over. Scobee's running all over the field. There are no words to describe it. It's just a great feeling."
Garrard: "He hits it and I'm trying to catch this dude. I didn't realize how fast he was. Everybody's chasing him and nobody can catch up to him. He's making laps around the field. When I got to him and everything had calmed down, I'm like, 'Dude, I'm sorry; you said to get you to the 35 but that was the best I could do.' He said, 'Dave, I'm so happy you were able to get it right there and give me a chance to kick it, because that right there was huge.' I knew I was five or six yards off, but he's got a big leg so if he can just line up we've got a chance. He made two laps before anyone caught him."
For Scobee and Jaguars fans, it remains a vivid memory.
Scobee: "It might be the only thing people ever ask me about or tell me about – where they were either in the stands or where they were watching the game at the time when I made it. I always love hearing people's different perspective on it. Obviously, I have mine and what I remember seeing and hearing and experiencing on my part, but to get fans' points of views on it is always something. I hear everyone's complete story and not just gloss over it like I've heard it a thousand times. When you're a kicker, you have these dreams and moments you think about, hoping for that opportunity. There are guys who played longer than me who didn't get that opportunity – or if they did, they might not have made it. When I did get it, it was a dream come true. It was at home, we could experience it with the fans. I had some friends in town, some in-laws in town. It just made celebrating afterward with teammates, friends and family that much better."
Jones-Drew: "That kick was so famous that my son became the biggest Scobee fan ever – more than he was my fan. (Laughing) It happens."