---
---
Senior writer John Oehser's "oral history" of 25 memorable games in Jaguars history continues with this look at a 31-20 victory over the New England Patriots in the 2018 regular season – the Jaguars' first regular-season victory over the Patriots
Date: September 16, 2018.
Site: TIAA Bank Field; Jacksonville.
Records entering game: Jaguars 1-0, Patriots 1-0.
What happened: The Jaguars turned in one of the most memorable regular-season victories in franchise history, beating the eventual Super Bowl champion New England Patriots, 31-20, in a Week 2 game in Jacksonville. The Jaguars dominated from the start, with quarterback Blake Bortles throwing two of his four touchdown passes in the first quarter – four yards to wide receiver Donte Moncrief and 24 yards to wide receiver Keelan Cole. The Patriots cut the lead to 14-3, but Bortles' four-yard touchdown pass to tight end Austin Seferian-Jenkins with :09 remaining in the second quarter made it 21-3 at halftime. The Patriots cut the lead to 24-13 on a seven-yard touchdown pass from quarterback Tom Brady to wide receiver Chris Hogan and a 46-yad field goal by kicker Stephen Gostkowski but Jaguars defensive end Dante Fowler's sack/fumble/recovery on Brady on third-and-8 from the Jaguars 34 stopped New England's most serious comeback chance. Bortles threw his final touchdown pass of the game two series later – a 61-yard pass to wide receiver Dede Westbrook – for a 31-13 lead midway through the third quarter. Brady's 29-yard pass to Hogan closed the scoring with 3:40 remaining and the Jaguars converted three first downs on the ensuing series to run out the clock.
Jaguars leading passer: Bortles (29-45, 376 yards, four touchdowns, one interception).
Jaguars leading rusher: T.J. Yeldon (10 carries, 58 yards, zero touchdowns).
Jaguars leading receivers: Cole (seven receptions, 116 yards, one touchdown), Westbrook (four receptions, 82 yards, one touchdown).
Patriots leading passer: Brady (24-35, 234 yards, two touchdowns).
Patriots leading rusher: Sony Michel (10 carries, 34 yards).
Patriots leading receivers: James White (seven receptions, 73 yard), Phillip Dorsett (five receptions, 44 yards), Hogan (three receptions, 42 yards, two touchdowns).
The 2018 season ended in disappointing fashion for the Jaguars, with losses in 10 of the last 12 games. This one-sided victory over perennial-power New England was the high point. The game for Jaguars fans had a measure of revenge, with the Patriots having beaten the Jaguars in the AFC Championship Game the previous January.
Defensive tackle Abry Jones: "You could feel the energy. There were a couple of guys who said they could feel the hair on the back of their necks. Some people had goosebumps and stuff like that. That was the city coming together. There were calls they didn't like about the AFC Championship Game. People brought their signs, 'Myles Jack Wasn't Down …' It didn't count toward the previous year, but it was pretty much like us righting the ship. We should have won that game. What it should have been was announcement to ourselves, and the league, that we're a real threat that's coming this year."
Cornerback A.J. Bouye: "How we looked at it, especially on defense, was we were going against the best quarterback and one of the best tight ends every to do it. They beat us in a game we should have won (in the championship game the previous season), so we had something to prove. It wasn't just from us; it was our fans: 'You're playing here now; you're not going to get the same stuff you had over there,' and we really showed it.''
Defensive end Calais Campbell: "The last 20 years, the Patriots are the measure of greatness. Them coming into Duval, in our stadium, and having that monster – the team that stopped us going to the Super Bowl … they were the big, bad wolf. You could see: All the fans wanted to see us beat them. The energy in the stadium was incredible. When the schedule dropped and we saw that was the first home game, everybody had the mentality of, 'This is where we'll see how good we can be.' I remember seeing people realize, 'We just shut down the greatest quarterback of all time and made him look very average.'''
The Jaguars instead lost to Tennessee the following week. After a victory over the New York Jets in Week 4, they were 3-1 leading the AFC South. They then lost seven consecutive games to slide from contention. Players in retrospect discussed a different feeling from 2017, when a collective "chip" on the players' shoulders drove the Jaguars to a division title.
Campbell: "When you win a big game like that, you need that swagger and confidence that comes with it. That's natural. When you complete a strong ask, you have confidence. But there can be a false confidence like, 'We can do anything.' It's not that you stop putting work in. It's just your mentality is different. That 2017 season the team was still trying to erase the stigma that it was a bad team and we were going to fall apart eventually. We were trying to prove ourselves over and over again. It's natural when you're an underdog or people don't believe in you. Even though we made it to the playoffs, the mentality was, 'Let me prove them wrong."'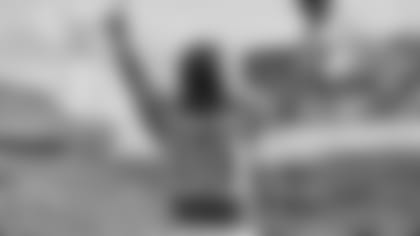 Jones: "The way we went out and won [against New England], it should have clicked for everybody and said, 'If we want to get back to where we want to be, that's where we have to go.' We should have realized, 'We won, but it really didn't mean anything. It was a regular season game. They beat us when it counted.' That's how we should have seen it – as a stepping stone. We had to make it back there. They took their loss and made it back there again and wasn't against us. You've got to learn lessons and build off of them."
Campbell: "Sometimes you need that disrespect to drive you. Everybody's patting us on the back, telling us how good we were. We started thinking, 'Well, eventually we'll get it together.' It wasn't that trying to prove people wrong every week as much as trying to prove people right every week. If we'd gotten into the playoffs, we would have been tough to beat, but there were too many times we didn't have that playoff mentality. In the NFL, you have to have a playoff mentality every game. Every play is so crucial. Every game is so crucial. Sometimes you need that disrespect in a sense to give you that chip. It's a blessing and a curse. We started believing we could beat anybody, which is true. Our swagger gives us an edge, and that's special, but it has to be a humble swagger. It has to be a swagger because of our work. That's what the goal is. Last year at this time, there was a hangover. This time around, I would be surprised if we let a big game slow our progress."
Bouye: "There's always going to be adversity through a season, but we have to find a better way to bounce back from it. We had unfortunate injuries, especially on the offensive side of the ball and we just couldn't get the momentum back. We just had to find a way to face that adversity. We learned so much from that. We're really bought in and we want to prove something again."