---
---
Senior writer John Oehser's "oral history" of 25 memorable games in Jaguars history continues with this look at a 31-24 victory over the Houston Texans in 2010 – a game that ended with one of the most memorable, unlikely plays in franchise history
---
---
Records entering game: Jaguars 4-4, Texans 4-4.
Site: EverBank Field; Jacksonville.
What happened: The Jaguars once again during a memorable 2010 season scored a dramatic home victory on the game's last play – this time on quarterback David Garrard's famous "Hail Mary" touchdown pass to wide receiver Mike Thomas for a 31-24 victory over their AFC South rival, the Houston Texans. This marked the second time in 2010 the Jaguars won at home on the game's final play, with kicker Josh Scobee's 59-yard last-play field goal having beaten the Indianapolis Colts in dramatic fashion a month and a half earlier. The Jaguars took a 17-3 halftime lead with second-quarter touchdown runs of nine and three yards by running back Maurice Jones-Dew, but the Texans tied it entering the fourth quarter with a one-yard touchdown run by running back Arian Foster and Andre Johnson's nine-yard touchdown reception from quarterback Matt Schaub. Jacksonville retook the lead when Garrard passed 52 yards to tight end Zach Miller early in the fourth quarter before Texans wide receiver Kevin Walter's 18-yard reception from Schaub tied it at 24-24 with 4:19 remaining. Scobee missed from 43 yards on the Jaguars' next possession, and the Texans' ensuing drive ended when linebacker Justin Durant recovered a fumble by tight end Joel Dreessen at the Jaguars 34 with :08 left. Garrard passed 11 yards to tight end Marcedes Lewis, and an offside penalty on Texans defensive end Antonio Smith moved the ball to midfield with :03 remaining to set up the final play.
Jaguars leading passer: Garrard (24-31, 342 yards, two touchdowns, zero interceptions).
Jaguars leading rushers: Jones-Drew (24 carries, 100 yards).
Jaguars leading receivers: Thomas (five receptions, 149 yards, one touchdown), Miller (four receptions, 79 yards, one touchdown).
Texans leading passer: Schaub (22-32, 314 yards, two touchdowns, zero interceptions).
Texans leading rusher: Foster (15 carries, 56 yards, one touchdown).
Texans leading receiver: Johnson (nine receptions, 146 yards, one touchdown), Walter (six receptions, 90 yards, one touchdown).
Last-play victories are rare in the NFL. Miraculous last-play victories are even rarer. For the players who were a part of it, this was one to remember.
Garrard: "Hail Mary is one of those plays that definitely stands out because it's such a big play that rarely ever happens."
Center Brad Meester: "You don't remember all the wins and losses, but you remember certain situations. That was one of them."
The victory kept the Jaguars in the playoff race and was a highlight of what remains to some a memorable season. Though not picked by most analysts to contend that season, the Jaguars stayed in the AFC South race until December and led the division at 8-5 with three games remaining until a three-game season-ending losing streak.
Jones-Drew: "We were finding ways to win with a lot of room to improve. I really feel like that was a year where if we would have gotten in, we could have made some noise."
The Hail Mary game was about the last few minutes. As the clock ticked toward zero, it had the feel of a game destined to go to overtime. One Jaguars player who was emotional in the late minutes: Scobee, who believed the Hail Mary should never have been necessary.
Scobee: "I had had an attempt inside like two minutes to basically win the game from about 43. I missed it. This was only two or three weeks after the 59-yarder. I'm coming off of some really good games. I get out for this 43-yarder that's going to be essentially to win the game. I hit probably the worst kick I've ever hit my life. I couldn't even tell you where the ball went, it was so bad. I knew it went way left, because I glanced up and saw it and just put my head down and walked to the sideline. I hit the ground behind the ball and just kind of chunk-pulled it. I was embarrassed, really. I had come off an amazing game in Buffalo and the 59-yarder, then that happens. I was glad for us to win, but that's probably the least happy I've ever been after a win. I was just angry in the locker room that I had missed that one and not had the heroics like I had had with the 59-yarder."
The end of this one featured a remarkable turn of events – and change of momentum. With :35 remaining, the Texans had first-and-10 at the Jaguars 40. Though the Texans were out of timeouts, they were a completion or two from a chance at a game-winning field goal. Then, Dreessen was penalized for a false start. Two plays later, Jaguars safety Sean Considine forced a fumble by Dreessen that Durant recovered at the Jaguars 34 with :08 left. The pass to Lewis and offsides by Smith still seemed incidental as Garrard prepared for a final play before the likely upcoming overtime.
Garrard: "I've had other quarterbacks say, 'If you get in this Hail Mary situation, throw it right on the edge so you don't mess your stats up – right on the edge of in bounds and out of bounds.' I'm thinking, 'We're going to go into overtime; no problem.' So, I'm going to heave it down two yards into the end zone and give our guys a chance. I tell my guys, 'Give me enough time; I'll run around back there so I can heave it; just give me enough time.' I run around, throw it up and I'm just thinking, 'Just knock the ball down so there's no interception.' That's my one thought."
Meester: "In those situations, they usually rush three or four guys. As a center, I know I'm not going to be one-on-one, so I'm in a helping-type of deal. I remember being out there blocking and it's a cluster of people and it's hard to see it."
Jones-Drew: "They don't call holding on that play. I didn't hold – I just threw my body into it – but some people did. It was a play you always practice, but you need some luck. David threw a really good ball there."
Garrard threw to his left and the ball came down around the goal line. Houston Texans safety Glover Quin knocked the ball down with both hands.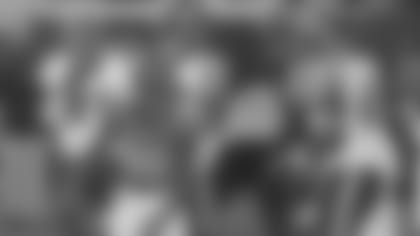 Garrard: "So, when I see the defensive back jump in the air and use both hands to knock the ball to the ground, I said, 'OK, great; he just knocked it down.'"
Jones-Drew: "It just so happened that Glover Quin did exactly what coaches teach – bat the ball down."
Yes, Quin did what coaches teach in that situation – to bat the ball down for an incompletion. The worry on the Hail Mary is if a defensive back tries to intercept there's a greater chance for a deflection into the air – and therefore a greater chance for a receiver to catch the carom. This time, Quin batted the ball to Thomas, who caught it and stepped into the end zone.
Jones-Drew: "Mike Thomas just happened to be in that spot to catch it and walk in.
Mathis (laughing): "I know Glover Quin. We played together in Detroit. He hated it when anybody brought up that game. We're taught to knock the ball down and he did his job. He didn't try to catch it. He knocked it down."
Garrard: "I heard the crowd go crazy and I'm like, 'What are they screaming for? Are they that excited about overtime?' I can't see because the offensive line is in my way and the defensive line guys are in my way. I have to run out to the side. I see Mike Thomas like running around crazy with his hands up in the air and everyone's jumping on him. I'm like, 'No, there's no way.' So, I have to see it on the jumbotron. I have to see it like everybody else. I can't believe that somehow, he caught it. I never saw anything while I was on the field. I was just going crazy because everybody else was going crazy, so I'm assuming he caught it and that's why he's running around."
Meester: "All of a sudden it rang a bell that, 'hey, we actually caught this thing.' You have no idea because the ball's going up, it's getting batted around and you can't see it. All of a sudden, the crowd goes nuts, everybody's running around. You're like, 'Holy Cow, this just happened. We just completed the Hail Mary.'"
Mathis: "The odds are not in your favor. There are less than a handful of games that are won like that each year. We knew it was a possibility. We knew the ball was going to get in the end zone, but for it to go in our favor … you're just running and screaming after Mike caught the ball. It was an amazing feeling."
For Garrard, it was a defining moment – and remains so.
Garrard: "Definitely a play that will always be at the top of my memory. We bought a boat and named it Hail Mary. My wife's name is Mary and we had the Hail Mary, so it was a very fitting name."