---
---
Senior writer John Oehser's "oral history" of 25 memorable games in Jaguars history continues with this look at a 44-17 victory over the Indianapolis Colts in 2006 – a game in which the Jaguars set a single-game rushing record that still stands
---
---
Site: Alltel Stadium; Jacksonville.
Records entering game: Jaguars 7-5, Colts 10-2.
What happened: The Jaguars, who had a series of tight victories over AFC South power Indianapolis throughout the early and late 2000s, scored one of their most dominant victories in the series – 44-17 at home over a team that would win the Super Bowl less than two months later. The Jaguars not only beat the Colts by 27 points, they set a franchise single-game record with 375 yards rushing with both running backs Fred Taylor and Maurice Jones-Drew turning in memorable standout performances. Taylor set the tone with a 76-yard run to the Colts 18 on the Jaguars' first play from scrimmage. Jones-Drew scored on an 18-yard run on the ensuing play. The Colts rallied for a 10-7 lead midway through the second quarter before a 21-yard touchdown run by Taylor and a 48-yard touchdown run by Jones-Drew on back-to-back possessions helped the Jaguars to a 24-10 halftime lead. Jones-Drew then returned the second-half kickoff 93 yards for a touchdown, with Jaguars kicker Josh Scobee converting third-quarter field goals of 34 and 46 yards for a 37-10 Jaguars lead entering the fourth quarter. Jacksonville outgained the Colts 447-339 in a dominant performance that still stands as a high-water mark for one of the best rushing offenses in recent memory.
Jaguars leading passer: David Garrard (8-14, 79 yards, zero touchdowns, one interception).
Jaguars leading rusher: Jones-Drew (15 carries, 166 yards, two touchdowns), Taylor (nine carries, 131 yards, one touchdown), Alvin Pearman (13 carries, 71 yards, one touchdown).
Jaguars leading receiver: Reggie Williams (three receptions, 16 yards).
Colts leading passer: Peyton Manning (25-50, 313 yards, zero touchdowns, one interception).
Colts rusher: Joseph Addai (11 carries, 22 yards).
Colts leading receiver: Reggie Wayne (eight receptions, 110 yards), Marvin Harrison (six receptions, 101 yards).
The Colts entered this game with the AFC South title all but secured, but the Jaguars left little doubt from the beginning which team would dominate the game. The memories remain vivid – and enjoyable.
Cornerback Rashean Mathis: "I remember the game like it was yesterday. We were like, 'Don't pass the ball. Just keep running. There's no D. Just keep gutting them.' It was impressive. It was amazing."
Center Brad Meester: "No matter what play we called, it just worked. There were huge chunks, so every time we went out there, we were excited because we couldn't wait to see what happened. It made it exciting. That's a lineman's dream game."
Jaguars kicker Josh Scobee: "That was one of the most fun games I've ever been a part of. I had a good game, and just watching Maurice and Fred go nuts … it was impressive. Both of them had long runs. Maurice took a kickoff back to start the second half and I think as soon as he brought that one back the game was over in the Colts' minds. Then we had the opportunity to run the ball as much as we could because we had a really good-sized lead and we were controlling the clock."
While this was the Jaguars' most one-sided victory over the Colts during the Jack Del Rio era, it was far from the only one. The Jaguars were 7-11 against Indianapolis from 2003-2011.
Defensive tackle Marcus Stroud: "Those were some good teams and we played a lot of good football. When we lost, we barely lost."
The game also stands out as symbolic of the 2006-2007 Jaguars, a team defined by not only elite defense but one of the NFL's best running offenses. That offense was led by the two-headed attack of the two best running backs in franchise history: Taylor and Jones-Drew.
Mathis: "I tell people all the time, 'Some of the stuff I've seen my two running backs do, there's not too many running backs in the league ever that possessed that skill.' These guys are Top 10 guys – and to have a two-headed monster that was that good who respected each other that much, that was amazing."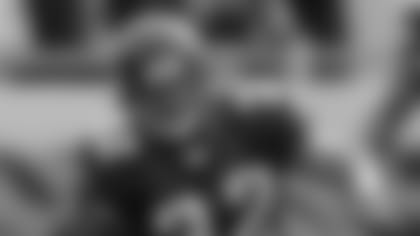 ---
---
Jones-Drew: "I was a kid who came in not really knowing much about the organization, about the NFL in general. Everyone told me, 'Fred Taylor is the guy you want to learn from.' I remember asking Fred as many questions as possible, training with Fred every offseason, picking his brain, understanding how the game is played, how he took care of his body. I just tried to get as much advice as possible and he was willing to give it. You hear stories about guys who aren't willing to do it, but Fred was willing to give it. Those three years I played with Fred (2006-2008) were some of the best years of learning and understanding the defense. We just had a great group of guys that pushed each other, but Fred was the guy who kept us all hungry. Fred would finish every run in practice. Fred would do all of the little things. If Fred's doing it, guess who has to do it? We do. Not only did he teach us with words, he used his actions as well. That's how we were able to make it work."
The Jaguars' offense worked from the beginning on this day, with Taylor taking a handoff from quarterback David Garrard, taking a step to his right, a step to his left then breaking it 76 yards to the Colts 18.
Meester: "The first play of the game, Fred breaks one … you can't start the game off better than that, because all of a sudden – that sets the tone. We were backed up, so that set the tempo."
Taylor: It's a game where I go, 'Dang, dang, dang.' I had nine for a buck-30 that day. To open the game, that 76-yarder should have been a 94-yarder. I should have gone the distance, but my hamstring got tight. I had the ball in my left hard running down the right sideline, which is a no-no. It just hit so fast … I was definitely older … When I was younger, I expected those home-run type runs. That particular day, I didn't expect to be out of the gate so soon. I still tease [wide receiver] Reggie Williams to this day, 'Block [Colts cornerback] Jason David, man.' Reggie tried to get him and didn't quite get him. He was able to jump out and make that tackle and save a 90-plus yard touchdown."
It wouldn't be the last gashing run of the game for the Jaguars.
Meester: "Every time we ran the ball, it was just huge holes. They made small holes huge. We were running for 10 to 15 yards every play. I remember there was a picture that they made a poster afterward and there was a picture of the offensive line – Fred, Mojo and guys like [guards] Vinny Manuwai and Chris Naeole – just sitting on the sidelines not believing it. I remember sitting on the bench with Naeole and Vinny and saying, 'Oh my gosh, do you believe this?' Those are the things I remember the most."
Did the Jaguars sense a record-setting game against the Colts that day? Perhaps not, but confidence was high entering the game.
Jones-Drew: "We had a great week in practice. We understood what we were going to try to do to them. They were a little banged up coming in. It all started when Fred broke the 76-yarder on the first play of the game. Once that happened, it was like, 'Oh, everything we've been practicing is working? We're fixing to tear them up.' Then, it was, 'Shoot, let me get some.' I scored the next play and we were scoring at will. He started it off and got it rolling."
Meester: That's a game you love as an offensive lineman because while high-scoring games are fun, for an offensive lineman we want to run the ball. We love running the ball. I don't want to sit in pass protection all day. That's just the way it is. To be able to run the ball for huge chunks like that, that was a great game. We always felt we could run the ball against the Colts in that time period. We could always do it. But to run it in the chunks we did was a great feeling."
Taylor: "You prepare. You have game plans that you feel great about that turn to crap and you have game plans that certain plays down the bottom of the list end up being the plays that make it happen. On that particular day, we had contacted this double draw play with the tight end and fullback doubling on their linebackers. It was a play that really hadn't been seen by them. They weren't ready for it for the most part. It was a quick-hitting, draw-trap combination where the tight end would wrap underneath and kick outside. It worked like a gem."
Then again Taylor said confidence typically was high against the Colts during that era.
Taylor: "We always knew that it was a matter of time with the Colts. They were so suspect on giving up the run game that we knew it was just a matter of time with them."
The game wasn't just about the Jaguars' rushing offense in the same way Jones-Drew's rookie season that year wasn't just what he did offensively. The player also known as "Pocket Hercules" was a dynamic kickoff returner early in his career, and his second-half-opening return for a touchdown on this day broke the game open.
Jones-Drew: "When you have so many guys in the backfield, there are only so many ways you can touch the ball. That was a way for me to be able to touch the ball, get in a rhythm and start the game off the right way. I enjoyed it. I had been doing that my whole life. That was nothing new, it was just an extra way to get a touch. You do those things because you have an opportunity to make a play on it and just put an extra stress on the defense."
Defensively, much of the game became about watching the offense.
Stroud: "You're just thinking, 'Thank God, continue to do it, run out the clock and don't let them back on the field; we'll sit over here and win the game watching you guys … no problem … we love it.'"
Mathis: "Special games like that, you're not talking on the sidelines. You're standing up watching. There are special moments where things like that happen, where you have to sit and watch. It's a rare occasion and that was one of them."
By game's end, the defensive players weren't the only ones watching. Jones-Drew and Taylor were on the sidelines watching Pearman.
Taylor: "We turned into cheerleaders late. We wanted AP to get 100 yards, too – to do something that probably hasn't been done in years. That's a game that stands out."
The Jaguars, for their part, couldn't recapture the day's magic. They lost their final three games to finish 8-8 and out of the playoffs.
Jones-Drew: "That sucked. We needed to win one of three games to make it to the playoffs and lost all three. It was such an up-and-down season."