---
---
Senior writer John Oehser's "oral history" of 25 memorable games in Jaguars history continues with this look at a 9-0 victory over the Pittsburgh Steelers in 2006 – a game that featured one of the most memorable atmospheres in franchise history
---
---
Site: Alltel Stadium, Jacksonville.
Records entering game: Jaguars 1-0, Steelers 1-0.
What happened: The Jaguars turned in one of the dominant defensive performances in franchise history – and did so on a national stage in one of the most electric atmospheres ever at Alltel Stadium with a 9-0 victory over the Pittsburgh Steelers. The Jaguars improved to 2-0 on the season and 4-0 against the Steelers in September, snapping the defending Super Bowl champions' nine-game winning streak in the lowest-scoring game in Monday Night Football history. The shutout was the Jaguars' first since shutting out Houston in 2003, as they forced two turnovers and held the Steelers to 153 total yards and nine first downs. The Jaguars moved effectively on offense with 362 total yards – including 110 rushing – but stagnated throughout the game in the red zone and managed just three field goals by Josh Scobee. All of the field goals came in the second half, and the Steelers had a chance until Scobee's 42-yard field goal with just under five minutes remaining. Jaguars cornerback Rashean Mathis' second interception of the game off Steelers quarterback Ben Roethlisberger came shortly after the two-minute warning. Jaguars quarterback Byron Leftwich then kneeled three times to drain the clock and secure the victory.
Jaguars leading passer: Leftwich (26-39, 260 yards, zero touchdowns, one interception).
Jaguars leading rusher: Fred Taylor (22 carries, 92 yards).
Jaguars leading receiver: Reggie Williams (eight receptions, 95 yards); Matt Jones (six receptions, 73 yards).
Steelers leading passer: Roethlisberger (17-32, 141 yards, zero touchdowns, two interceptions).
Steelers rusher: Willie Parker (11 carries, 20 yards).
Steelers leading receiver: Vernon Haynes (five receptions, 26 yards).
This was the Jaguars' first appearance on Monday Night Football since 2001, and the first prime-time home game since 2001. The atmosphere was memorable from the start.
Running back Maurice Jones-Drew: "It was my first prime-time game with the Jaguars. I just remember the intensity of practice that week. Our defense at that time had been underrated. They weren't getting the notoriety they deserved. [Head] Coach [Jack] Del Rio said going into that game this is going be a dogfight. I remember people saying, 'Don't sell your tickets to the Steelers' fans.' Jacksonville showed up. It was a loud game. The atmosphere was crazy. It was a rivalry game. It was a two-chinstrap game. It was definitely a great atmosphere."
Mathis: "It was amazing. It was my first Monday Night game ever. It was electric. There's not too many games I can remember that I can say I remember like that one."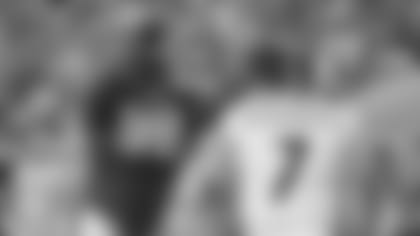 ---
---
Defensive tackle Marcus Stroud: "It was a great game and it was a great atmosphere. It was one of the most physical, hard-hitting games I was ever part of for sure."
Jaguars center Brad Meester: "Obviously, the Steelers game is intense because of the way it was. Monday Night is awesome. It's that feeling, that atmosphere. Obviously, the Steelers travel well … they always had big crowds. It was that atmosphere, so we knew what we were going to get. It was a Steelers-Jaguars game. It was just a physical battle, but for our defense to shut the Steelers out was huge. It wasn't pretty by any means or a scoring frenzy, but it was your typical Jaguars-Steelers matchup."
Scobee: "That was the year after the Steelers won the Super Bowl, so that was a really exciting game: Monday Night and highly anticipated. It ended up being a snoozer for everyone but me."
The Jaguars' defense indeed dominated throughout, but with neither team scoring until 5:28 remained, this was a pressurized, tight game from start to finish.
Jones-Drew: "We played the same type of ball. The defenses were going to attack. It was going to be downhill, smashmouth offense. We were two of three or four teams in the league at that time that would run two-tight end, two-back consistently. You just knew going into the game the team that fought and executed their game plan the best was going to win, but it was going to be one of those tough games where you have to fight and claw for everything."
As a result, the pressure stayed on the defense – and Scobee.
Scobee: "You get a sense for how the game's going, especially when you get toward the fourth quarter. You can tell it was going to be a hard thing for either offense to move the ball. Even if they were shorter field goals you knew they were going to be a premium because of the lack of offense. The defense played lights out and gave up zero points; I had three field goals and I don't think any of them were very long, so it was an easy game for everyone but the Steelers."
Mathis: "Once the clock hit zero, it definitely was a satisfying game. As a defense, you're thinking. 'Come on, we can't hold these guys forever, let's score some more.' The tension was thick, but the concentration level was there. It never wavered. In our heart of hearts, we were like, 'If they don't score, they don't win.' We brought our hard hats. We knew every time we played those guys it was going to be a nail-biter. It was a signature game when we walked away with that win."
This was a memorable game in a season that featured several memorable moments. The Jaguars won this game against the defending Super Bowl champions. They also beat the eventual Super Bowl champion Indianapolis Colts in December. Yet, the season is remembered for inconsistency and an 8-8 season-ending record.
Jones-Drew: "We beat Philly in Philly and then we'd lose to the Texans at home. We were just so up and down that year. We would rise to the occasion against the bigger teams, then we would lose to teams we should have beaten. Tennessee beat us that year when they had like 98 yards of total offense and scored off four turnovers. It was just one of those years where we didn't execute enough."
Still, this game remains one of the most memorable in franchise history. It was all defense all the time – and in an era in which defense defined the Jaguars, this game for many stands out.
Stroud: "I'll put our defense up against anybody's in those years – from about '05 to '07, we were clicking. I'd put us up against anybody at the time. We had camaraderie. We had fun. That was one of the best things about our defense. That's why I think we were so successful. We had fun and we talked to each other while we were out on the field. We knew where the other person was going to be, and I think that's what made us so successful."
Safety Donovin Darius: "That defense we put together was something. Pittsburgh was one of those bully teams and they were going to get my best. Me smacking Jerome Bettis in the mouth, that right there says a lot. That sets the tone for the game."
Mathis: "I wouldn't say there were too many defenses better – that time or any time. It was a special defense, all across the board – back end, front, linebackers. We weren't weak in any areas, and if there was a slight weakness, we had guys to make up for it. It was very special. I hated to see that defense get broken up. Everybody respected everybody. That's what you want on any team sport. If you've got some guys who respect each other and you know guys are going to go to bat for you on and off the field … there wasn't a guy that if something happened – on and off the field, or in the middle of the night, you can call and someone would be there for you. That's something special. I'm sure there have been a lot of great teams that weren't like that. But I'm sure most of the great teams were like that – just that special camaraderie and respect you have for each other. It was amazing."