Not that he has seen much. Yet. The Jaguars' 2023 offseason program began this week, with Pederson and other coaches unable to be on the field with players during workouts.
But Pederson, entering his second season as the Jaguars' head coach, said attendance has been high early in Phase One of the voluntary program at TIAA Bank Field. He said enthusiasm also is high as the 2022 AFC South Champions begin preparing for the '23 season.
"I'm thrilled," Pederson said Thursday during the Jaguars' 2023 pre-draft luncheon at TIAA Bank Field. "We understand this is a voluntary program and these guys don't have to be here. These are veteran guys. To have the attendance we have is just thrilling.
"It makes you excited to know that they're excited. Obviously coming off the season we had, they're looking forward to what's ahead, what the possibilities are. To see this number of guys here is encouraging and we coach the ones who are here."
Monday marked the beginning of the '23 program. Phase One consists of two weeks with only strength-and-conditioning coaches allowed on the field with players. Phase Two is three weeks of group instruction and drills that other coaches may attend, with Phase Three – the three-week period of full, non-contact practices known as OTAs – scheduled to begin May 22.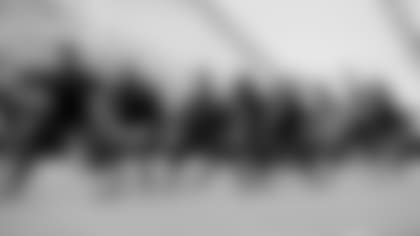 Quarterback Trevor Lawrence and linebacker Foye Oluokun spoke to the media Wednesday during the offseason's first media availability, with both discussing the need to improve from 2022. Pederson said while he hopes players gained confidence from a successful '22 season, "we also understand that we're just not going to be able to just walk out there and repeat what we did."
"We still have to put in the hard work, the preparation," he said. "The time has to be spent in the weight room, in classroom, on the practice field. That's what the guys understand and yet I still want them to remember the ups and downs of last year, what we've been through.
"The energy is great. Last year I think they were looking at me at this time going, 'Who is this guy? How are we going to trust this guy?' They know who I am [now], how I operate. The energy level is extremely high right now and we've got to continue that through the rest of the offseason and on into camp."
Pederson on Thursday reiterated what he said at the 2023 Annual League Meetings in March regarding pass rush, calling it an area that must improve and saying he believes the Jaguars' current players can make that improvement happen. "From the coaching side, obviously, that's an area we've got to improve," Pederson said. "We do feel like we have the men in the locker room to get it done. Going into Year Two will make a big difference in the scheme of things. We're comfortable there, and obviously, as we build our roster, getting closer to the regular season, we've got to make sure we have the right guys. With Buck (Defensive Line Coach Brentson Buckner), Rory (Assistant Defensive Line Coach Rory Segrest), and Shuey (Outside Linebackers Coach Bill Shuey) and working with the guys this spring, being able to put them in positions that we feel as a staff can help us generate more pass rush. We look forward to that. It's a challenge for us, but we know that's an area that must be addressed." The Jaguars finished tied for 25th in the NFL in sacks in 2022 with 35, with veteran outside linebacker Josh Allen leading the team with seven sacks.
General Manager Trent Baalke on Thursday addressed the health of two Jaguars offensive linemen. Cam Robinson, the starting left tackle since 2017 who sustained a season-ending knee injury in a Week 15 victory over the Dallas Cowboys, is expected to be healthy for the start of 2023 Training Camp. Baalke said Ben Bartch, a third-year veteran who started the first five 2022 regular-season games at left guard before a season-ending torn anterior cruciate ligament, is "progressing well. I don't know that he's going to be ready for first day of camp, but he's ahead of schedule as of right now."