HERTFORDSHIRE, United Kingdom – Zay Jones is aiming to play Sunday.
That's good news for the veteran wide receiver – and to hear teammates tell it, it would be good for everyone in the Jaguars' passing game Sunday.
While Jones stopped short of guaranteeing he will play against the Buffalo Bills at Tottenham Hotspur Stadium Sunday, he said he is on schedule and preparing as if he will play in the team's second game in London in as many weeks.
"I'm looking forward to getting out there on the field," he said following Thursday practice at Hanbury Manor.
His teammates in the Jaguars' receiving corps share that view, with wide receiver Christian Kirk saying the offense just feels different the past two games with the seventh-year veteran out with a knee injury sustained in a Week 2 loss to the Kansas City Chiefs.
"We all move as one," Kirk said. "That's kind of our mentality around it. You look at his body of work and what he's done last year, the explosiveness that he brings to the offense and the big plays. He does it for a reason. He's a big part of what we do."
Tight end Evan Engram called Jones "probably the most reliable receiver on our team."
"There have been so many third-and-long, like real tough situations that we've been in, and Zay has been that guy to make that play," Engram said. "We miss his reliability. That's definitely what we miss the most about him."
Jones, who joined the Jaguars as an unrestricted free agent in the 2022 offseason, caught 82 passes for 823 yards and five touchdowns last season. He caught five passes for 55 yards this season before his Week 2 knee injury, with his toe-tapping touchdown reception on a pass from quarterback Trevor Lawrence a key play in a 31-21 Week 1 victory at Indianapolis.
"It's been very difficult to be out as a competitor," Jones said. "It makes it difficult because I hate to see my team lose. We are one cohesive unit. We win together, we lose together. Guys are hurting and guys are upset and frustrated, that hurts."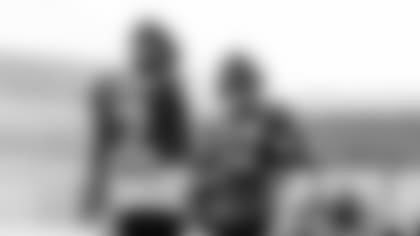 Jones and wide receiver Jamal Agnew (quadriceps) practiced limited for a second consecutive day Thursday, as did rookie safety Antonio Johnson (hamstring). Agnew missed last week's victory over Atlanta and Johnson missed the first four games of the season.
Defensive lineman Dawuane Smoot (Achilles) also worked limited after having his 21-day window to return from the Physically Unable to Perform list activated this week, with defensive lineman Foley Fatukasi also working limited with a shoulder injury.
Rookie wide receiver Parker Washington (knee) missed practice for a second consecutive day and is expected to miss Sunday's game after sustaining the injury against the Falcons.
Outside linebacker Josh Allen (shoulder) practiced full after working limited Wednesday and rookie cornerback Christian Braswell practiced limited with a hamstring issue after being full Wednesday.
Linebacker Devin Lloyd did not practice and did not make the trip to London.
Defensive Coordinator Mike Caldwell on playing Bills quarterback Josh Allen, who has thrown eight touchdown passes and one interception during a three-game winning streak in which Buffalo has outscored opponents by 90 points: "The skillset that he has, he's a great runner and a great thrower. You have to get bodies around him. He's a big guy that it's going to be hard for one guy to bring him down. Our plan is to get multiple guys around him and try to get him on the ground."
Offensive Coordinator Press Taylor on game-planning against a Bills team that ranks No. 2 in the NFL in scoring in 2023: "It doesn't necessarily affect the way you game plan, really, when you play teams like that. The game changes as it goes. We always go in with the intent that we're trying to score every single drive. You adjust the game plan within the game based on the situation you're in. A team like Buffalo or these high-scoring offenses that you play, when it's high scoring, you may have to match, you may have to be aggressive in the way you play, you may have to play a ball-controlled style of game just to keep them at bay for a little bit and give your defense a break. It always changes. You know you're going into a game with the plan that you're going to need to score maybe more than when you play other teams that tend to run the ball, however they play the offense."