JACKSONVILLE – Josh Allen is ready, and motivated.
Not that the Jaguars' defensive end hasn't been ready and motivated before. But the veteran edge defender said recently this is a different offseason.
"I know I'm going to come back in even better shape than I did this year," Allen said recently, shortly after the end of the Jaguars' 2021 season. "I feel like I've got a better plan. I feel like I've got a better time management schedule this offseason. I'm ready to work.
"I'm about to start working early and be ready – be more than ready – when I come back."
Allen, a Jaguars captain and off/on-field leader, covered multiple topics recently when speaking to the media in the wake of the '21 season. Among them were his goals for the '22 season.
"My mindset is to be All-Pro next year, and nothing else," Allen said. "I know I can and have the ability to. If I apply that mindset to the way I work, I feel like I can get there."
Allen, the No. 7 overall selection in the 2019 NFL Draft, had a solid '21 season with 7.5 sacks – improving from a '20 season in which he registered 2.5 sacks while missing eight games because of a knee injury. At times this past season, he played at the All-Pro level to which he aspires – and teammates said he undoubtedly has the ability to ascend there.
"Josh Allen's a freak athlete; you just have to look at him to see that," linebacker Damien Wilson said. "I don't think he is as good as he's going to be. He hasn't hit his ceiling yet. Each and every year he's going to grow and who knows how far he can take it."
Allen, who has 20.5 sacks in three seasons, this offseason is eligible for the first time to renegotiate the rookie contract he signed in 2019.
"It's really all up to me," Allen said. "I've got to be the one to make the plays. I've got to be the one to play to even be in consideration of that guy. I feel like I play hard, but I know I'm ultimately in control on how I can set up my life, my family's life, my kids' life, for generations.
"I'm excited. I'm excited to work. I feel like if I stay consistent and stay disciplined to my schedule and continue to know what's at stake, the sky can be the limit."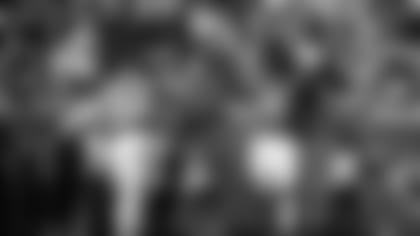 The Jaguars' season-ending victory over the Indianapolis Colts marked their first AFC South victory since a Week 1 victory over the Colts in 2020. That means the victory snapped a 10-game losing streak in the division. "That's tough right there," Wilson said. "The chances of making the playoffs is zero when that happens. Every team in this league wants to win the Super Bowl. To get where we want to go, you have to beat your division opponents. That's how you win the division. That's how you go to the playoffs."
Jaguars right tackle Jawaan Taylor: "We had adversity throughout the year, but we always had to keep a positive mindset and just keep moving. That was just a whole goal throughout the year, taking one game at a time. Just play hard, practice hard and that's all we did throughout the year."
Rookie cornerback Tyson Campbell: "I just felt like this team, it was just so tightly knitted together. We always want the best for each other, and I think that just kept us pushing throughout the season no matter what adversity we faced."
Allen: "It was a challenging year – on the field, off the field. We can all put that behind us now. We have a young core. We have a lot of guys coming back. We have a lot of guys who experienced this pain. I've experienced it for two years. We have a lot of guys who don't want to experience it anymore. All I see is up. Once you hit rock bottom, you're not going to stay there. I feel like this was the breaking point. I feel like this was the turning point to what I believe will be the change here. Now, we're just going to bring some more pieces and figure this thing out."