After spending last week in the United States, I thought I would share some observations with you on three of the four teams heading to London later this season.
I cannot report intimately on some of the things that happened in practices, purely because I was at some practices that were not open to the media. I was there as a special guest so it would not be right to detail specific plays that took place at that time.
But I did get to spend a good amount of time with the Minnesota Vikings, Pittsburgh Steelers and Jacksonville Jaguars over the course of last week and here are some random observations from that trip.
The Vikings shake hands like men!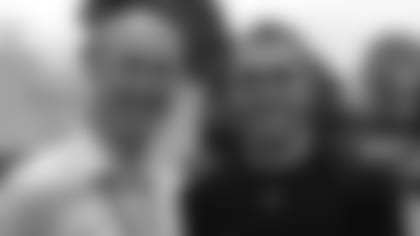 I always thought you should gently shake the hands of an NFL player in case they were physically beaten up. That rule does not apply when meeting All-Pro running back Adrian Peterson and rookie first round cornerback Xavier Rhodes. After interviewing AP for 15 minutes, he shook my hand as we said goodbye and there was a very audible "pop" of my knuckles. It was so loud that neither of us could ignore it. He simply chuckled and went on his way as I stood there trying not to cry like a baby. And Rhodes, although he doesn't look overly-imposing from a physical point of view, has hands seemingly made of rock. He was introduced to me on the practice field and I almost fell to my knees when we shook hands. I was then told the interview was taking place inside the team facility after Rhodes had showered. I told Vikings PR legend Bob Hagan that if Xavier tried to shake my hand again I would "go for the fist-bump." But then Xavier marched into the interview room and, before I had time to offer the fist, shook my hand again. After a 10-minute interview he left with another firm handshake that had me whimpering and heading for the nearest bag of ice! If you meet any Vikings player in September, in particular either of those two men, you have been warned!
Catching up with 'NFL Roadshow' friends
One of the highlights of my two days with the Vikings was catching up with the three men who I toured the UK with in March – center John Sullivan, tight end Kyle Rudolph and safety Harrison Smith. All three were tremendously complimentary when it came to the British NFL fans and they fondly remembered most – if not all – of their trip to these shores. All three players are going to have good seasons in Minneapolis. Sully is an undoubted team leader – you can see that by the way he acts around the facility and on the practice field – and is now one of the very best centers in the game. Kyle is going to continue his development at tight end and proved time and again in the practices I watched that he is too big and too strong to cover one on one. He is especially tough to defend down near the goal-line where he can put that big frame to good use. And Harrison is set to make even more strides in his second year in the NFL. Harrison can, of course, run and cover, but what I like most about him – apart from the fact we both have chocolate labradors - is that he always has that little glint in his eye which suggests he likes to hurt people on the football field. That is never a bad trait to have as an NFL safety.
Future London games a possibility
As you will see on an upcoming episode of 'Inside the Vikings,' the Minnesota Vikings are open to the idea of playing more regular season games in the UK. I interviewed Vice-President of Public Affairs/Stadium Development Lester Bagley and my final question focused on the potential for more Vikings games in London. He did not rule out that possibility, especially as the Vikings do not move into their new stadium until the summer of 2016. That leaves the 2014 and 2015 seasons as further opportunities for us to watch AP and his teammates in action in the UK. Bagley indicated that the Vikings wanted to see how things went in and around the 2013 game against the Pittsburgh Steelers but it was definitely a possibility for the future. Watch this space!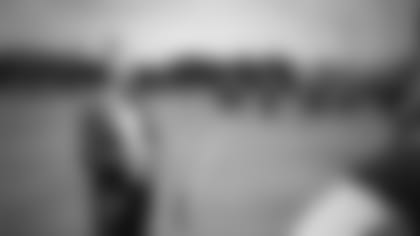 One of the most interesting conversations I had last week came while watching practice from the Vikings sidelines in Winter Park. I spent a fascinating 20 minutes with Minnesota's Director of College Scouting, Scott Studwell. First, it was fun to chat with a man who played in the very first NFL game in London against the St. Louis Cardinals in 1983 – Scott was a Pro Bowl linebacker for the Vikings from 1977-1990 and is the all-time leading tackler in team history. But more interesting was him telling me about the life of an NFL scout and, believe me, it would not be for everybody. NFL scouts spend upwards of 200 days on the road, watching prospective players, writing reports and sitting around airports or driving on their own to the next destination. It can be a life filled with flights, rental car counters and room service meals. And like all players and coaches at the NFL level, if they miss on enough prospects during their careers and endure enough failure, they don't last long. The term 'Not For Long' applies at all levels of America's most powerful sports league. Fortunately, Studwell has been good at his job for a long time, providing the Vikings with a steady flow of talented young players. Keep an eye out for this feature with a tobacco-chewing, spitting, former linebacker who just had to find a way to stay around the game. I'll let you all know when this interview with a true 'football guy' gets published.
One of the best interviews I conducted last week was with Pittsburgh Steelers defensive end Brett Keisel. He was smart, funny and very, very hairy! Keisel has become renowned for his beard as much as his stout defensive end play and he has promised a massive expanse of facial hair in time for his Wembley Stadium debut at the end of September. Already a cult hero among Steelers fans, I have a feeling Keisel will be warmly received by all NFL fans once they get to know him a bit more in the coming months.
I'd play for Coach Tomlin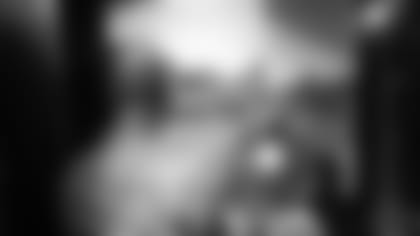 Due to the fact I am 40 years old and cursed with limited and declining athletic ability, I would happily play for any of the 32 head coaches in the NFL. But I would REALLY like to play for Mike Tomlin. He just has a presence about him that makes him special. And I say that as someone who has interviewed a considerable number of NFL head coaches over the years. I get the impression Tomlin is able to relate to his players, but not in a Raheem Morris "be my friend" sort of way. When he needs to crack down and be the boss, I'm sure Tomlin can do that. But he is also comfortable interacting with his men and he did so often during the day I spent in Pittsburgh. I also saw a perfect example of his humour during the open portion of Steelers' practice. As his players were lined up and taking it in turns to tip-toe through hoops laid on the ground, Tomlin said: "Let's go, let's go – let's look athletic men. You special teamers, just try your best!" Who says kickers and punters don't get enough love around the NFL?
Clark is not afraid to speak his mind
Steelers safety Ryan Clark has never been afraid to speak his mind and that was certainly the case again when we chatted last week. Ryan raised the subject of possibly pursuing a career in the media when he retires and that led to a conversation about his recent comments on New England quarterback Tom Brady. In the space of a single week while working at ESPN, Clark said that Brady "sees ghosts" when under pressure and that he is "the toughest quarterback in the NFL to defend." I asked Clark which was true, did Brady see ghosts or is he a great quarterback? His reply provided me with the quote of the entire week I spent in the United States. I won't spoil my Sky Sports feature for now, but suffice to say I think you will enjoy his response when it airs this season. It was funny, controversial and well thought-out all at the same time. Clark certainly does have a future in the media should he choose to go down that path.
Turning up the volume on the Jags
While owner Shad Khan is trying to turn the world's attention on his Jacksonville Jaguars, head coach Gus Bradley is turning the volume up on his own team. Practices under the new Jags regime are far from stale and stuffy affairs. They are loud, in-your-face and full of fast-paced action and aggression. Eat your heart out, Chip Kelly! Loud music blared throughout last Thursday's practice session and Bradley does enough running around to wear out a pair of shoes each day. He is extremely vocal and demanding on his players yet seems encouraging at the same time. Again, he is a fast-rising young coach like Tomlin who people seem to want to play for. In terms of energy on the practice field and the amount of noise coming from the head coach, the Jags are a very different team than they were under Mike Mularkey. All the pieces are yet to be put in place in Jacksonville, but a lack of energy, enthusiasm and effort will simply not be tolerated by Bradley or general manager Dave Caldwell. As for the entire franchise, the Jags are all about raising fan awareness and making their mark – the practice I attended was not a behind-closed-doors affair. Far from it, in fact. The stands were packed with fans, the team mascot – Jaxson De Ville - was racing from end to end on a Segway and the cheerleaders were also on hand to provide entertainment. And we're not even into training camp yet!
Open competition in Jacksonville
It has become crystal clear that the Jags are allowing both Blaine Gabbert and Chad Henne the chance to win the starting quarterback's job in Jacksonville. The pair have been splitting reps in mini-camps and will continue to do so during training camp until one man separates himself as the clear starter. What struck me when I interviewed both men in Florida is how much they want the starting role and how they are able to remain firm friends in the grip of such a vital battle. What I wasn't struck with, albeit just on that one day, was consistent play from either man. The defense had the upper hand in the session I witnessed. With a new coaching staff in place and added weaponry on offense, the Jags need one of these quarterbacks to step up and be 'The Man' in time for the new season if the 2013 campaign is to really take off. Both showed flashes in 2012 but lacked the consistency required to be truly successful. This training camp battle is going to be the most important with regard to the success – or lack thereof – that the Jags will enjoy in 2013.
Even the best-made travel plans can fall apart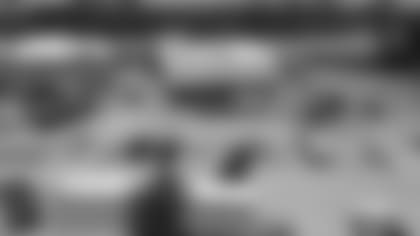 After making four flights in the space of four days, I was about to embark on the final two legs of my journey Thursday night (Jacksonville to Atlanta, Atlanta to London) when some severe weather intervened and turned everything upside down. Severe thunderstorms in Georgia led to the closure of Atlanta Airport, with the added risk of tornadoes making every passenger – myself included - willing to stay on the ground. With my flight to Atlanta grounded for several hours, I missed my flight home to the UK and was forced to find a hotel and spend another day in Jacksonville before trying again on Friday evening. That led to a barrage of Tweets in which people offered fake sympathy for me "having to spend another day in Florida!" Now, I'm not claiming it was a hardship of "sleeping in the airport" proportions – although I did badly want to get home to my family – but it was also not a case of me lounging on the beach for several hours in my Miami Dolphins mankini. If the truth be told, I spent my extra day in Jacksonville writing a Jared Allen feature for the gameday magazine that will be sold at Wembley Stadium in September. And to show you that Florida is not all palm trees, beaches and dolphins, here is the view from my hotel window as I penned that article!