JACKSONVILLE – Senior writer John Oehser examines Head Coach Urban Meyer's post-game press conference following the Jaguars' 9-6 victory over the Buffalo Bills in a 2021 Week 9 game at TIAA Bank Field in Jacksonville Sunday …
1. This one mattered. This was obvious afterward, with Meyer making clear he liked Sunday's victory for multiple reasons. He discussed the Jaguars' locker-room leadership and resolve, also praising Jaguars fans. "I want to thank our crowd," Meyer said. "I know Buffalo travels very well. There are a lot of reasons our guys play so hard, and No. 1 is the city of Jacksonville – and then also our owner (Shad Khan). To see that locker room, to see our stadium … I really appreciate our fans. I pulled the headset off a couple of times on third down. They were great. Our fans were great." Meyer added, "We have a vision. We're building a brand-new facility. We want to make this a destination spot. Our owner wants to make Jacksonville one of the top cities in the United States of America. We already believe there are a lot of positives about Jacksonville, but a great football team really helps."
2. The pass rush was more than Josh Allen. Meyer was quick to praise defensive end/linebacker Josh Allen Sunday – understandably so considering the third-year veteran had a sack, a fumble recovery and an interception off Bills quarterback Josh Allen. But Meyer made the point this week that Allen hadn't had help from the interior pass rush earlier in the year – and Meyer said that help absolutely was there Sunday. He cited defensive linemen Roy Robertson-Harris, Taven Bryan (two sacks Sunday), Adam Gotsis and Jihad Ward for "great penetration inside" on Sunday. "The interior pressure really set up a lot of things," Meyer said.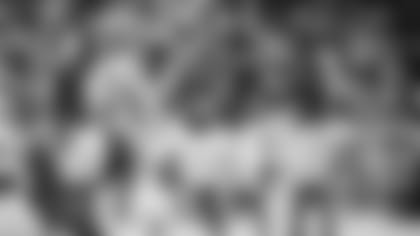 3. The transition is working. As Meyer saw it, Sunday's defensive performance in a sense started late last week against the Seattle Seahawks. The Jaguars, after allowing the Seahawks 229 total yards, allowed the Bills 301 total yards and two field goals Sunday. Key to the recent defensive improvement is the secondary continuing to transition from primarily man-to-man coverage early in the season to primarily zone concepts the last two weeks. "We really believed we were going to be a man coverage team and we had to adapt," Meyer said. "We're now a pretty good zone coverage team because of the hard work the players and coaches put in. A lot of that was zone coverage today." Meyer added of the defense, "The great defense piece is what saves the day. We were hoping we'd have a great defense early in the year and at times we didn't play great defense. The last few games our defense has hung in there and done a heck of a job."
4. Meyer's faith in the players remains strong. Meyer was asked to describe Sunday's post-game locker room. His reply: "You hope to get more accustomed to winning, which I believe we will. I think Shad said it one time: 'There's a perception of Jacksonville. There's a perception of his team. Locker room this. Locker room that.' That's a great locker room. I've been saying that all year long. We've had some close games. We stuck together and we just beat one of the best teams in the NFL. I'll fight for that locker room. I believe in that locker room. If someone has something negative to say about the locker room, they're incorrect."
5. The offensive approach was about being smart. Meyer said the offensive play calling on Sunday was dictated by how well the Jaguars' defense played. The Jaguars on Sunday managed just 218 yards total offense, including 87 in the second half – when the Jaguars were either tied or leading by a field goal. "We wanted to do certain things, but the way our defense was playing we're not going to screw around," Meyer said. The Jaguars were two of 13 on third downs Sunday and zero for two on trips inside the Bills' 20-yard line. "I was disappointed in the red zone," Meyer said of the latter statistic. "You get down there, you get paid to score touchdowns not field goals. I have to remind everybody of that. We have to do better. It was at times conservative because of the way our defense was keeping Buffalo intact."
6. Much better effort. Meyer made clear the difference between Sunday's performance and a 31-7 loss to the Seattle Seahawks last week, saying: "It's complementary football. All we ask is for players to be the best version of themselves. If they are, they're pretty good. If they're not, they're awful. We saw that last week. That was awful last week. It's not bad players; no one ever said that. The best version of ourselves is pretty good. They bit into it, believed it and had a good day today." Meyer added, "I get so upset about last week because I really felt the momentum coming. We have