JACKSONVILLE – These are good days for Trevor Lawrence.
The Jaguars' quarterback is experienced now, a young player becoming a veteran, and he's seeing and feeling what an improving NFL player at his position wants to see and feel.
Lawrence, the No. 1 overall selection in the 2021 NFL Draft, was expected to feel that way in his third season. That he indeed is playing that way – looking faster and more comfortable in the offense, playing faster and more effectively – bodes well for one of the NFL's fastest-improving offenses.
Perhaps as important, Lawrence on Sunday said he has the same feeling from the Jaguars' skill players, many of whom – like Lawrence – are entering their second season in Head Coach Doug Pederson's offensive scheme.
"I feel like that's me but that's also the other guys," Lawrence said. "We've had so much experience together and so many different situations we've seen. It's nice to be able to lean on those when you come out for your second camp in the system.
"You can go back to Week, whatever, 14 last year: 'I remember checking this play against this team, this coverage.' So the call comes up again and you see the same thing. It's like, 'All right, remember when we did this?' You can just get to it quick. That's so valuable when you think about offense, just being able to do that and get yourself in the play that you want."
Lawrence, after throwing 12 touchdowns and 17 interceptions as rookie, improved rapidly in his second season. He threw 25 touchdowns and eight interceptions in 2022, including 15 and two in the final nine games as the Jaguars rallied past the Tennessee Titans to win their first AFC South title in five seasons.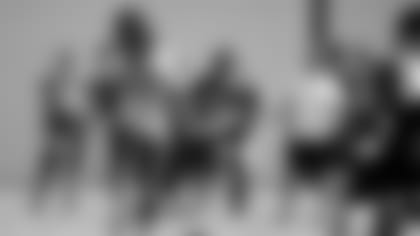 Continuing that improvement is a key storyline for the Jaguars entering '23. Though it's still early, with a preseason of work to be done, early signs are that that storyline could be positive.
"We're playing really fast at the snap, so that's good to see," Lawrence said. "We need to get a little bit better pre-snap. That's going to come. You're playing with a couple of new guys. You get all the kinks worked out. But I think we're playing really fast. I feel like my decision making has been much quicker than in years past, especially at this point in training camp.
"As a quarterback, I feel confident and I can just go play free because I know what I want, I know what I like, and I know what my guys can do."
A camp-long trend continued Sunday, with the Jaguars working various combinations with the first-team offensive line. Cam Robinson, the Jaguars' starting left tackle from 2017-2022 who will begin the season on a four-game suspension, worked at left tackle with the first team for a stretch with Walker Little working at left guard. Little, the projected Week 1 starter this season, has worked at tackle with the first team much of camp. With left guard Ben Bartch (knee) on the Physically Unable to Perform List and guard/center Tyler Shatley out a second consecutive day with a medical issue, the team has worked multiple players at left guard in recent days.
The Jaguars also have worked multiple options at right tackle with rookie Anton Harrison dealing with a shoulder issue in recent days. "It gives us an opportunity to continue to evaluate everybody, put everybody in certain situations," Jaguars offensive coordinator Press Taylor said. "These environments are so controlled from what we're trying to get out of each thing that I don't think it's really that big of a shock to the system to have a different group. You would love to have the same five to create continuity within the group, but at the same time, we like the idea of rolling people and kind of creating that atmosphere that's going to come up at some point in the season."
Lawrence on Sunday said while he was asked to participate in the Netflix documentary Quarterback, he opted against doing so. "That was just something where I felt like it just wasn't the right time for me," he said. "I watched the show though. The show was great. They did a great job."