It was the fifth day of the second training camp under Head Coach Doug Pederson, featuring an non-padded practice at the Miller Electric Center. Each day throughout camp, four members of Jaguars Media – senior writer John Oehser, senior correspondent Brian Sexton, senior reporter/editor J.P. Shadrick and team reporter Kainani Stevens – will share an observation.
Here are Monday's "campservations:"
John Oehser, Jaguars Senior Writer…
Monday had a calm-before-the-storm feel, with the Jaguars practicing for a fifth time in six days without pads before padded practices begin Tuesday. The efficiency of the early part of camp continued at the MEC, with multiple receivers – including Zay Jones and Calvin Ridley – turning in crowd-pleasing receptions from quarterback Trevor Lawrence in early individual work. While safety Daniel Thomas intercepted Lawrence on a pass that was deflected just out of Lawrence's hand late in practice, Lawrence and the front-line receivers continued to look fast and effective. One Monday highlight was a 25-yard pass from Lawrence to Christian Kirk over the middle in 7-on-7 work and another was a 60-yard touchdown pass from Lawrence to wide receiver Jamal Agnew early in the same drill. This offense mostly has looked crisp and fluid early. Now, let the hitting begin.
Brian Sexton, Jaguars Senior Correspondent …
There was plenty to like about Monday's practice at the MEC, especially if you were actually practicing. For starters, the players were coming off their first day off in 2023 Training Camp, so their legs were fresh and minds were clear. Maybe as important: It was overcast, so the weather was pleasant and not too humid; a good day to get some work done. Monday was a day for the young defensive backs as second-year cornerback Gregory Junior showed up in coverage and on a blitz, safety Daniel Thomas made a leaping interception in the middle of the field reaching high over a tight end, and rookie cornerback Christian Braswell made a leaping pass deflection to keep the ball out of wide receiver Kendric Pryor's hands. We'll call defensive back an area of interest because concern might be too strong a term. As of now, it's an area of competition with plenty of guys showing up to play.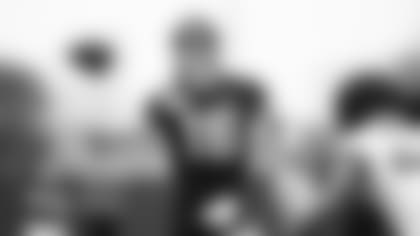 J.P. Shadrick, Jaguars Senior Report/Editor …
The Jaguars were originally scheduled to work in shoulder pads Monday, but a late schedule change scratched it until Tuesday when we will start to get a really good look at the offensive and defensive lines. Ridley continues to elicit cheers from the crowds at training camp – and rightly so. Wide receivers coach Chad Hall told me after practice that the dedication to the craft is real for No. 0, that his motivation is extremely strong and that he wants all the reps he can get. It shows during practice, even as he continues to build his conditioning. Lawrence had another good day, including a deep throw for a touchdown to Agnew. He was also picked on a tipped ball by Thomas in a later drill. I am excited for the Jags to get the pads on Tuesday and get to business.
Kainani Stevens, Jaguars Team Reporter/Producer ...
We saw the defense force several turnovers Monday, also registering a would-be sack on Lawrence to start the week off on the right note. I expect things will get turned up another notch Tuesday when the full pads go on. The offense also operated well for several 11-on-11 drives Monday. Kirk remarked he has seen "the light switch on" for Lawrence as the team begins its second season running Head Coach Doug Pederson's offense. Overall, everyone was sharp after having Sunday off and looked clean to start Week 2.