JACKSONVILLE – There was some significant "new" around the 'Bank Sunday.
A new (interim) head coach – and a new early feel.
There were a few early bursts of life, too, but Sunday's overall feel was too familiar for the Jaguars: A few critical early mistakes and not nearly enough offense, with the Houston Texans pulling away late for a 30-16 victory in front of 60,252 on a rainy afternoon at TIAA Bank Field.
Trevon Smith's 98-yard kickoff return was one of two early key special teams mistakes by the Jaguars Sunday and gave Houston a 14-3 lead late in the first quarter. With the offense continuing to struggle, the Jaguars never got closer than seven points again.
"It's definitely frustrating," Jaguars rookie quarterback Trevor Lawrence said. "All the guys are frustrated. We want to be more consistent. We want to win. It's definitely frustrating. We're the ones that control that. We've got to go make the play.
"We all have to play better. That's the thing, you've just got to look yourself in the mirror and figure out how to get better, and I think we'll do that."
The Jaguars (2-12) lost their sixth consecutive game, losing their first game with Bevell as interim head coach. The Jaguars dismissed Head Coach Urban Meyer Wednesday.
The Texans improved to 3-11, with two of their three victories over the Jaguars.
"You have to be able to learn how to win, and these games in the NFL are razor thin," Bevell said. "We've got to learn how to win those close games, and then this thing will start to turn."
A 43-yard pass from Texans rookie quarterback Davis Mills to wide receiver Brandin Cooks with 2:22 remaining made it 30-16, securing the victory. It was Mills' second touchdown pass of the game to Cooks.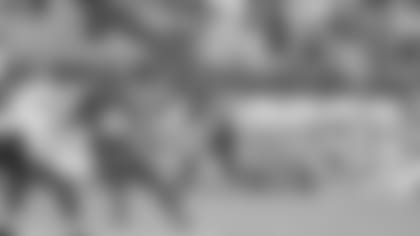 The Texans hadn't scored a second-half point in their last three games.
The Jaguars did not lead for a sixth consecutive game. Sunday also marked their sixth consecutive game in which they trailed by 10 more points, and they have trailed by at least double digits in 12 of 14 games this season.
"There was opportunities to make plays," Bevell said. "We didn't make some of them, and we've got to catch the ball, we've got to throw the ball. We've got to protect better, and we'll be able to find the end zone."
Lawrence, the No. 1 overall selection in the 2021 NFL Draft who entered Sunday with one touchdown pass in his last five games, completed 22 of 38 passes for 210 yards and no touchdowns with no interceptions. The Jaguars outgained the Texans, 296-281, after being held under 200 yards in each of their last two games.
"I thought we moved the ball a lot better on offense today, took a step in the right direction," Lawrence said. "But we've just got to make plays down the stretch when we need them, third, fourth quarter. I've got to make the throws, guys got to make the catches. It's all of us. We've got to make more plays.
"It was nice to see us moving the ball again like we were earlier in the year. That was a step in the right direction, but we've got to finish."
The Jaguars have averaged 10 points a game since a Week 7 bye, and have yet to score more than 23 points in a game this season.
Mills, a third-round selection in the '21 draft, completed 19 of 30 passes for 209 yards and two touchdowns with one interception. Cooks caught seven passes for 102 yards and two touchdowns.
The Jaguars registered one sack Sunday – by defensive lineman Malcom Brown. Rookie cornerback Tyson Campbell intercepted Mills in the fourth quarter, his second interception of the season and the Jaguars' NFL-low seventh takeaway this season.
"We're getting closer than ever before," Campbell said. "We know we've got to try to finish this thing out strong, and we're going to need all of us to accomplish that. So, that's what we're trying to do. That's what we keep planning on doing, trying to get us a W."
The Texans drove methodically on the game's opening possession, with Cooks' 22-yard touchdown on a pass from Mills giving Houston a 7-0 lead with 6:39 remaining in the first quarter; the Jaguars forced a Texans punt early in the possession, but Jaguars defensive lineman Adam Gotsis was called for a hands to the face penalty during the punt to give the Texans a first down at their 37. The Jaguars drove quickly for a 22-yard field goal by kicker Matthew Wright, but special teams hurt the Jaguars again with Smith returning the ensuing kickoff for a touchdown and a 14-3 lead with 1:26 remaining in the first quarter.
The game had a back-and-forth feel early in the second quarter, with Lawrence and the Jaguars' offense driving efficiently one series after Smith's kickoff-return touchdown; Lawrence completed three of five passes for 42 yards on the drive and Robinson rushed four times for 29 yards – including a one-yard touchdown run with 12:09 remaining in the second quarter to trim the lead to 14-10. The Texans pushed the lead to 17-10 with a 52-yard field goal by kicker Ka'imi Fairbairn through a steady rain. Fairbairn's 51-yard field goal on the half's final play pushed the lead to 20-10.
Fairbairn's third field goal of the game, a 25-yarder, capped the Texans' first drive of the second half and gave them a 23-10 lead with 10:39 remaining in the third quarter. The Jaguars pulled to within 10 again when Wright converted from 38 yards with 4:47 remaining in the third quarter to make it 23-13, Texans.
Wright's 35-yard field goal – his third of the game with no misses – cut the Texans' lead to 23-16 with 11:18 remaining in the fourth quarter; Campbell's interception gave the Jaguars possession at the Texans 22 to set up the field goal.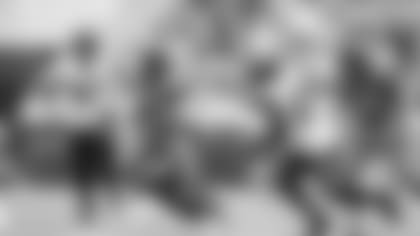 Notable: Veteran backup running back Carlos Hyde was among six inactive players for the Jaguars Sunday, having been in the concussion protocol since a loss to the Tennessee Titans last Sunday. The other five inactives for the Jaguars Sunday: Rookie tight end Luke Farrell, defensive tackle Jay Tufele, cornerback Nevin Lawson, defensive end/linebacker Jordan Smith and offensive lineman Will Richardson Jr.
Injury report: Jaguars safety Rayshawn Jenkins sustained an ankle injury on a kickoff return late in the first quarter and did not return. … Running back James Robinson was checked by trainers on the field in the second quarter but started the second half. … Jaguars left tackle Cam Robinson sustained a neck injury in the third quarter; rookie offensive tackle Walker Little, a second-round selection in the 2021 NFL Draft, played in his place.