It was the sixth day of the second training camp under Head Coach Doug Pederson, featuring a padded practice at the Miller Electric Center. Each day throughout camp, four members of Jaguars Media – senior writer John Oehser, senior correspondent Brian Sexton, senior reporter/editor J.P. Shadrick and team reporter Kainani Stevens – will share an observation.
Here are Tuesday's "campservations:"
John Oehser, Jaguars Senior Writer…
In terms of contact and intensity, Day 6 was a step. The Jaguars' first padded practice of '23 camp Tuesday featured 11-on-11 and 7-on-7 work, with the lone one-on-one pass-rush drill coming in the final period. Outside linebacker K'Lavon Chaisson and left tackle Walker Little both stood out in those drills, with rookie pass rusher Yasir Abdullah also turning in a strong repetition. Elsewhere Tuesday, a couple of positive trends continued with the first-team offense continuing to look efficient and first-year tight end Gerrit Prince registering two red-zone touchdown receptions to bring his early-camp total to five. Also Tuesday: A strong day from wide receiver Zay Jones and rookie running back Tank Bigsby.
Brian Sexton, Jaguars Senior Correspondent …
The first day in full pads means the focus goes to the big guys and one-on-one pass rush. Little was really good against outside linebackers Travon Walker and Josh Allen, though Allen made his presence felt with a strong inside move off the bull rush. That's a nasty little move he clearly has worked on this offseason. More of that, please. As for Little: He always has shown nice footwork and athleticism, but to handle those two pass rushers says much about his readiness to stand out at left tackle. Also worth noting: Nose tackle DaVon Hamilton, who earned a nice contract in the offseason but who hasn't really practiced much this camp, showed up with a couple of effective rushes right up the middle. He's a wide body with quick feet and remains very hard to block.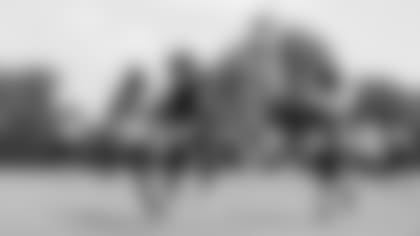 J.P. Shadrick, Jaguars Senior Report/Editor …
It's August 1, and Tuesday was the first day in pads. The intensity of practice is here to stay, though it seems like forever until the first preseason game. It was camp's first one-on-one offensive line-versus-defensive line drill, though the work was at the far end of the field and difficult to see from my vantage point. In 7-on-7 work, quarterback Trevor Lawrence threw a dart touchdown to tight end Evan Engram in the back of the end zone just out of the reach of safety Rayshawn Jenkins. It was one play after Jenkins had nice coverage keeping up with Zay Jones along the back line of the end zone on an incompletion. Linebacker Caleb Johnson intercepted backup quarterback C.J. Beathard in 11-on-11 work, and rookie safety Antonio Johnson made a diving interception in front of a slant in the end zone off reserve quarterback Nathan Rourke. Rinse and repeat Wednesday and the next day, and the next day…
Kainani Stevens, Jaguars Team Reporter/Producer ...
Full pads for the first time in training camp upped the intensity level noticeably Tuesday. Wide receiver Calvin Ridley sat out much of practice and I saw two players benefit from the extra reps: Jones and Bigsby. Jones hauled in several catches, including four touchdowns in red-zone drills. Bigsby looked impressive in short-yardage situations. He seems primed to fill that goal-line bruiser role. After Tuesday, it feels as if training camp truly has begun.