JACKSONVILLE – The reviews continue to be positive.
The Jaguars are about midway through the team's voluntary offseason program, with organized team activities scheduled to begin Monday. This time of the offseason is about communication and learning, and Pederson said he very much likes that process with Lawrence thus far.
"One hundred percent, 100 percent," Pederson said during the team's 2022 Rookie Minicamp, which ended this past Sunday.
Pederson, who took over as the Jaguars' head coach on February 6, has spoken positively about Lawrence often since taking the job. But last week's comments were among his first regarding the No. 1 overall selection in the 2021 NFL Draft since the beginning of the team's offseason program.
The past few weeks have marked Pederson's first meetings with Lawrence – and the pair's first interactions discussing the offense, schemes and approach.
"He's so engaging right now," Pederson said. "The communication is pretty incredible. The things that he sees on the football field and even from the standpoint of, 'Hey, I like this play. This is what we did last year. I like this play. I like this concept, is there a way that we can incorporate this in our offense?'
"That's the dialogue that's going on right now. This is the time to embrace that and get it into our system now."
Lawrence started all 17 games as a rookie, throwing 12 touchdowns and 17 interceptions. He notably handled multiple off-field situations involving Head Coach Urban Meyer with poise and maturity, finishing with his best performance of the season in the regular-season finale.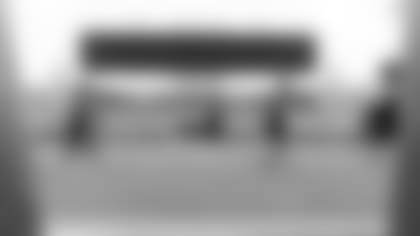 Lawrence in that game threw two touchdowns in a 26-11 victory over the Indianapolis Colts. Pederson said the approach during the team's offseason program with Lawrence is in a sense about starting over – but also about building on that rookie season.
"Kind of almost like hitting the reset button just a little bit," Pederson said. "This is the first time that we've had our chance to work with him and really begin to work on the details, the fundamentals, and how to be a professional and his study habits and all those things that come with being an NFL quarterback.
"The thing with Trevor I really like is the fact that he played last year and so this is not his rookie season. But for us, as coaches, being the first time to get our hands on him and just putting him through maybe a different set of drills, something he hasn't been used to in his past, and really developing his talent and allowing him to kind of showcase that on the field. It's teaching him exactly what we're asking of him within our system and then letting him grow from there."
Pederson during minicamp also discussed the importance of backup quarterback C.J. Beathard – a sixth-year veteran who signed with the Jaguars as an unrestricted free agent in 2021: "He has played games, he has started games in this league, and I think that's valuable. C.J. has the mentality and I think he has the right mentality right now as a backup quarterback where there's not that threat to Trevor. It's not like he's out there making an agenda for C.J. He's a team player and he's on board. You see it out on the grass, or you see it in the classroom where those two are having really good dialogue back and forth and open communication, and that's really what it takes. I think about my days in Green Bay with [former Packers quarterback] Brett [Favre]. Not that I was going to threaten Brett's job, but just having the communication of another set of eyes for the starter, that's what you have to have. I think those combinations are really good for the starter and it kind of calms the starter down a little bit where Trevor can just focus on his job knowing he has the support of the backup."
Rookie offensive lineman Luke Fortner, who played collegiately at the University of Kentucky, on rookie outside linebacker Travon Walker (Georgia): "Just incredible, consistency at a high level; I think that's the most important thing about Travon. There were a lot of great players on the Georgia defense, but people like Travon who could do it every single play, that's what separates him. I think that's what he's going to bring."