JACKSONVILLE – Doug Pederson was transparent about his objective.
When it comes to meeting that objective, the Jaguars' head coach said he feels good about the 2022 offseason. Very, very good.
Pederson, the Jaguars' head coach since February 6, said he wanted to re-establish the team's culture in the wake of a difficult – and sometimes turbulent – 2021. And he said he likes what he has seen from Jaguars players this offseason in terms of approach.
"It just shows the character and who these guys really are," he said.
Pederson spoke during this past weekend's 2022 Rookie Minicamp at TIAA Bank Field. That was part of an offseason program that continues this week with Phase Two of the voluntary offseason schedule, with Phase Three – non-padded practices known as organized team activities – scheduled to begin Monday.
Player participation has been high thus far, and Pederson likes what that says about the team.
"Football is important to them," he said. "Winning is important to them. They're willing to change and wanting to change and needing it to change, obviously. It's a credit to the players and the leadership of this team that we have this many guys in the offseason program."
Pederson on Friday was asked specifically about moving forward from a 2021 season in which the Jaguars finished 3-14. Then-Head Coach Urban Meyer was dismissed 13 games into that season, ending a tenure that featured multiple off-field incidents and distractions. The 13 games marked one of the shortest head-coaching stints in NFL history.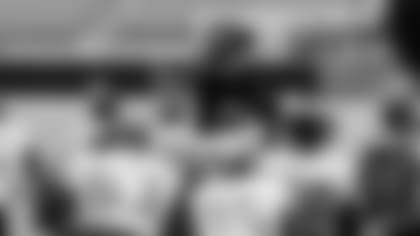 "I do believe there has to be some kind of healing with the situation that transpired last year; there's a trust that was broken," Pederson said. "For me, it's about gaining the trust back. They've got to see it through me. They have to see the transparency, the honesty.
"I've always said I'm going to be open with them and I want them to be open with me. It just comes down to communication and having an open line of communication. We've been able to have some conversations that way in team settings.
"I think the guys have really embraced it and are doing well."
Pederson this past weekend discussed the team's kicker situation. With the team releasing kicker Matthew Wright last week, the Jaguars now have two kickers on the roster: first-year veteran Ryan Santoso and rookie free agent Andrew Mevis.
Santoso has spent parts of the last four seasons with the Detroit Lions, Tennessee Titans, Carolina Panthers, Los Angeles Rams and New York Giants; he has made four of five career field-goal attempts.
Mevis, who played for Fordham before transferring to Iowa State, converted 30 of 33 college field goals including all three field goals from 50 or more yards.
"You get into a spot where you don't want too many kickers in the room, but we have great competition there with Ryan and now Mevis," Pederson said. "[We] just want to see consistency in what we're asking that position to do. We know that we have to improve and get better there and that's a big part of wins and losses and whether to kick off or three points or whatever it might be. This will be great for both guys now moving forward to create that competition."
Pederson also during minicamp discussed the team's 2022 schedule, which was announced last Thursday and which includes just one prime-time game – a Thursday night game against the New York Jets on December 22. The Jaguars had just one prime-time game each of the past four seasons and haven't played on Sunday night since 2008 or Monday night since 2011. "I know the history here," Pederson said. "We have to win in order to do that in the future, to be on a Sunday or Monday night, and I get that. That's the challenge for us to do."
Jaguars LB Devin Lloyd on his fellow Jaguars 2022 first-round selection, No. 1 overall OLB Travon Walker: "About what I expected, athletic freak. He's very powerful and he's somebody who I'm glad I don't play right and left tackle … because that's a bad man. It's really fun to be out there with him and us pushing each other to get better."