And if pass rush isn't the only reason the veteran defensive lineman is with the Jaguars, it's a big reason – and it's the one he mentions first when discussing his new team and new teammates.
"My role is to get to the quarterback," Key said recently as the Jaguars continued 2022 Organized Team Activities at TIAA Bank Field. "That's my role, getting to the quarterback."
Key, who signed with the Jaguars as an unrestricted free agent in March, did that at a high level this past season. He registered a career-high 6.5 sacks for the San Francisco 49ers and is now an important part of what the Jaguars expect to be a deep, rotating – and pressuring – defensive front.
"He's a versatile defensive lineman, whether he's playing on the edge or playing inside," Jaguars Head Coach Doug Pederson said. "He brings value on third down, obviously. He's a guy who will keep the defensive line fresh through the course of a game so these guys don't have to play 75-to-80 percent of the snaps."
Pederson said that's key to an effective NFL pass rush, citing the Philadelphia Eagles' deep – and talented – defensive-line rotation in 2017. That was the season the Eagles won the Super Bowl with Pederson as head coach.
"You can really spread it around," Pederson said. "Guys like Fletcher Cox and Brandon Graham were only playing 65-to-70 percent of the snaps because we were rotating guys. That's what you have to have – guys who can come in and contribute. He (Key) will be one of those guys."
Key this past season had a strong season in a similar situation in San Francisco. He played in all 17 games – and while he had no starts, his 6.5 sacks and 17 quarterback both were also second on the team.
The Jaguars this offseason not only signed Key as a free agent, they selected outside linebacker Travon Walker No. 1 overall in the 2022 NFL Draft and drafted linebackers Devin Lloyd in Round 1. They also signed defensive tackle Foley Fatukasi as an unrestricted free agent, adding to a front seven that already included players such as outside linebacker and 2019 Pro Bowl selection Josh Allen.
"They never said that my job was to get the pass rush group going, but I'm taking that on my shoulders," Key said. "It's going to be a challenge for us to grow as a defensive line pass-rush wise and building that camaraderie. We've to get those extra reps and learn how to pass rush together and have that chemistry together.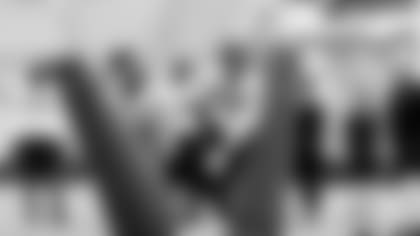 "We've got guys who can rush here. I'm here to get that going. There are a lot of guys who can pass rush their ass off. I'm here to add a piece to tat. Once we get the chemistry going and jell together this pass rush group can be special."
Key said the chance to be part of a talented young pass-rush group was one reason he signed with the Jaguars. Being part of a young team moving in the right direction was another.
"It's a winning culture," Key said. "It starts from upstairs and it trickles down. They're trying to win here and they're tired of losing here. Obviously, they're making changes to turn those things around. I see a winning culture and an organization that believes it can win."
Pederson this week praised wide receiver Laviska Shenault Jr.'s offseason approaching, saying the third-year veteran is "100 percent on the field." Shenault, a second-round selection in the 2020 NFL Draft, caught 121 passes for 1,219 yards and five touchdowns in his first two seasons – with all five touchdowns coming during his rookie season. "When he gets a rep, it's 100 percent and he's done a good job of learning and picking up the information," Pederson said. "What's really stood out with [Viska is just how he really prepares himself for games and obviously now with just practice." Shenault also during OTAs has worked returning punts, a role Pederson said Shenault requested. "He's another player that wants to win and do what he can for the team," Pederson said. "For him to want to do that just shows maturity with him and where he is in the stage of his career. The more people that stand up and want to do more things, the better off we're going to be."