It's what the Jaguars wanted, too, with the result being what both sides feel is a good match – and what the Jaguars feel will give them added distance and flexibility in the kicking game.
"I'm excited for this new chapter," McManus said Tuesday following the Jaguars' fourth practice of 2023 Organized Team Activities at TIAA Bank Field.
McManus – a 10-year veteran who spent the past nine seasons with the Denver Broncos – spoke five days after signing with the Jaguars, a move that came the same day the Jaguars traded kicker Riley Patterson to Detroit Lions.
McManus was released by the Broncos last Tuesday.
"I can't say enough about Riley and what he did for us last year," Head Coach Doug Pederson said of Patterson, who converted 30 of 35 field goals in his lone Jaguars season – and who made a 36-yard field goal on the final play of a 31-30 victory over the Los Angeles Chargers in AFC Wild Card Playoff game at TIAA Bank Field.
"Obviously, there's a huge kick in the Chargers game at the end of the year to get us into the division round and we obviously wish him the best. It's just an opportunity to help us get better as a football team and we're always going to look to do that.
"It's just unfortunate that when you're at [the maximum] 90 guys [on the roster], you have to make decisions."
Jaguars special teams coordinator Heath Farwell called McManus "one of the best kickers in the league" and "a guy that wanted to be here."
"It was an opportunity to get better as a group," Farwell said. "We were excited to get him. Riley did a fantastic job last season for us. He was a big part of some big games for us, one of the biggest games in Jaguars history, but getting the opportunity to add Brandon kind of gives you the picture of where the culture has gone.
"Anytime someone wants to come here and it helps us be a better football team, we have to explore it. If it helps us get just one percent better, we're going to do it."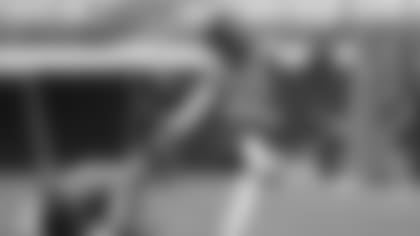 McManus, who made 183 of 202 field goals from under 50 yards in Denver (91 percent) – and 223 of 274 overall – called Farwell shortly after his release from Denver. He said former Jaguars special teams coach Joe DeCamillis – the Broncos' special teams coach in 2015-2016 – is a mutual friend.
"Once I knew that Jacksonville would potentially be interested, I reached out to Heath to introduce myself more and we had a great conversation," McManus said. "It still goes above him if they want me or not, and we were able to get a deal done."
"When you have players that are free agents after getting released and say, 'Hey coach, I would love to play here,' it's just a testament to what Coach Pederson has done, the overall team, what it's like to be here." Added Farwell
Farwell called McManus an upgrade on kickoffs and in field-goal distance.
"Riley did a really good job, but this is a guy that gives us a lot more flexibility not only on kickoffs, to be able to pin them deep and do some different stuff, but it gives us a longer kickoff line on Sundays," Farwell said. "At times later in the season, some of those lines got shorter with Riley. This won't be an issue, and I think that'll free us up to potentially maybe go for one when it's a longer distance on fourth down.
"Maybe that's three points that we can take advantage of. So, it just gives us a lot more flexibility to add a very good kicker."
Pederson said how the addition of McManus will alter the Jaguars' approach in game situations "has yet to be seen."
"There is a comfort level, obviously, as a decision-maker to put a kicker out there," Pederson said. "When you look at some of the top kickers around the league, when you cross the 50, the 45, the 40, you're in field-goal range. We're going to take a look at that this spring and training camp and see how that plays out."
McManus said his primary impression of the Jaguars is as a team on the rise, and a team with playoff potential.
"Everyone dreams of kicking game-winning field goals," he said. "Game-winners are great, but it's also even better to be in the playoffs doing those things. I thrive on those scenarios. It's a great organization, a great place to live or me and my family.
"I'm just trying to bring my leadership and my tenure here to put us over the edge."
Jaguars veteran left tackle Cam Robinson worked in Tuesday's fourth 2023 OTA practice. He was not in attendance during OTA Day 1 last Monday. All OTAs, like all NFL offseason work except for a three-day mandatory June minicamp, are voluntary. Outside linebacker Josh Allen and tight end Evan Engram, the latter of whom received the franchise tag in March, were the lone players not practicing Tuesday.