JACKSONVILLE – The pads came on and the Jaguars hit. Finally.
This was Day 6 at Jaguars 2022 Training Camp at Episcopal School of Jacksonville Knight Sports Campus, the first day the NFL Collective Bargaining Agreement allowed full pads and the accompanying contact hitting in practice day.
That made it an exciting day, and an important one.
Pederson, speaking for the third time since '22 camp began last Monday, believes in intense hitting in camp practice. The Jaguars held their longest practice of '22 camp to date Sunday, working for one hour, 55 minutes in 86 temperatures that felt like 94 at the Episcopal School of Jacksonville Knight Sports Campus.
They worked one-on-one pass rush between offensive and defensive linemen for the first time in '22 camp, also working a team run drill along with extensive seven-on-seven and 11-on-11 periods. Pederson had worked the Jaguars in shoulder pads Saturday, and said he liked the team's physicality in that practice.
"That's encouraging," he said. "It kind of happens throughout training camp. There's going to be those warm, hot days where tension kind of builds and you start seeing it back and forth offensively and defensively. It was good to see, but at the same time we have to make sure we play smart and control that."
Pederson added, "The No. 1 thing is player safety and protecting each other – practicing hard, practicing fast and being smart about it. Nobody's going to the ground, hopefully. No live tackling. You're kind of getting used to wearing the extra gear now. We're getting to that part of training camp where things get ramped up."
With Pederson speaking before practice Sunday, Jaguars right guard Brandon Scherff spoke after practice. Coverage of those availabilities can be seen Sunday on jaguars.com and Jaguars Media channels.
The Jaguars will practice again at 8:50 a.m. Monday and Tuesday before playing the Las Vegas Raiders in the Pro Football Hall of Fame Game in Canton, Ohio, Thursday.
"It's going to be exciting, obviously, just to get the team on the field against another opponent," Pederson said. "It will be the first time for all of us with the coaches and new players and really the whole team. We're looking forward to that."
Pederson said he has yet to decide playing time for Thursday.
"We'll try to get as many of the young guys in the game as we can," Pederson said. "I'll make those determinations. We still have a couple of days left here to practice."
The Jaguars are practicing on the Episcopal sports campus while construction continues on the Miller Electric Center adjacent to TIAA Bank Field. That facility is projected to be complete by 2023 training camp.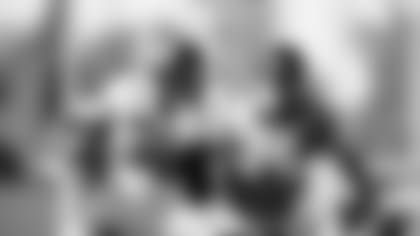 Here's a look at Sunday's practice:
A couple of plays stood out Sunday. First play: Wide receiver Christian Kirk had a step on cornerback Shaquill Griffin down the right sideline, but Griffin recovered at the last moment to reach up and tip the accurately thrown pass from quarterback Trevor Lawrence away for an incompletion likely saving a touchdown. Second play: Wide receiver Jeff Cotton Jr. caught a pass from reserve quarterback Jake Luton on a short crossing route, then outran a defender to the corner and turned up the right sideline for about a 50-yard gain before he was pushed out of bounds inside the 10-yard line.
The first day in full pads meant the first day of one-on-one o-line and d-line drills. No. 1 overall pick/outside linebacker Travon Walker flashed his athleticism and burst up the field. Left tackle Cam Robinson had a perfect day, winning each of his matchups against various rushers. Walker Little took reps at both right and left tackle in the one-on-one period. Right tackle Jawaan Taylor (hamstring) continued to work on the side. …
The defense won the third-down, 11-on-11 work for the day. In the first six snaps, the starting offense had a total of four incompletions, a sack and a false start. Rookie cornerback Benjie Franklin made two key plays against the second-team offense: a pass defense to force an incompletion, and a tackle short of the line to gain to force fourth-down. …
Lawrence hit Kirk for a 25-yard completion along the right sideline on the opening snap of the final 11-on-11 work of the day, a crisp period for the offense. The offensive line gave Lawrence time all period, and the second-year quarterback made completions all over the field. …
Rookie linebacker Devin Lloyd, the No. 27 overall selection in the 2022 NFL Draft, remained out of practice with a hamstring injury to start camp. Taylor worked to the side, as did running back James Robinson (Achilles), quarterback C.J. Beathard (groin), defensive tackle Foley Fatukasi (calf) and cornerback Darious Williams (shoulder) continuing to work limited. Pederson called Fatukasi and Taylor "day-to-day," adding: "We just want to make sure they're 100 percent. With the injuries they have, they can be nagging and lingering if we don't protect them now, but we're going to continue to ramp them up."