That's "different" in a good way, and the Jaguars' third-year quarterback said the best part about the 2023 offseason is it hasn't been much different at all.
"We have our culture set, we have our staff, we have our system," Lawrence said Monday as the Jaguars began their final week of '23 organized team activities at TIAA Bank Field.
"It feels good having that in place."
Things feel familiar for Lawrence these days because it's his second offseason working under Head Coach Doug Pederson, and therefore his second offseason in Pederson's offense.
Pederson, who has talked often of a potential jump in comfort and productivity for Lawrence in his second season in the scheme, spoke positively of what he has seen from Lawrence since the voluntary offseason program began in mid-April.
"He's on the right track," Pederson said. "He's doing everything that we've asked him to do. He's the key to the offense. He makes it work. He understands his role from the standpoint of putting the ball in the playmakers' hands.
"Having a full year of our off offenses under his belt gives him a lot of confidence. Where last year, we were still teaching and he was still learning … he's still learning but he's now teaching the offense to the guys."
This offseason marked the first time since Lawrence's final offseason at Clemson he has had the same offense as the previous season. He spent his first NFL offseason learning the offense the Jaguars used in then-Head Coach Urban Meyer's lone season with the team and last offseason learning Pederson's scheme.
"This is the first time in a while haven't been learning new offense," Lawrence said. "That feels good, having that and being able to focus on little parts of my game instead of just making sure I got the installs and know the plan coming into practice. Obviously, you look over that, too, but not having that stress of just learning the playbook, I can just really focus on my game and my mechanics."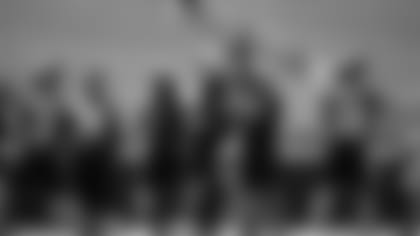 Lawrence speaking Monday said he continues to work constantly to be a better leader. He said a primary offseason focus has been "the little things, the details of the position" with another striving to be more consistent. Lawrence last season threw 25 touchdown passes with eight interceptions, including 15 touchdown passes and two interceptions in the final nine regular-season games.
"You look at our season last year and had a lot of situations where we made a lot of crazy plays, did a lot of things that we needed to do to win games," Lawrence said, "but how do I just play in and play out be more consistent, you know, take the checkdown on certain plays? When do I trust my instincts?
"I think I do that well at times, but sometimes I could be a little bit more consistent – just make the easy plays, make the routine plays every time. That's where I'm trying to improve more."
Pederson on how the Jaguars will handle being "the hunted" in the AFC South after winning the division in 2022: "That falls on me to make sure they don't look past what we're trying to accomplish today. That's on me to make sure we don't look down the road. Last year's last year. We just have to keep reiterating the point. I said this before. It's a new team. It's a new season. We have to start over. That has to be the mentality. It's great what we did, but we haven't done anything in 2023. We haven't played a football game yet. We have a lot of work to do, but it falls on me to make sure they stay levelheaded and grounded and keep working."
Lawrence: "We have a lot more voices. We have a lot more guys leading because we have so many more guys that have carried over from last year and the guys that were new last year, maybe they didn't speak up as much, they just kind of did their job and earned that respect from their teammates. Now, they're in their second year on the team and having those relationships. We've got more guys that are willing to speak up and lead."