JACKSONVILLE – It's impressive, and very noticeable.
You see it in the Jaguars' sacks totals this season – but mostly, you see it watching rookie quarterback Trevor Lawrence play.
When it comes to pocket presence, he's good. Very, very good.
"Some guys are natural at it, and he is," Head Coach Urban Meyer said Wednesday as the Jaguars (1-5) prepared to play the Seattle Seahawks (2-5) at Lumen Field in Seattle, Wash., Sunday.
Meyer discussed Lawrence's pocket presence as he met with the media Wednesday, mentioning it as he discussed the Jaguars' offensive-line play thus far this season – and Meyer said two statistics stand out for that group through six games.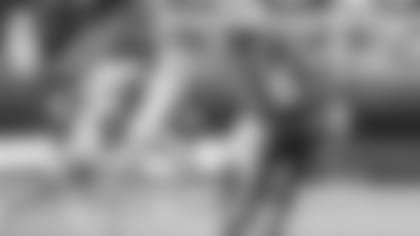 One is the team's yards per carry and the second is that the Jaguars are allowing fewer hits on the quarterback than past seasons. Meyer called the second statistic "key," and credited not only the offensive line but Lawrence's ability in the pocket.
"The thing is he's over people," Meyer said of the 6-feet-6 Lawrence. "I've had a lot of shorter quarterbacks and a lot of times they bail out of the pocket early because they can't see. This guy hangs in there pretty good."
The Jaguars through six games have allowed eight sacks, which is tied for the NFL lead with Kansas City for fewest allowed. They rank ninth in the NFL in fewest hits allowed on the quarterback with 17.
"There are two things that happen on sacks," Meyer said. "First, the awareness that someone is [pass rushing] clean, and he (Lawrence) gets out of it. The second is he hangs in the pocket instead of creating sacks. Sometimes quarterbacks – especially when they can't see – bail, and that's when they run into a sack. He (Lawrence) is pretty good about it."
The Jaguars rank second in the NFL with 5.2 yards per rush attempt, with Meyer on Wednesday crediting not only the Jaguars' starting offensive linemen but the unit's depth. The Jaguars started Week 1 backups Tyler Shatley (center) and Ben Bartch (guard) in a Week 6 victory over Miami, and veteran Will Richardson Jr. played for Bartch when the latter was out with a concussion in that game.
"We were down three guys in London and were very functional," Meyer said. "That's the one area when you get dinged it [often] goes backward fast. [The offensive line] is one of our most consistent pieces.
Meyer on whether the team will make a move in advance of the NFL's trade deadline next Tuesday, November 2, at 4 p.m.: "We meet on it every day. The phone's buzzing. I know if there's a chance to make us better, we listen."
Meyer on Lumen Field, which is widely considered one of the NFL's toughest road venues: "They (Jaguars players) said it's the loudest outdoor stadium we play in. I said, 'LSU, Alabama, Penn State?' They said, 'Yes.' So, if they said yes to louder than 110,000 … They said the thing is built [to enhance crowd noise]. Plus, the fans are outstanding. We're going work hard at it."
Meyer on Wednesday said starting center Brandon Linder continues to move closer to returning. Linder has been out since sustaining a medical collateral ligament/high-ankle injury October 10 against Tennessee. "He's getting closer," Meyer said. "The MCL is clean and now it's just the high ankle we have to work through." … Meyer also said rookie cornerback Tyson Campbell is expected to return Sunday after missing the last two games with a toe injury. Campbell started Week 2 at nickel and Weeks 3 and 4 at outside corner opposite Shaquill Griffin.