JACKSONVILLE – So far, so good.
To hear Jaguars rookie quarterback Trevor Lawrence tell it, everything is positive when it comes to the ankle injury he sustained three days ago.
"It feels pretty good, better than I thought it would," Lawrence said Wednesday as the Jaguars (2-6) prepared to play the Indianapolis Colts (4-5) at Lucas Oil Stadium in Indianapolis, Ind., Sunday at 1 p.m.
Lawrence, the No. 1 overall selection in the 2021 NFL Draft, sustained what Head Coach Urban Meyer called a low-ankle sprain late in the second quarter of a victory over the Buffalo Bills Sunday. Lawrence returned to the game and practiced limited Wednesday.
Meyer said before practice Wednesday he feels good about Lawrence's movement.
Lawrence said, "I'm happy with where I'm at – obviously trying to be smart and making sure I'm ready to go. I'll ease my way into it, and I'm trying to get as many reps as I can to make sure I'm ready. I'm feeling good and we're where we want to be."
Lawrence completed 15 of 26 passes for 118 yards and no touchdowns with no interceptions Sunday. His long completion Sunday was a 23-yarder that wide receiver/returner Jamal Agnew turned into a first down after a short pass. Lawrence's long pass the previous week was a 17-yarder to running back James Robinson, and Lawrence on Wednesday addressed the recent lack of downfield completions.
"We have to start finding some," Lawrence said. "That's me taking them when we have them and hitting them when we have them. We had two Sunday, specifically, where I easily could have hit those. One probably would have been a touchdown [in the fourth quarter to wide receiver Marvin Jones Jr.] and one would have been a 30-yard gain to Ag[new] down the sideline. Those were two opportunities."
Lawrence added, "Those plays, we have to hit. Everything goes together. It's up front, it's in the backfield, it's communication, it's me and the wideouts being on the same page. It's all of that. We've got to get better and obviously be more efficient."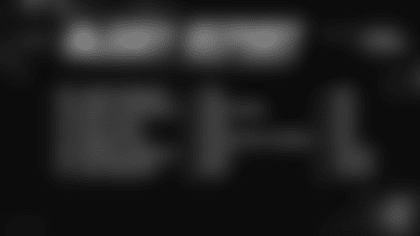 Running back James Robinson missed practice Wednesday with a heel injury that kept him out against Buffalo this past Sunday, with cornerback Chris Claybrooks (concussion), linebacker Myles Jack (knee) and defensive lineman Adam Gotsis (not injury related-resting veteran) also missing practice. Lawrence and left tackle Cam Robinson (back) practiced limited. Meyer said Wednesday morning he feels good about both Robinsons and Jack playing Sunday.
Jaguars defensive lineman Dawuane Smoot on the Colts' fifth-ranked rushing offense that features the NFL's second-leading rusher in running back Jonathan Taylor (840 yards rushing, 140 carries, eight touchdowns): "We have to focus on our game plan, stopping the run. That's their offense more than anything. If we shut down the run, we're going to have a good day for sure."
Lawrence: "I like where we're at. Obviously, that wasn't our best game as an offense [Sunday], but it was really cool to see the defense have our back and dominate for four quarters. There are going to be games that happens – hopefully not a lot. And there will be games on the other side where we have to pick them up. That's just a part of this game. I think that shows how far this team has come, that one side of the ball can struggle and the other side can play well enough to still win the game. All those things go together, but we can definitely play together, so that's a good sign."
Lawrence on backup quarterback C.J. Beathard, who completed two of two passes for 33 yards while playing briefly for Lawrence this past Sunday: "It speaks to the player he is and the person he is. He's always ready. He's a guy I have a lot of respect for. He's an older guy who has played a lot of football. He has helped since I've gotten here. He always has been a guy who has been in my corner and helped me as much as he can. I have a lot of respect for him because of that but even more so just to see how he works. He knows most weeks he's probably not going to play. He still takes every rep off to the side and makes the most out of it when he gets a rep. He's always prepared. You need a team full of guys like that. He goes in and makes the plays when he needs to. That's awesome."