JACKSONVILLE – His focus is on improving.
That's Trevor Lawrence's objective with five games remaining in his rookie season – and the Jaguars' quarterback on Wednesday discussed how would like to do that.
"I really just want to go play free, go be me, make plays," Lawrence said as the Jaguars (2-10) prepared to play the Tennessee Titans (8-4) at Nissan Stadium in Nashville, Tenn., Sunday at 1 p.m.
Lawrence added, "I feel like I'm ready to just go let it rip and have some fun. I think that's what you have to do."
Lawrence, the No. 1 overall selection in the 2021 NFL Draft, met with the media Wednesday and discussed multiple topics – including running back James Robinson. He said multiple times he wants to play more relaxed than he has in recent weeks.
"That's something I want to do a better job of: 'Don't play in a box. Just go play free.' That's something I really want to do finishing out this season: Stack some wins and feel good about the year. Obviously, it didn't go exactly as planned. We can still finish well and have something to build on for next year."
Lawrence, who has passed for 2,514 yards and nine touchdowns with 10 interceptions this season, had three consecutive games with a passer rating over 90 from Weeks 4-6. But he has been under 200 yards passing in four of six games since, completing 16 of 28 passes for 145 yards with no touchdowns and no interceptions in a 37-7 loss to the Los Angeles Rams this past Sunday.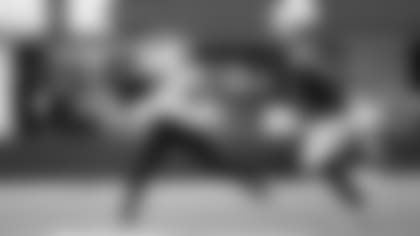 "As a young player, you just want to do as much as you can," Lawrence said. "You just want to win. That's where I'm at. Sometimes, you try to do too much. I feel like I've done a good job taking care of the ball, but I think you early on trying to do too much and trying to force things.
"It got better as the season went on, but now you can't worry about every little thing. You have to go play and trust the guys around you to go make plays and that's half the battle. Once you have that trust, then you can just go do it."
"That's been the message: Trust our preparation, go play with confidence and don't hesitate."
The Jaguars, after averaging 19.3 points a game through six games, have averaged 10 points in six games since. They averaged 356 yards through six games and 268 yards after that.
"We're not playing with a ton of confidence on offense; it's not hard to see," Lawrence said. "We're just trying to finish thing the best we can, and we've got the guys to do it."
Lawrence added, "We're all really good at what we do. That's why we're here. You have to trust that."
Lawrence on running back James Robinson playing 26 snaps Sunday, his second-lowest total of the season: "Obviously, I'm the one that's out there. I see all the pieces moving. I see the whole picture. The bottom line is James is one of our best players and he's got to be on the field. We addressed it. I feel like we're in a good spot. I honestly don't even know everything that went into it. I'm playing the game and stuff happens on the sidelines with coaching decisions. I don't really get into that. But I've voiced my opinion. James is one of our best players and he has to be in the game. I think we're all on the same page. There's no confusion there. We're going to move forward. James is a hell of a player. I want him out there."
Jaguars cornerback Shaq Griffin: "The end of the season is going to show what type of team, what type of players, will try to come back and try to do some great things next year. I've told guys, 'Now, you have to put in on tape, bro. These next couple of games are going to show how important this game is to you. Not just what it is to the Jaguars or to your teammates but to yourself. You have to put it on tape. That tape doesn't stop. I don't care what's going on in the season. That tape doesn't stop. You have to put in on tape and play your best ball. You have to."
Griffin returned to practice full Wednesday after missing the last two games in the concussion protocol. Four Jaguars players practiced limited Wednesday: cornerback Nevin Lawson (foot), Robinson (heel/knee), cornerback Tyson Campbell (groin) and offensive guard Ben Bartch (back). Four players missed practice because of injuries – defensive end/linebacker Josh Allen (shoulder), linebacker Myles Jack (knee), center Brandon Linder (back) and defensive lineman Malcom Brown (toe). Defensive end/linebacker Lerentee McCray missed practice because of an illness – and wide receiver Marvin Jones Jr. and guard Andrew Norwell missed practice for rest.
Jacksonville Jaguars
Table - Injury report

| Player | Injury | Game status |
| --- | --- | --- |