JACKSONVILLE – The 2021 season is all about the development of quarterback Trevor Lawrence.
Lawrence has improved since a shaky beginning in Houston in Week 1, looking like the guy the Jaguars thought they were getting when they selected him No. 1 overall in the 2021 NFL Draft.
"I think I'm playing smarter ball," Lawrence said Wednesday as the Jaguars prepared to play the Miami Dolphins at Tottenham Hotspur Stadium in London, England, Sunday at 9:30 a.m. "I'm more accurate, work the pocket better, situational football has been better – a lot better actually.
"The past two games have been my best as far as decisions go. Completion percentage, accuracy and all those things … I think those are my two best games. So, I think that says a lot and I feel like I am getting better every week and just trusting that's going to put us in a situation to win games down the road."
The numbers confirm Lawrence's claim. He completed just 54.9 percent and 42.4 percent of his passes against the Houston Texans and Broncos with four touchdowns and five interceptions. But against the Cardinals, Cincinnati Bengals and Titans, he completed 64.7 percent, 70.8 percent and 69.7 percent with two interceptions.
He knows if he can play with that kind of consistency his team is going to end its 20-game losing streak.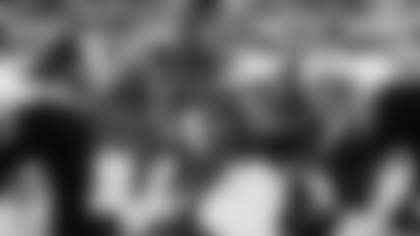 "We're going to keep getting better," he said. "If I keep doing my job, I'm going to make the plays. I have faith in my ability that when there is a play to be made, I'll make it. Just doing the little things every play, taking care of the football to get it in our guys' hands that can go and make plays and really just put us in a position to win … then we're going to win some of these.
"That's what I'm going to keep trying every week and I think that's what I am getting better at."
Lawrence wants to end his personal five-game losing streak – and the longer streak some teammates are carrying.
"The leaders we have on this team have been awesome," Lawrence said. "Obviously, it has been a tough start, especially for the guys that have been here. It's tough, the situation we're in – but to see those guys that have been here and to see the difference that they talk about this year compared to other years and they really feel like we're close.
"Obviously, we have to play better. We all know that. At the end of the day, we see that, but we realize that if we stick together and make these plays here and there eventually everything is going to fall into place. We just have to keep going to work and keep believing. You can't give up and this is a team that hasn't done that. I feel good about where we're at."
The Jaguars leave on Thursday for London – a trip of nearly 4,200 miles. Lawrence made his first trip outside of the country with his wife, Marissa, on their honeymoon last spring. "The furthest flight I've ever been on before this is four or five hours, so this is the longest one," he said. "It's kind of ironic that we're going all the way to London to play a team from Miami; that's the one thing I thought about. We're excited. I haven't been that many places, especially outside the country, so it's going to be really cool – and to play a game over there is going to be really exciting. I've heard about the fan base over there and how whenever teams come to play, they're really excited to have a great showing and fill up the stadium."