Perhaps as significantly, the veteran cornerback feels a difference in the Jaguars' defense from a few weeks ago until now – and he voiced that difference Wednesday.
Griffin, speaking to the media Wednesday as the Jaguars (1-5) prepared to play the Seattle Seahawks (2-5) at Lumen Field in Seattle, Wash., Sunday at 4:05 p.m., discussed multiple topics – including playing his former team. Griffin, who signed with the Jaguars as an unrestricted free agent this past March, spent his first four NFL seasons – 2017-2020 – with the Seahawks.
"We know what to expect," Griffin said. "We know it's going to be an effort game."
He said the Seahawks under Head Coach Pete Carroll are built on competition – a trait both franchises playing Sunday share.
"That's the culture that's taught there: compete, every single play," Griffin said. "Give us a blade of grass and we can make something work. That's the kind of team they are. The main thing is you've got to be tough. You have to compete. That's the type of game it's going to be.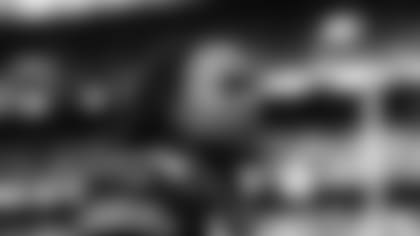 "It's going to be a tough one and people are going to be sore after this game, for sure."
Griffin, who leads the Jaguars this season with four passes defensed in six games, said the Jaguars feel as if they are improving defensively in recent weeks. After allowing 30 points in a Week 5 home loss to Tennessee, the defense allowed a season-low 20 points in a Week 6 victory over Miami at Tottenham Hotspur Stadium in London, England.
And he said trust and communication were huge factors in the improvement.
"I feel like that's the part that was missing," Griffin said. "We had so many plays … a couple of busted plays where we're playing man to man [coverage], and we might leave someone open or we make a call that everybody didn't feel comfortable with, so we're trying to have a conversation and trying to make it right – and there's another busted play. Now, I feel like that trust is there.
"We had a talk right before we went to London about going back and playing for us, the guys on this team, the guys in this locker room, understanding they have your back and who would run through a brick wall for you at any moment.
"That's the type of trust we have to have and that's the part we're starting to gain, which feels amazing."
Rookie quarterback Trevor Lawrence on Wednesday had high praise for veteran Jamel Agnew, who has developed rapidly as a receiver this season after signing with the Jaguars primarily as a kick/punt returner. Agnew, a fifth-year veteran, was an All-Pro returner as a rookie with the Detroit Lions in 2017 – and he began transitioning from defensive back to wide receiver with the Lions last season. After entering this season with 16 career receptions for 105 yards, he has 12 receptions for 146 yards this season – including five receptions for 78 yards against Miami two weeks ago. "He's always been just a really good player in my eyes, just seeing how friendly he is running routes," Lawrence said. "He just understands zones and how to get leverage and win his matchups. He's always been really good at that, but I guess just seeing how he's really taken on this new role and can really do anything. We can put him wherever and it adds a lot of flexibility to our offense and that's something that's always good and just seeing him get more and more confident at receiver."
Griffin on playing against his former team in front of the Seahawks' fans, also known as the 12s: "I am rocking with this team and this organization. I got love for the 12 and miss the 12s, but when I come in there, it is about Jacksonville and the city behind me."
Jaguars Head Coach Urban Meyer on Carroll: "I've just read about him, I've studied his stuff, I've talked to him several times. He's been great to me over the years. I've bent [former Southern California standouts under Carroll] Reggie Bush's or Matt Leinart's ear about team meetings and some of the things he does to lighten things up a little bit. So, it's a lot of different things, it's not by accident he's successful."
Defensive tackle Jay Tufele missed practice with a hand injury Wednesday, with cornerback Tyson Campbell (toe), defensive tackle DaVon Hamilton (shoulder), linebacker Myles Jack (back), long snapper Ross Matiscik (hamstring), center Tyler Shatley (groin) all practicing limited. Guard Ben Bartch (concussion) practiced full.