It was the 16th day of the second training camp under Head Coach Doug Pederson, featuring a padded practice against the Detroit Lions at the Lions' training facility in Allen Park, Mich. Each day throughout camp, four members of Jaguars Media – senior writer John Oehser, senior correspondent Brian Sexton, senior reporter/editor J.P. Shadrick and team reporter Kainani Stevens – will share an observation.
Here are Wednesday's "campservations" from the joint practice:
John Oehser, Jaguars Senior Writer…
This was a productive day for the Jaguars in exactly the manner Head Coach Doug Pederson hoped, with the first-team offenses and defenses of both teams getting extensive work against the other. The Jaguars' offense versus the Lions' first-team defense in particular featured the expected "chippiness" that comes when NFL players tackle and hit in pads. A major positive for the Jaguars Wednesday was that the pass rush overall appeared to fare well against a good Detroit offensive line, with outside linebackers Travon Walker and Josh Allen having strong repetitions in an early one-on-one pass rush drill and also both having at least two good rushes on Lions quarterback Jared Goff in a late 11-on-11 drill. Standing out, too: Inside linebacker Devin Lloyd's one-handed interception on the first play of team drills. This was the only padded work of these two joint practices against the Lions, and it felt like a positive day for the first-team defense.
Brian Sexton, Jaguars Senior Correspondent …
The first day of joint practice against the Lions featured some really good work against another up-and-coming team. There were a few tense moments with some relatively minor post-play scrums, but the teams did a really good job of not crossing the line between chippy and reckless. Overall, the Jaguars had a decent day in the pass rush in one-on-ones, but the play of the day was Devin Lloyd's one-handed interception off Goff while drifting back into coverage. A few Jaguars players left practice alongside team athletic trainers and doctors and did not return to action, including offensive tackle Josh Wells, defensive tackle Foley Fatukasi and rookie right tackle Anton Harrison.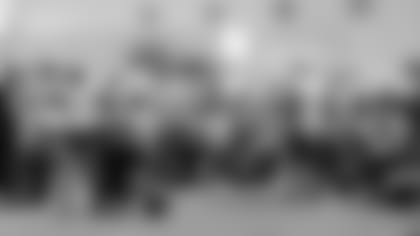 J.P. Shadrick, Jaguars Senior Report/Editor …
I spent most of the day watching Walker on one field then turning and watching Harrison versus Lions second-year defensive end Aidan Hutchinson on the other. Harrison handled Hutchinson in team work –and by all accounts he did the same thing in early one-on-one work. Walker, who unleashed a couple of new pass rush techniques Wednesday, smiled broadly when I asked him about it walking to the buses following practice. "I am just trying to get better," he said. "The chance to get better against a guy like [Lions offensive tackle] Taylor Decker, I appreciate that." Both Walker and Allen threw a couple of good pass rushes at Goff, who let them know he wasn't too happy with how close they came.
Kainani Stevens, Jaguars Team Reporter/Producer ...
Joint practice with the Lions Wednesday featured all the competitiveness you would hope to see in this kind of situation. This was a matchup of two franchises with strong 2022 campaigns after being at the bottom of the league in 2021. I focused my time watching the Jaguars' defense against Goff and the Lions' offensive starters. I think it was a pretty even matchup with Walker, Allen and others putting pressure – and getting some would-be sacks – on Goff. On other possessions, Goff seemingly had no problem carving through Jacksonville's defense. Lloyd had one of the day's best showings, finding a way to be involved in every play in which he participated. He also had a perfectly laid-out interception that he dropped and a would-be sack on Goff. I'm excited for more joint-practice action Thursday.