JACKSONVILLE – Roy Robertson-Harris sees pass rush as a team thing.
To the Jaguars' defensive captain and veteran defensive lineman, that's a good thing. And when it comes to pressuring the quarterback, Robertson-Harris isn't worried. Far from it.
If there has been an offseason concern among Jaguars fans and observers, it has involved a pass rush that registered pressure consistently last season – particularly during a late-season run to the AFC South title – but that struggled at times to register sacks.
The Jaguars finished 26th in the NFL with 35 sacks in 2022, but outside linebacker Josh Allen – like Robertson-Harris – likes the state of the defense entering the season. And he likes the unit's chances of not only pressuring the passer but turnovers off that pressure.
"Pressuring the quarterback and takeaways, it's all hand in hand," Allen said of a defense that finished fourth in the NFL in 2022 with 27 takeaways. "I don't think one [stands out above] another. I think if we stop the run, that gives us the opportunity to get sacks. When we get sacks, it gives us the opportunity to take the ball away on the back end.
"I think everything works hand in hand. If we continue to go through that process, we'll do the job this year."
Allen led the Jaguars with 7.5 sacks in 2022, with defensive lineman Dawuane Smoot – currently on the Physically Unable to Perform list – registering 5.5. Outside linebacker Travon Walker registered 3.5, with Robertson-Harrison registering three.
"We rush as one group up front," Robertson-Harris said. "If one person gets a shot, we all get a shot. We all go out there and go play. It's not one person trying to get all the sacks. We know how to communicate. We know how to rush as one.
"If we continue to do that all year, we'll be fine."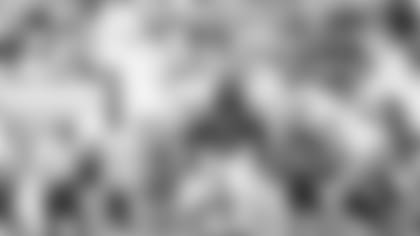 Allen, too, this week emphasized team when discussing a defense that ranked 12th in the NFL in points per game allowed and returned all 11 starters with Mike Caldwell entering his second season as coordinator.
"I like the unity we have," he said. "When you look across the NFL, you may see these guys have these name players or these big-time players. I think we have a group of hungry guys, but we also have guys that can really take over games as well. I think if we stay healthy, if we stay consistent on how we rush, if we stay within our rush plan, I think we can have success – myself, Travon, KC (outside linebacker K'Lavon Chaisson) and other guys that can come in and bring pressure off the edge and we have guys in the middle that can really push the pocket.
"We're communicating a lot now. That's really what I'm most excited about – that unity up front and then knowing that we do our job in the front end, the back end's going to handle their job and get the ball."
Wide receiver Christian Kirk, who joined the Jaguars as an unrestricted free agent in the 2022 offseason, on playing in Jacksonville: "It kind of gives me chills thinking about it because it has changed my whole career. I never take it for granted. Anytime I talk to [General Manager] Trent [Baalke], I always say, 'Thank you so much for giving me this opportunity to come here and be a part of this.' I never forget or take for granted the opportunity that he's given me to be able to come here and be a part of this. Walking around town and talking to fans and not only what they say 'Good job on the field, great game,' but when they say, Thank you, what you've done for Jacksonville.' … I think it's the coolest part. We're just out there playing a child's game but the fact that we're having an impact on the city, and the fans and how they feel about us … it's always bigger than football. To be able to be a part of that and be able to recognize how cool a time it is to be at Jacksonville Jaguar I think is the most important part. It's had an everlasting impact on changing the route of my career and my life in general."