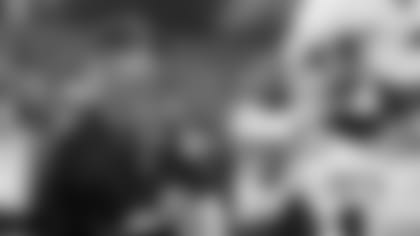 The Jacksonville Jaguars coaching team will have one more game to prepare for before they go into full off-season mode as they have accepted an offer to coach the South team in the 2015 Senior Bowl.
The game, which will include some of the top prospects from college football, will take place on Saturday 24th January (9pm GMT) and will be the second season in a row in which Gus Bradley takes charge of the South team – having led the side to a 20-10 win over the North last year.
With the Jaguars looking to make a big splash in the 2015 NFL Draft, the opportunity to coach some potential targets provides invaluable insight to Coach Bradley, GM David Caldwell and the rest of the backroom staff.
Jaguars' 2014 Draft class stars Aaron Colvin, Telvin Smith and Chris Smith were all coached by Bradley in last year's game – Colvin in particular benefitted as he was able to impress Bradley's staff before suffering a torn ACL ahead of the Draft. Bradley has already insisted that the Bowl was 'a valuable asset in our pre-draft process last year' – but what exactly is the Senior Bowl?
The Senior Bowl is a college all-star game which shows off the very best collegiate players who have graduated. Certain players are ineligible, an example from last season being Blake Bortles as he declared early for the NFL Draft in order to begin his pro career.
Jacksonville has an historic link to the Bowl as it was first played in 1950 in the city at the former Gator Bowl Stadium. It was moved to the Ladd Peebles Stadium in Alabama the next year where it has stayed ever since.
NFL staff are invited to the week-long practice pregame to scout potential players – although the Jaguars team will have a more intimate insight into the invited players as they spend the week immersed in the player camp.
The game is traditionally set for the week before the Super Bowl and this year is no different.
There is a long and illustrious list of former players in the Senior Bowl from Joe Namath through DeMarcus Ware and former Jaguar Torry Holt to more recent stars such as Seahawks QB Russell Wilson and a certain JJ Watt.
So Jaguars fans would be wise to keep a close eye on how the lead-up and game pans out for the young players involved in both the South and North teams – O-Line standout Brandon Linder lined up against Bradley's team last year.