JACKSONVILLE – Walker Little feels good these days, and the reason is simple.
He's in his third NFL season now, and the veteran left tackle said there's a noticeable difference in Year 3 from Years 2 and 1.
"I have a lot more confidence in this camp than I did last camp," Little said Thursday following a short practice on Day 12 of Jaguars 2023 Training Camp at the Miller Electric Center.
"That's probably the biggest thing for me and I think that's helping me just play faster."
Little, who spoke as the Jaguars prepared for Saturday's preseason opener against the Dallas Cowboys at AT&T Stadium in Arlington, Texas, played a key role in the team's late-season run to the 2022 AFC South title when he replaced starter Cam Robinson at left tackle in December. He played in the final three regular-season games and two more in the postseason.
The stint marked his most extensive NFL playing experience to date.
"Last season in particular I just grew a lot, just getting a lot more playing time and reps against some good opponents and good players," he said. "I feel really confident coming into this season."
That confidence is one change for Little, who has impressed during 2023 training camp while working against the Jaguars' top pass rushers.
Another is that he's working extensively at left tackle – and mostly doing so with the starters while Robinson, the 2017-2022 starting left tackle, works with the second team. Robinson will start the season serving a four-game suspension for performance-enhancing drugs.
"It's been nice to kind of stay on that left side," Little said.
The work in a very real sense marks a return to Little's football roots.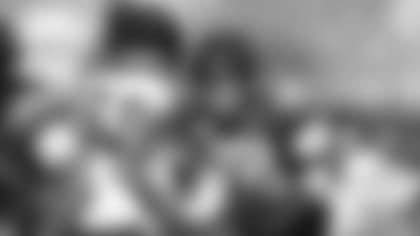 A second-round selection in the 2021 NFL Draft from Stanford, Walker was considered a potential Top 10 selection and one of the nation's top left tackle prospects before sustaining a torn anterior cruciate ligament in 2019. He then did not play at Stanford in 2020 in the COVID-19 shortened season.
He worked mostly as a swing tackle in his first two NFL training camps and much of his first two seasons, working on both the left and right sides. He competed with Jawaan Taylor for the starting right tackle position in 2022.
"It's been good," said Little, whose six regular-season starts – three in 2021 and three in 2022 – all have been in place of Robinson at left tackle. "Obviously I've moved around a little bit between left tackle and left guard, but I've gotten really comfortable and I'm excited – obviously for this first preseason game, then getting into the start of the season.
"It's something I've done for a really long time, so I'm comfortable at left. It's a process, always trying to improve. You never get too comfortable. But as far as just position-wise, it's definitely the position I've taken the most reps at, so I feel pretty comfortable there."
Even with experience at left tackle, and even with a very good training camp almost in the rear view, Saturday's preseason opener matters to a player working toward his first Week 1 NFL start.
"Every snap is important, but definitely these preseason ones are just good to kind of get back into football," he said. "It has been months since we played a real game, so it's good to get out there and just put the real jersey back on and go against a different opponent.
"You want to get used to the stuff that's important so that when it does come to Game One, you don't feel flustered and you're ready to go."
Little on Jaguars rookie right tackle Anton Harrison, the No. 27 overall selection in the 2023 NFL Draft who is expected to start Saturday: "He's a really great kid. He has a really good head on his shoulders and he's a great athlete. His feet are world class. He's able to move around really well and he's going to be a really good player here for a long time."
Outside linebacker Travon Walker on approaching his second NFL season: "It's a growth from my mentality last year. I like to say I've always had a dog mentality. It's just the little things that I had to learn from last year, being a rookie. It's still the same mentality. It's just time to take it to a new level. I'm not really stressing about work or learning the plays. Basically, I'm just taking it to a new level: Like algebra to pre-calculus, just add on to my game at this point. I know the scheme and I know the things I need to work on. Coming in from the offseason, I'm just trying to take what I learned and complementing it to my game now."