JACKSONVILLE – The pads came on. At last.
The Jaguars on Sunday worked in full pads for the first time in 2019 Training Camp, which gave the morning something closer to a real football feel at the Dream Finders Homes Practice Complex adjacent to TIAA Bank Field.
The Jaguars worked for about two hours, 40 minutes in front of 2,345 fan in temperatures that reached 82 degrees before a late-practice rain. They had worked in shoulder pads Saturday and no pads the two days before that.
Cornerback Jalen Ramsey spoke to the media after practice Sunday. Jaguars Head Coach Doug Marrone, after speaking to the media before practice Saturday, did not appear at the podium Sunday. Coverage of Ramsey's availability can be found on jaguars.com.
Players are off Monday and are scheduled to practice Tuesday at 8:40 a.m. That practice is open to the public.
Here's a look at Day 4 practice:
*No particular play stood out in '19 camp's first padded practice, but one player continued to excel: wide receiver Dede Westbrook. A third-year veteran who led the Jaguars in all major receiving categories last season, Westbrook has looked crisp in his routes during the first four days of camp – and he appears to have quickly developed chemistry with new quarterback Nick Foles. As was the case Saturday, Westbrook caught multiple passes from Foles Sunday – including an impressive diving catch for a 15-yard gain.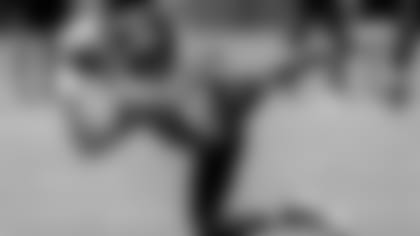 *Aside from Westbrook, perhaps the most impressive receiver early in camp and through the offseason has been veteran Chris Conley – who signed as an unrestricted free agent from Kansas City in the offseason. Foles and Conley played together in Kansas City in 2016, and have shown good chemistry early in Jacksonville. Foles on Sunday found Conley for two consecutive completions early in a last-second drill that ended with a successful field goal by kicker Josh Lambo.
*Cornerback Breon Borders intercepted a pass on the sideline from reserve rookie quarterback Gardner Minshew during 11-on-11 work. Minshew had a nice completion to veteran wide receiver Terrelle Pryor Sr. later in practice. …
*Second-year quarterback Tanner Lee found rookie tight end Josh Oliver on a good first-down-producing pass across the middle late in practice. Oliver, a third-round selection, continues to make one or two encouraging catches each day. …
*Running back Leonard Fournette had a couple of impressive runs in 11-on-11 work early in practice. …
*The Jaguars worked one-on-one pass rush drills on their first day in pads. Rookie edge rusher Josh Allen looked impressive on one repetition, beating veteran reserve left tackle Josh Wells. Wells got the better of Allen in other reps. …
*Second-year defensive tackle Taven Bryan had an impressive rush during pass rush drills. …
Wide receiver Marqise Lee and left tackle Cam Robinson remain on the Physically Unable to Perform list; Lee missed last season with a preseason knee injury that included a torn anterior cruciate ligament while Robinson missed the last 14 games of the season with a torn ACL. Linebacker Jake Ryan (knee) remains on the Reserve/Non-Football injury list. Those were the only three Jaguars players not practicing Saturday.
Cornerback A.J. Bouye did not practice Sunday because of hamstring soreness after working limited Friday and Saturday. Running back Thomas Rawls also was held out of practice because of hamstring soreness.
*The Jaguars' starting offensive line much of Sunday: left tackle Leonard Wester, guard Andrew Norwell, center Brandon Linder, right guard A.J. Cann and right tackle Cedric Ogbuehi; Wells and Wester have alternated working with the starters with Robinson not yet practicing while returning from his ACL injury.
*The backup offensively line continues to typically be Wester/Wells, center Tyler Shatley, rookie right tackle Jawaan Taylor and guards KC McDermott and Brandon Thomas. …
*With Bouye out of practice Sunday, nickel corner D.J. Hayden worked at starting cornerback opposite Ramsey. …
Take a look at images from Sunday's practice.