JACKSONVILLE – The work got done, and the work was good.
Doug Pederson said that was why he again opted against having most of the Jaguars' veterans attend a three-day mandatory minicamp at TIAA Bank Field this week.
"The vets have been doing an outstanding job," he said.
It's the second time in as many seasons as the Jaguars' head coach Pederson has taken the approach with veterans during the only mandatory period off the offseason. Attendance was high during the earlier portion of the '23 offseason, including a three-week stretch of organized team activities that ended last week.
All offseason NFL work is voluntary for players except for the mandatory minicamp.
"They've been here, they've been present," Pederson said Monday, the first day of the minicamp. "They've done everything that I've asked them to do. We just felt it was beneficial for them to give the extra days. I appreciate everybody that's here."
"We have 91 guys and the ones that have been here have been working their tails off. It's a voluntary program, so using my discretion I've given some of these guys these three days where we can really focus on the young guys and some of the injured guys who can get another three days of treatment and rehab."
All Jaguars players attended most or all OTA sessions except tight end Evan Engram and outside linebacker Josh Allen, with Allen attending Monday's practice and Engram not attending. Engram received the team's franchise tag in mid-March, with the team and Engram having until July 15 to agree to a long-term deal. If they don't, Engram can play the 2023 season for the Jaguars under a one-year contract.
Allen, the No. 7 overall selection in the 2019 NFL Draft, attended Monday's session. Other veterans participating included second-year inside linebackers Chad Muma and Devin Lloyd and veteran wide receiver Calvin Ridley, with Ridley having been acquired in a trade with the Atlanta Falcons last season.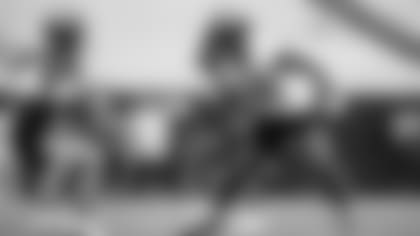 "He's another one that we're integrating onto the team," Pederson said of Ridley. "He has kind of been up and down medically a little bit this offseason and nursing a few things. We just want to make sure he's 100 percent before he leaves the building. Whether he does a ton of football stuff this week is yet to be seen.
"He's excited to be here. He wanted to be here. He's not going anywhere. He now lives in Jacksonville, Florida, so it's good to see him here."
Pederson said the offseason for veterans was mostly a matter of "refining everything."
"It's just a matter of taking what we did during the season and just trying to make it better," Pederson said. "Everything's established and the offseason's a time to a little bit be creative with stuff and integrate the new guys – whether they're free agents or draft picks or undrafted guys onto the team.
"It's just a matter of kind of refining everything. That's what you get out of this season."
Pederson on Monday said quarterbacks, injured players and rookies/first-year players will report to Jaguars 2023 Training Camp July 21, with other players reporting July 25. The first practice is expected to be July 26, with Pederson saying that likely will be the first '23 training camp practice open to the public. Jaguars 2023 Training Camp will be held in the newly constructed Miller Electric Center adjacent to TIAA Bank Field. Last year's training camp was closed to the public, with practices held at Episcopal School of Jacksonville while Miller Electric Center was being constructed. "We're excited for that," Pederson said of the fans attending.