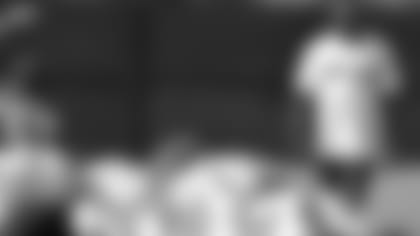 If the Jaguars' defense looks efficient early, Mel Tucker figures that's as it should be.
Tucker, the Jaguars' assistant head coach/defensive coordinator, said Saturday the defense is about 90 percent installed, and that the unit should benefit from an entire offseason and from frontline players having played together last season.
"We're in review mode in terms of our package," Tucker said. "The things that we've worked on these past couple days and things that we'll work on up until the first preseason game will be all review for our guys, so it's not a matter of knowing what to do, it's a matter of now how to do it."
The Jaguars last offseason signed players such as middle linebacker Paul Posluszny, outside linebacker Clint Session and safety Dawan Landry early in training camp, then acquired safety Dwight Lowery shortly before the season.
This season, while rookie defensive end Andre Branch and free-agent cornerback Aaron Ross are new, most of the key players played for a defense that improved last season to No. 6 in the NFL after finishing 28th in total defense the season before.
"We told them last year we'll just add it up at the end of the day," Tucker said. "We're going to be as good as we can be to reach our full potential individually and then collectively as a defense. That's the goal. And where that takes us we don't know.
"With the guys that we have in camp, with the guys that we have on the defense on the roster, if we maximize our potential I think we'll be very competitive."
SESSION: "I WANT TO PLAY"
Clint Session's future remains uncertain.
But while the Jaguars' outside linebacker said Saturday he remains concerned about the lingering effects of multiple concussions sustained last season, he said his goal is to play this season.
"It's very scary, because you never know is it a warning sign," Session said Saturday. "You don't know what it is. It's always scary. I'm just trying to get back to playing football.
"That's my main goal right now, to get back to playing football."
Session is one of six players to begin training camp on the Physically Unable to Perform list, and when asked about Session's long-term health, Jaguars Head Coach Mike Mularkey said, "It's definitely a concern." Mularkey also on Friday said he didn't want to provide a timetable for Session's return.
Session on Saturday said Mularkey's comments "pretty much summed up where I am," adding, "I can't be a judge on things until I get back."
Session said he sustained multiple concussions last season, including two in a November 20 loss to Cleveland. He said that he said nothing about the first concussion against the Browns to team officials or doctors, and that he wouldn't play through the first if he had it to do again.
"It's 100 percent I want to play this year," he said. "Am I going to think about my future? Yes, but I want to play this year. They (the Jaguars) are doing their best to make sure they weigh out all of their options so they don't send me back too soon or I don't come back too soon."
Session said he has considered taking a year off, but that the thought of that is difficult.
"You've got a lot of guys, staff, including myself, depending on me to contribute," he said. "The selfish part of me would take a year off and rest and get 100 percent, but the teammate I am won't allow me to settle for that. I'm in this game now, so there's no turning back….
WHAT TUCKER SAYS ABOUT ROOKIE DE ANDRE BRANCH
"Branch is going to get what he earns and he knows that and there's nothing set in stone. But he does have the traits that we're looking for at that position. He has the natural ability to do it and he's shown that he's tough and that he's coachable so we'll just take it one practice at a time. But I think he does have tremendous upside and the arrow is up with Andre."
MULARKEY ON NO OKLAHOMA DRILLS AT TRAINING CAMP
"I want to stay away from things we don't need. I think it's more of a thing to impress other people than what we're trying to do for our team. There's no positive for our team, I don't think."
The Jaguars' Saturday afternoon "full" practice was more efficient than the full session Friday. Mularkey had gathered the team late in Friday's drills to ask for a better finish, but said of Saturday, "I felt better about it. It was cooler, but they came out with a great approach. They had a good morning, and the word after the morning was, 'Now, can we go out and go fast and do the same thing we did in the morning?' They accepted the challenge." Quarterback Blaine Gabbert threw an early interception in 11-on-11 drills, a play on which there was a busted assignment up front followed by what Mularkey said was a poor decision by Gabbert. "That's a good teaching lesson for him," Mularkey said. "A sack's better." Aside from the early interception, Mularkey said Gabbert had a solid day, and he and tight end Marcedes Lewis hooked up on several intermediate routes in the afternoon. "He made some good throws, some tight throws," Mularkey said. "The ball had to be put in tight spots, and he (Lewis) made the catches. It's good to see."
The 88 Jaguars players in training camp will have Sunday off before returning for Day 3 of Jaguars 2012 Training Camp Monday at the Florida Blue Health and Wellness Practice Fields. The team will practice twice Monday – a full practice at 8:30 a.m. and a 4:30 p.m. walkthrough. The 8:30 a.m. practice is free and open to the public.
While Mularkey spent time in his post-practice remarks breaking down an early play that went wrong, the offense seemed to take a step forward Saturday. It's difficult to provide a daily progress report from training camp, and that won't be the goal of "today's take," but on Saturday, Gabbert clearly looked confident most of the practice and threw particularly well to Lewis, who made several difficult catches in traffic. There will be ups and downs and stops and starts for Gabbert and the Jaguars' offense, but seeing confidence and tight throws early in team drills is a good beginning.
*The Jaguars on Saturday signed first-year fullback Will Ta'ufo'ou to a contract, and placed running back Maurice Jones-Drew on the reserve/did not report list. Ta'ufo'ou (5-feet-11, 253 pounds) has been with Chicago, Cleveland, Denver and Tennessee since 2009.
*Cornerback Reggie Corner sustained what appeared to be a leg injury in the afternoon practice and underwent an MRI afterward, Mularkey said.
*While veteran Jeremy Mincey is entrenched at one defensive end position, less certain is who will start opposite him. Veteran Austen Lane has lined up at the position early in camp, and Branch is expected to push for a starting role and play extensively if he doesn't start. George Selvie also is expected to play a role, and Tucker said Mincey's flexibility gives the team options at the spot. "There are certain things we're asking them to do at the end position," Tucker said."We feel like the guys that we have in camp can do that and it's just a matter of competing and each guy getting better pushing each other. I'm sure we'll be able to get really good production out of that position on both sides."
*Tucker said he expects defensive tackle Terrance Knighton's conditioning to help his play this season. Knighton reported under 330 pounds for the first time in his NFL career, and Mularkey has praised his conditioning early in camp. "Usually the better conditioned teams have the best chance and that's the baseline," Tucker said. "You have to be in shape, you have to be fit, you have to have stamina. As much as you can stay in that range the better you're going to be prepared. . . . Absolutely that's a critical factor and that's why it's such a big deal."
*Linebacker Paul Posluszny, center Brad Meester, safety Dawan Landry and fullback Greg Jones were named the Jaguars players who had the best offseason workouts, as voted upon by their teammates. The four each received premium parking spaces, with Posluszny being voted as having the best offseason. "He got the best parking spot," Mularkey said. "He got my suite at the hotel, too." The players also received trophies and there is a plaque in the weight room bearing their names.