JACKSONVILLE – Seven Jaguars experts – Rick Ballou, Frank Frangie, Brent Martineau, John Oehser, Brian Sexton, J.P. Shadrick and Ashlyn Sullivan – are breaking down the Jaguars as the 2022 NFL season approaches; today: the veteran to watch for the Jaguars in '22…
Rick Ballou, Jaguars sideline reporter
Veteran to watch for the Jaguars in '22: James Robinson, running back. Sure, it's only his third season, but Jacksonville is a much better team with him in the lineup. Robinson seems to think he's close to be being back after tearing his Achilles late last season. Watching him do some work on the side during practice during 2022 Organized Team Activities was a positive. This will be one of the biggest storylines when Jaguars 2022 Training Camp begins.
Frank Frangie, Radio Voice of the Jaguars
Veteran to watch for the Jaguars in '22: I think all eyes are on wide receiver Christian Kirk. The Jaguars over the years just haven't had star wide receivers since Jimmy Smith and Keenan McCardell. A few guys flashed — Allen Robinson for a bit, Justin Blackmon if he could have managed the demons. But not many. Can't wait to see what Kirk becomes here.
Brent Martineau, Action Sports Jax Sports Director
Veteran to watch for the Jaguars in '22: The veteran I have my eye on will be tight end Dan Arnold. I think this guy is good. I think he's a matchup problem for teams. I also think he's being overshadowed with the acquisition of Evan Engram as an unrestricted free agent. If Arnold stays healthy, he could become a problem for defenses in 2022.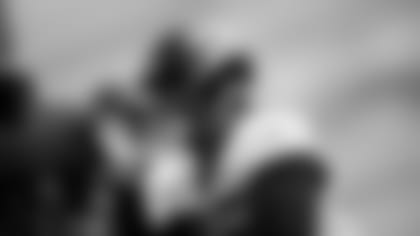 John Oehser, jaguars.com senior writer
Veteran to watch for the Jaguars in '22: Foye Oluokun. The Jaguars signed the veteran inside linebacker as an unrestricted free agent – a signing that was perhaps somewhat lost with many observers focusing on the offensive signings: wide receivers Zay Jones and Christian Kirk, tight end Evan Engram and right guard Brandon Scherff. Oluokun led the NFL in tackles last season and he is expected to be the leader of a revamped linebacker corps. That group is expected to dramatically improve a run defense that has struggled too often in recent seasons.
Brian Sexton, jaguars.com senior correspondent
Veteran to watch for the Jaguars in '22: I can't wait to watch defensive lineman Roy Robertson-Harris when camp opens. He quietly had a strong first season in Jacksonville – and with his huge frame and powerful leverage, he did much more than most people would say they saw. He was all over the field during OTAs. I think he's going to be hard to stop when the offense can't get a second body on him or chip him because they're worried about outside linebackers Josh Allen and Travon Walker. There are a lot of chess pieces for defensive coordinator Mike Caldwell to work with this season and I think Robertson-Harris is going to be a big beneficiary of more talent because he looks like a force to be reckoned with.
J.P. Shadrick, jaguars.com reporter/editor
Veteran to watch for the Jaguars in '22: Wide receiver Laviska Shenault Jr. Can he find a role in this offense with so many new options and positions? He can line up anywhere, but will he be consistent enough (i.e., catching the ball) to take another producing player off the field?
Ashlyn Sullivan, Digital reporter and host
Veteran to watch for the Jaguars in '22: Wide receiver Marvin Jones Jr. I laughed during one OTA when Jones told reporters he was just like Benjamin Button – getting better with age. I don't think Jones was set up for success last season; he was the only receiver defenses felt they had to double team, which often meant Jones was taken out of the game. The Jaguars' free-agency additions will greatly help Jones and take some of the attention off him. As the downfield threat where he can just go down the sideline, go up and get the ball … I expect Jones to have a more impactful season this year.