JACKSONVILLE – Consider this the beginning.
That doesn't mean final decisions will be made about the Jaguars' 2022 roster during the coming weeks, but Head Coach Doug Pederson said first impressions can be made and drawn. That makes this time matter.
"I value the OTAs," he said Monday.
The Jaguars on Monday opened Phase 3 of their 2022 offseason program with their first Organized Team Activities practice inside TIAA Bank Field. While the team has practiced previously this offseason, Monday's work marked the Jaguars' first opportunity this offseason to hold 7-on-7 and 11-on-11 drills.
The team worked on the field in Phase 2 but were limited to individual work with no team drills.
"We've had a couple of different phases now," quarterback Trevor Lawrence said Monday, adding that Monday's 11-on-11 work was good because "You can put a grade on it. You can say, 'Was that successful or not, complete/incomplete … all those things.'
"It's a little tougher [to grade] on air, but having those weeks to prepare and really master the system helped. Like today, I felt like we were pretty clean. Obviously, you're always going to have a few things here and there you want to clean up, but I really like where we're at."
Lawrence, the No. 1 overall selection in the 2022 NFL Draft now entering his second season as the Jaguars' starter, looked mostly sharp Monday during 11-on-11 and 7-on-7 work – with an early pass downfield to tight end Chris Manhertz and a deep pass to wide receiver Christian Kirk among the highlights.
He was pressured at times early in the session and joked afterward that perhaps the defensive front played a bit faster than should have been the case during OTAs.
"Those guys are big tempo violators on the other side of the ball," he said, smiling. "We didn't really have pads on today."
Lawrence also noted an interception by defensive tackle DaVon Hamilton during 11-on-11 work.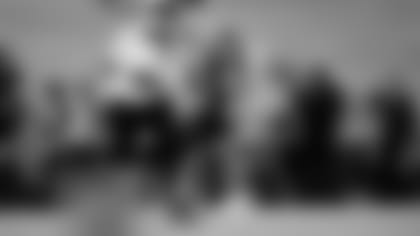 "There's always a couple," he said, smiling. "I gave DaVon an early birthday present. I'm not sure when his birthday is. But I threw one straight to him. Besides that, I think I had a good day. I'm always looking to improve.
"When you have a bunch of guys who didn't play together last year and you throw in some rookies as well, you're still just trying to work out the kinks and get on the same page. That's still where we're at."
Pederson spoke on multiple topics Monday, including what makes the 10 non-padded, voluntary OTA practices the team may hold over the next three weeks important.
"Even though we're not making roster movers, cutting it down to 53 and all that, you still get a lot out of these as a coach," Pederson said. "Now you get to really put your team in-game situations and really start coaching that. Obviously, we're going to protect each other but play fast and get our work done. What I look to get out of these next couple of weeks is just that: The execution from Phase 2 that we did individually [transferring] into [practicing] against each other now offensively and defensively, how well the guys are taking information from the classroom to the football field and playing fast and protecting each other."
All offseason sessions are voluntary until a mandatory minicamp scheduled for June 13-15. Pederson on Monday said participation thus far has been "really close" to 100 percent.
"It has been a really good offseason," he said. "We understand it's voluntary and things come up, which they have – and that's fine. That's part of it. Like experiences come up and coaches and players need to be part of that stuff."
Running back Travis Etienne Jr. participated in Monday's practice, as he has done through much of the offseason program. Etienne, the No. 25 overall selection in the 2021 NFL Draft, had been cleared to participate fully after missing his entire rookie 2021 regular season with a Lisfranc injury sustained during the preseason. "It's nice," Lawrence said of throwing again to Etienne, his teammate at Clemson University. "Last year we had a year-long break. Everybody's been anxious for him to get back, including myself. He's looked great. He adds a lot of versatility for us – really explosive. We're all pumped to have him back."
Pederson on the biggest goal of OTAS: "Just continuing to grow as a football team, coming together as we build toward training camp. The No. 1 thing is really just building that cohesiveness. That's a big part of these next three-and-a-half weeks."